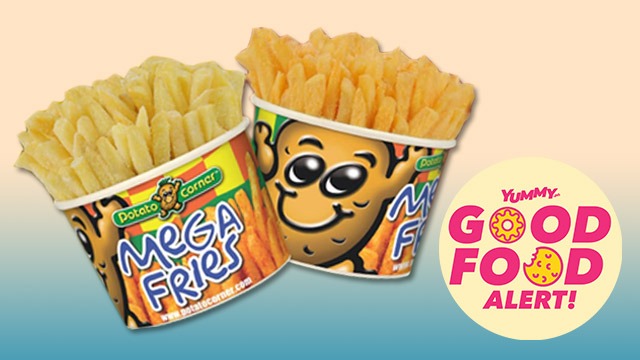 GOOD FOOD ALERT! Whether you call them PC, PoCor, or PotCor, there's one thing that Potato Corner fans have in common: their love for these flavored fries! This year, Potato Corner is celebrating its 30th anniversary. Can you imagine: they've been serving our favorite flavored fries since 1992! Aside from their classic flavors (and your go-to flavor combos), Potato Corner has launched two new limited-time holiday flavors, and of course, we gave them a fry. Sorry — try.
[facebook url="https://www.facebook.com/PotatoCorner/photos/a.729439910406631/6729651407052088″]
What You Need to Know About The Honey Butter and Quezo de Bola Fries
The new Potato Corner holiday flavors are Honey Butter and Quezo de Bola. Both are now available at any Potato Corner branch nationwide, which is good news because these flavors aren't going to be available forever. You can order these two flavors for an additional P10 to the base price of the size that you chose.
While honey butter may not be a common flavor to be found at a Noche Buena spread, it harks back to 2014's honey butter chips craze (and actually kind of makes sense to add to Potato Corner fries; the honey butter chips are made of potatoes too, after all)! Meanwhile, Filipinos are very familiar with quezo de bola, which is a staple in the classic Noche Buena spread.
[facebook url="https://www.facebook.com/PotatoCorner/photos/a.729439910406631/6738788689471693/"]
What We Love About The Honey Butter and
Quezo de Bola Fries

One of the biggest questions we had as we watched the fries being shaken in the iconic PotCor containers was, how would Quezo de Bola be different from the regular cheese flavor? Soon enough, we got our answer: the Quezo de Bola flavored fries were still distinctly cheesy, but it wasn't as sharply salty as the regular cheese flavor. Rather, it had a creamier, almost kind of nuttier flavor to it that does remind you of actual Quezo de Bola.

Out of the two though, we really loved the Honey Butter flavor. It's the perfect mix of sweet and savory: imagine honey butter chips, but it's perfectly crispy-on-the-outside but soft-on-the-inside! The sweet creaminess of the honey butter powder matches well with the salty-savory potato, and the combination makes it irresistibly difficult to just have one. Before we knew it, we had finished our Jumbo cup of fries and were wishing we had gotten it in a bigger size!

[facebook url="https://www.facebook.com/PotatoCorner/photos/a.729439910406631/6735761909774371/"]
Where You Can Get Honey Butter and
Quezo de Bola Fries

As mentioned, the Quezo de Bola and Honey Butter flavors are currently available in all Potato Corner branches nationwide, via walk-in, take-out, and delivery. For more information and to find the branch nearest to you, check out Potato Corner's website.

***