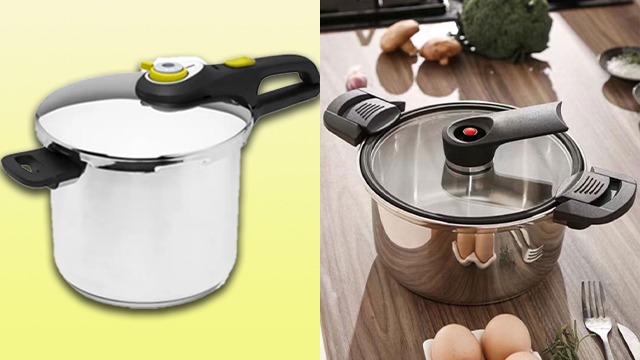 Products recommended on our website are independently selected by editors. If you buy something through our links, Summit may earn an affiliate commission at no extra cost to you.
Pressure cookers have had a bad rap ever since horror stories of exploding have been told from generations past. The good news is that the pot has evolved, and it's all thanks to advanced technology.
What Is A Pressure Cooker?
A pressure cooker is a cooking pot that cooks food through pressure. Pressure cooking is similar to boiling. The big difference is that the pot is specialized to withstand the intense pressure that is built when boiling water is contained in the pot. This means the pot is a heavy-duty piece of kitchen equipment. While the pot is pressurized, it's virtually impossible for anyone to open, and it's designed that way. (Note: You should never force the pot's lid open. A lid that's hard to open means it's still pressurized and forcing it open can result in the explosions we used to fear.) Once the pressure has been released, it should be easy to open.
That's why we think a pressure cooker is an essential cooking pot, especially for people who lead busy lives and can't afford to cook for hours or even an hour! Learning how to use a pressure cooker can thus be the fastest way to get the most tender meat, be it beef, pork, or even rubbery squid, in the shortest time possible. Plus, it also delivers some of the most flavorful dishes you can place on the table in less time than normal.
We found 5 pressure cookers on sale on Lazada and Shopee that you can buy according to your budget:
1 KEYCOOL Small Pressure Cooker Pot, 5L, P752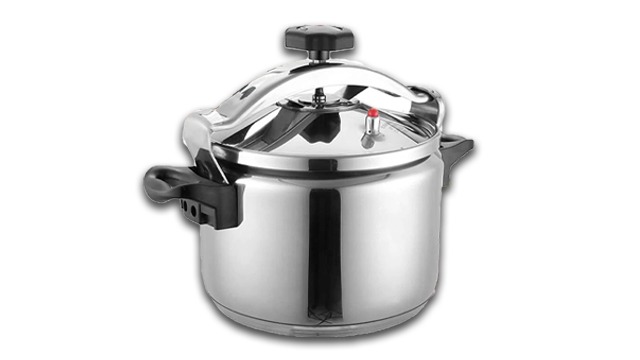 Say what you want about a basic pot but a classic pressure cooker is still an impressive one. This Keycool pressure cooker boasts a heavy-duty aluminum body, a screw-on lid lined with a silicone ring for extra sealing power, a safety valve, a vent valve with a weighted pressure plug, a locking lever that extends to the sides where it latches onto grips, and best of all, non-slip handles so you get a good grip no matter how big or small your hands are. The smallest pot that can hold five liters is only P752, but if you're cooking for a big family who loves their meat, it's also available at a bigger 11-liter-capacity sized pot.
ADVERTISEMENT - CONTINUE READING BELOW
Recommended Videos
Finally, positive comments are always a criterion for online shopping and this pressure cooker has 223 5-star ratings thus far and counting!
KEYCOOL small pressure cooker pot (available in 5L, 7L, 9L, and 11L sizes), starting at P752, Keycool LazMall Flagship Store
2 HODEKT Pressure Cooker Stainless Steel Pressure Cooker, 5L, P859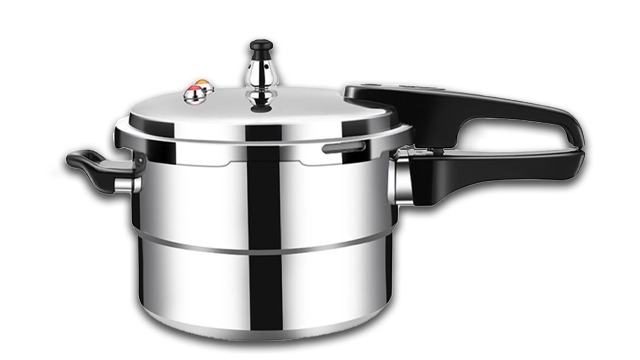 This HODEKT pressure cooker has a different kind of locking mechanism from the Keycool pressure cooker. While it is still one of the basic pressure cookers on the market, this pressure cooker has a locking lid. It's still got a heavy-duty aluminum body, a safety valve, a weighted pressure vent plug, and a silicone-lined locking lid. What's different from this locking lid is that it's the handles that hold the locking mechanism. The lid itself has groves that fit on the groves of the pot and you need to slide them together to create the lock.
This pot also comes as either a 5-liter pot or a 9-liter pot. But what really makes this unique from your usual basic pressure cooker is that its triple-lined body also boasts an induction-ready bottom. No need for that induction stove adapter!
HODEKT Pressure Cooker Stainless Steel Pressure Cooker (available in 5L and 9L), starting at P859, Hodekt Shopee Mall
3 KANAZAWA Vacuum Pressure Cooker, 2L, P899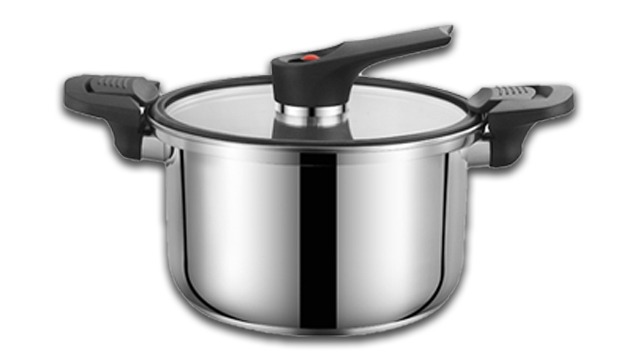 What is sexier and more attractive among your cookware than a shiny steel cooking pot with a glass lid? This one certainly fits those criteria! Unlike other pots, this Kanazawa vacuum pressure cooker boasts a stainless steel body and so it's not prone to rust.
What makes this different from your usual pressure cooker is that it doesn't have a pressure valve. Instead, the pot with the silicone-lined lid creates a vacuum inside the pot, making the pot airtight and holding the pressure in the pot as it cooks. This means it acts like a pressure cooker but also as an insulator, keeping the food hot even if you have turned off the heat already! This is especially useful for us Pinoys who frequently leave food in pots on the stove instead of immediately transferring food to containers and storing it in the refrigerator. It still has a safety valve and handles that extend to lock in the lid, so you know it's still safe to use.
Kanazawa Vacuum Pressure Cooker, 8L, P899, Kanazawa Shopee Mall
4 Chef's Classics Zinnia Stainless Steel Pressure Cooker, 6L, P3,839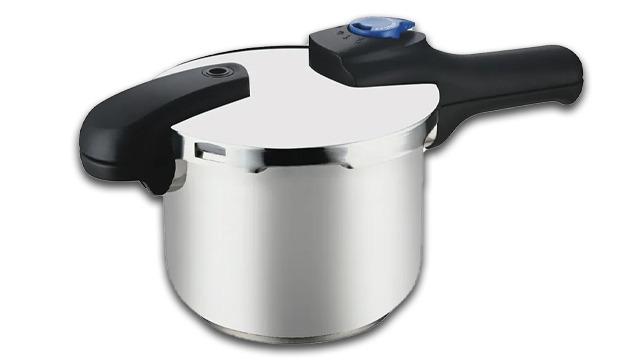 There's no denying that when a brand makes a name for itself as a reliable one, you know you're getting your money's worth. This Chef's Classic pressure cooker may be more expensive than your usual pressure cooker but you get a hardy and shiny 18/10 stainless steel body that is hardier than aluminum. It also boasts bakelite handles that ensure you have heat-resistant handles that not only fit your hands but also feel comfortable to hold. It also has an induction-ready bottom so you can cook on any stove that you have in your kitchen.
Chef's Classics Zinnia Stainless Steel Pressure Cooker, 6L, P3,839, Chef's Classics LazMall Flagship Store
Chef's Classics Zinnia Stainless Steel Pressure Cooker, 6L, P4,415, Chef's Classics Shopee Mall
5 Tefal Secure Neo, 6L, starting at P5,159.40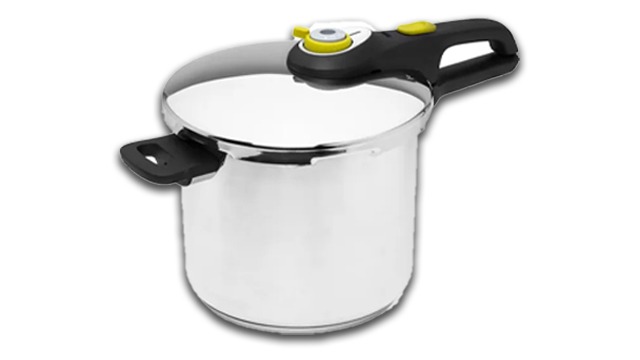 If there is a pressure cooker that you might want to not only inherit from your foodie parents (or favorite auntie, uncle, or lola), Tefal cookware was one of them. That's the reputation you know and if that's the kind of cookware you want to bestow on your offspring, you may want to invest in a tried and true cookware like this Tefal pressure cooker.
Called the Secure Neo, this pressure cooker boasts five safety features so you're confident when using it, including a pressure indicator, a safety valve, and an auto-lock system. The pressure indicator is easy to see so you know when the pot is no longer pressurized and safe to open. The auto-locking system ensures you can't even open it until it is! For extra safety, the pressure cooker has a pressure-controlled valve, a safety valve, and a gasket, too. Plus, it's made with quality stainless steel so yes, you can pass this down to the next generation of cooks.
Tefal Secure Neo, 6L, P5,159.40, Tefal Cookware LazMall Flagship Store
Tefal Secure 5 Neo, 8L, P5,760, Tefal Shopee Mall
Links are updated regularly and as much as possible, but note that products can run out of stock, discounts can expire, and listed prices can change without prior notice.
***