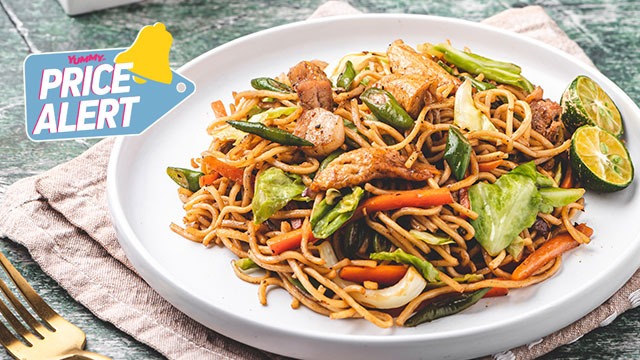 Chop suey or pancit canton? Both dishes are loaded with chopped-up veggies such as cabbage Baguio beans, carrots, and bits of meat that can be either pork, chicken, or small shrimp. Either dish would be a great dish to make this week because chicken, cabbage, and pechay Baguio just had a price drop this week, according to the Bantay Presyo monitoring team of the Department of Agriculture. 
Whole chicken dropped P10 to P180 per kilo shortly after last weekend while medium-sized eggs continue to stay P7 per piece. This is always good news to those who can't go about their day without their silog combos or a perfectly runny yolk for breakfast. 
Cabbage and pechay Baguio also known as napa cabbage or Chinese cabbage, the same vegetable that kimchi is made with, both ended yesterday at P60 per kilo. Other vegetables that saw a change of price include sayote. Sayote this week rose from its already low price of P30 per kilo back up to P40 per kilo. Other vegetables that saw a price increase were potatoes, now P80 per kilo, and ampalaya, also known as bitter gourd, now P90 per kilo. 
Meat, both pork and beef, have maintained steady prices this week with only pork liempo going up to as much as P370 per kilo last Tuesday. It ended the day at P350 yesterday. 
What do the prices of other food staples at the palengke look like? Thankfully, few had drastic price increases and a few also had a price drop. 
Here are the food from the palengke that had a price increase this week: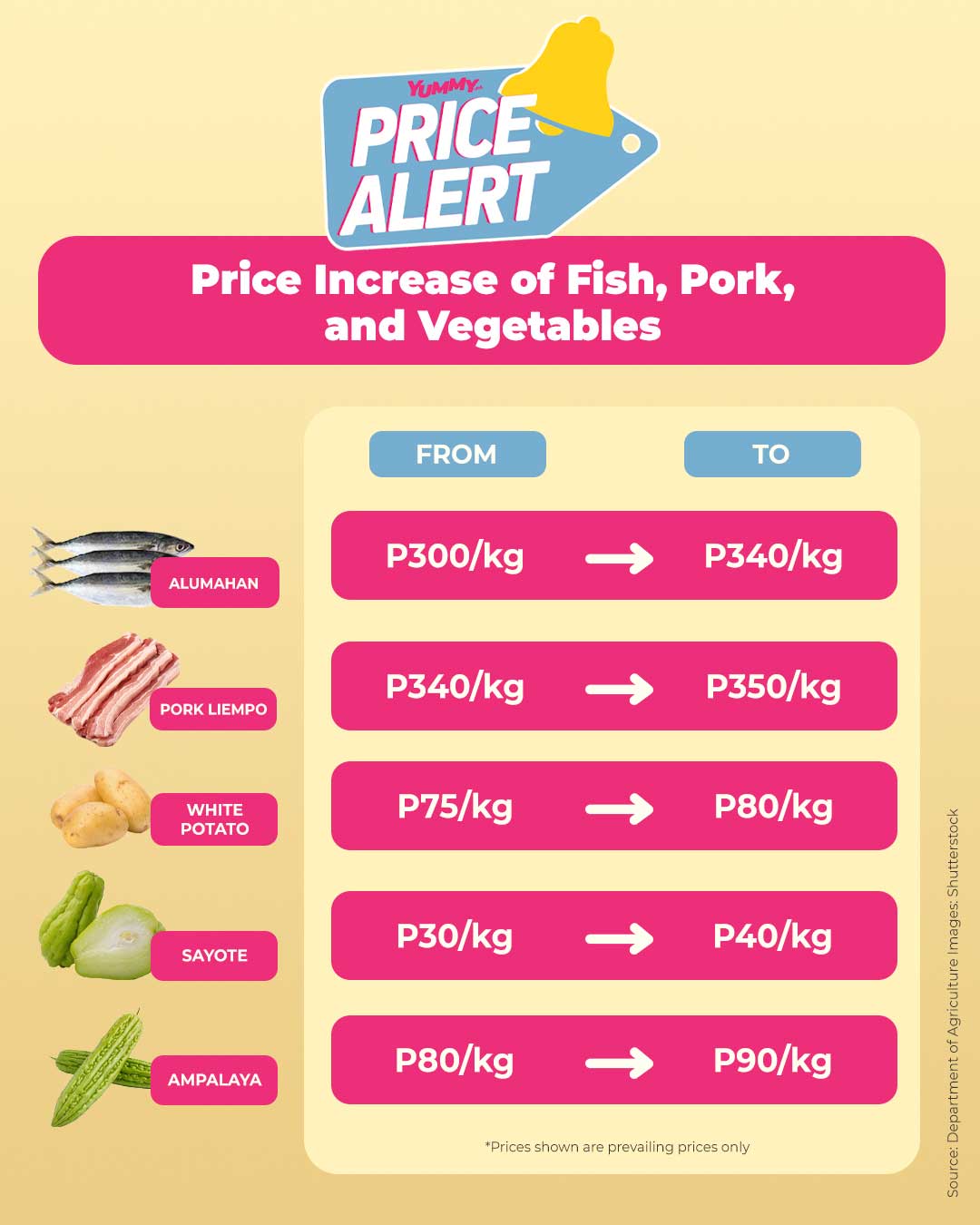 Here are the food from the
 

palengke

 

that experienced a price decrease this week: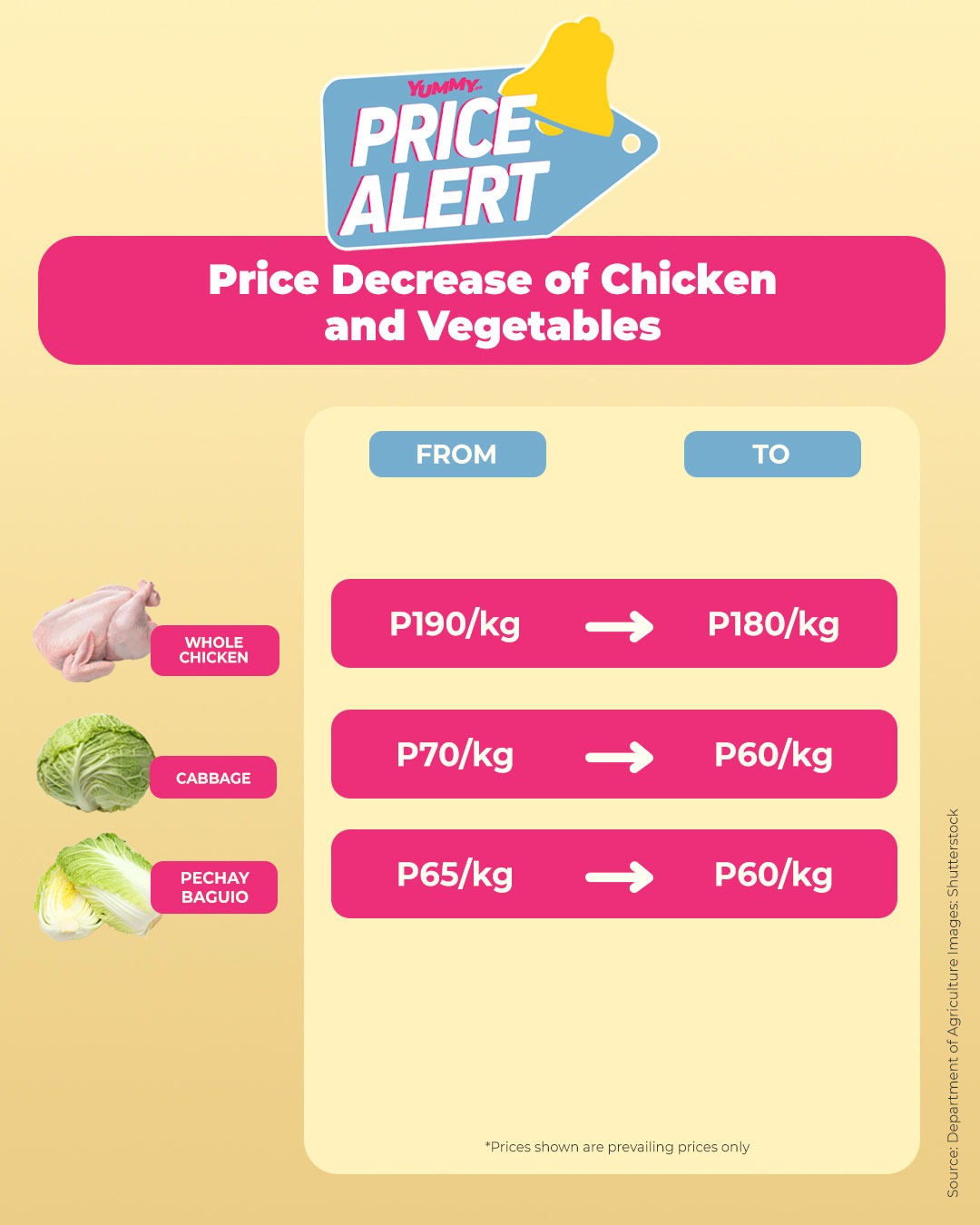 These prices are sourced and gathered from markets from these areas in the metro: Commonwealth, Guadalupe, Las Piñas, Malabon, Marikina, Mega Q-Mart, Muntinlupa, Muñoz, Pasay, Pasig, Pritil, Quinta, and San Andres. 
ADVERTISEMENT - CONTINUE READING BELOW
Recommended Videos
For more information about the price watch of the Department of Agriculture, visit the government agency's website.
Price Alert is a weekly roundup of the prices of common goods and other ingredients monitored using the Department of Agriculture's Price Watch. 
***