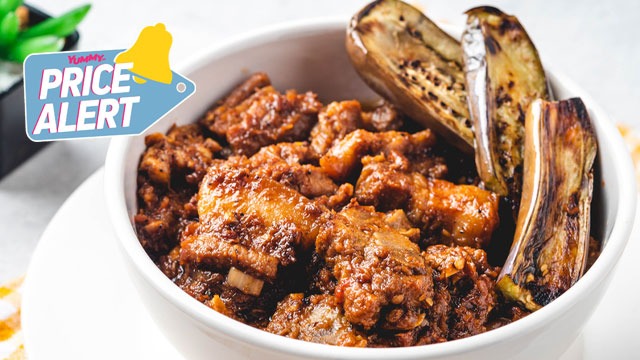 Budgeting your food bill can be difficult when you have to juggle what ingredients to buy in the face of price increases. Inflation last month was one of the quickest in the past three years, food and gas prices being two of the main leading contributors to this trend. The good news is that gas prices, which include the LPG tanks you use to flame up your gas stoves, are expected to go down this month. 
Even with that said, food prices continue to be high for many ingredients including beef brisket cuts and whole chicken which both increased P5/kilo over the past week to P355 and P180 respectively. Pork kasim cuts meanwhile saw a drop of P10 from P350 to P340 per kilo. 
These meat cuts however cannot compete with the much more affordable tilapia which continues to be the most affordable fish in the palengke at P120 per kilo followed by milkfish or bangus at P180 per kilo. 
Vegetable prices rose alarmingly last month, with tomatoes rising to as much as P140 per kilo and siling labuyo rising to P200, but thankfully, April ended with veggie price drops. Sayote continues to be the most affordable vegetable on the market which dropped even further to P30 per kilo this week. This is followed closely by kalabasa at P50 and potatoes, pechay Tagalog, and eggplants all priced at P60 per kilo. 
What other vegetables saw a drop in price and what palengke staple is more expensive this week? Here is a quick guide on what ingredients' prices went up and which went down over the past week: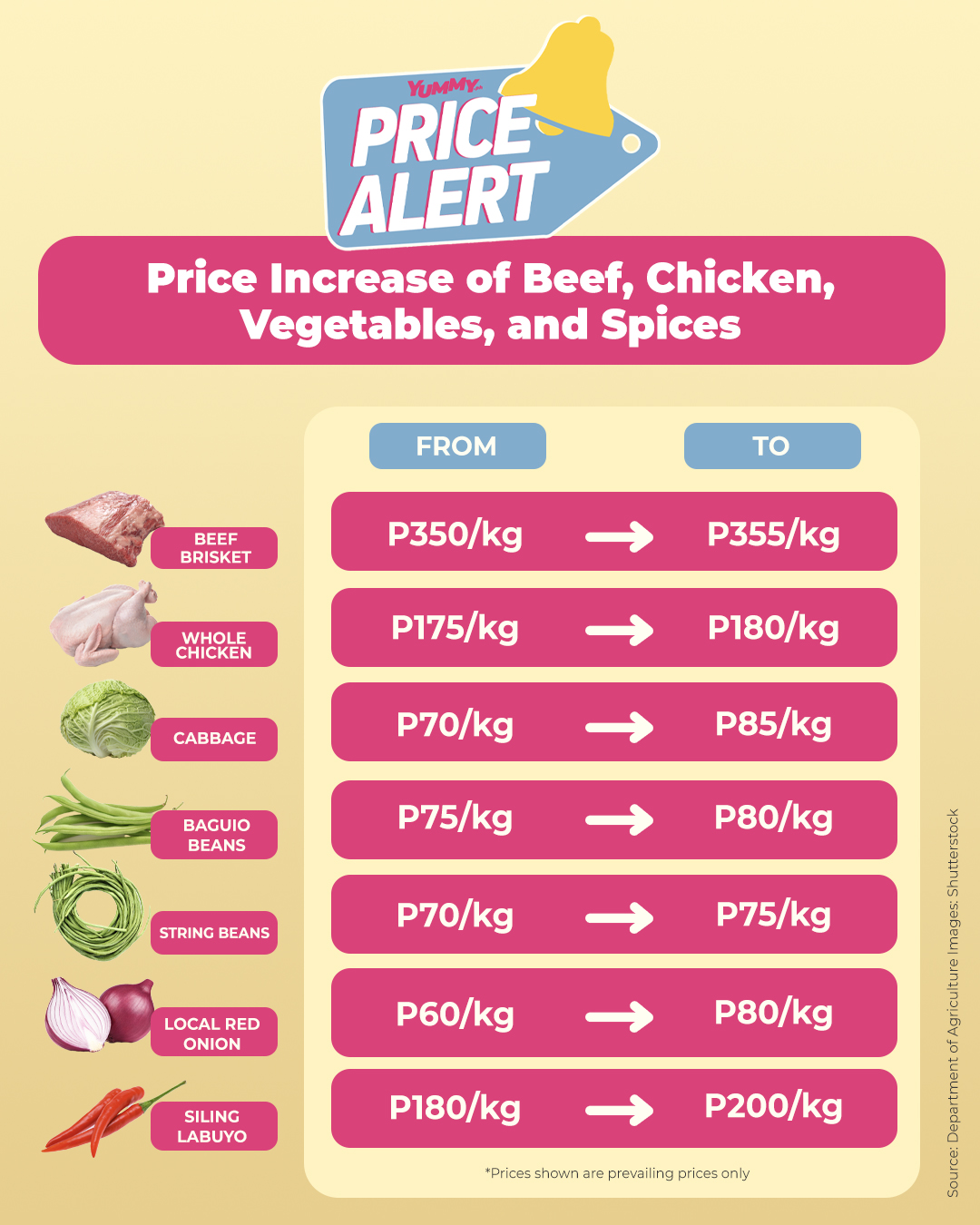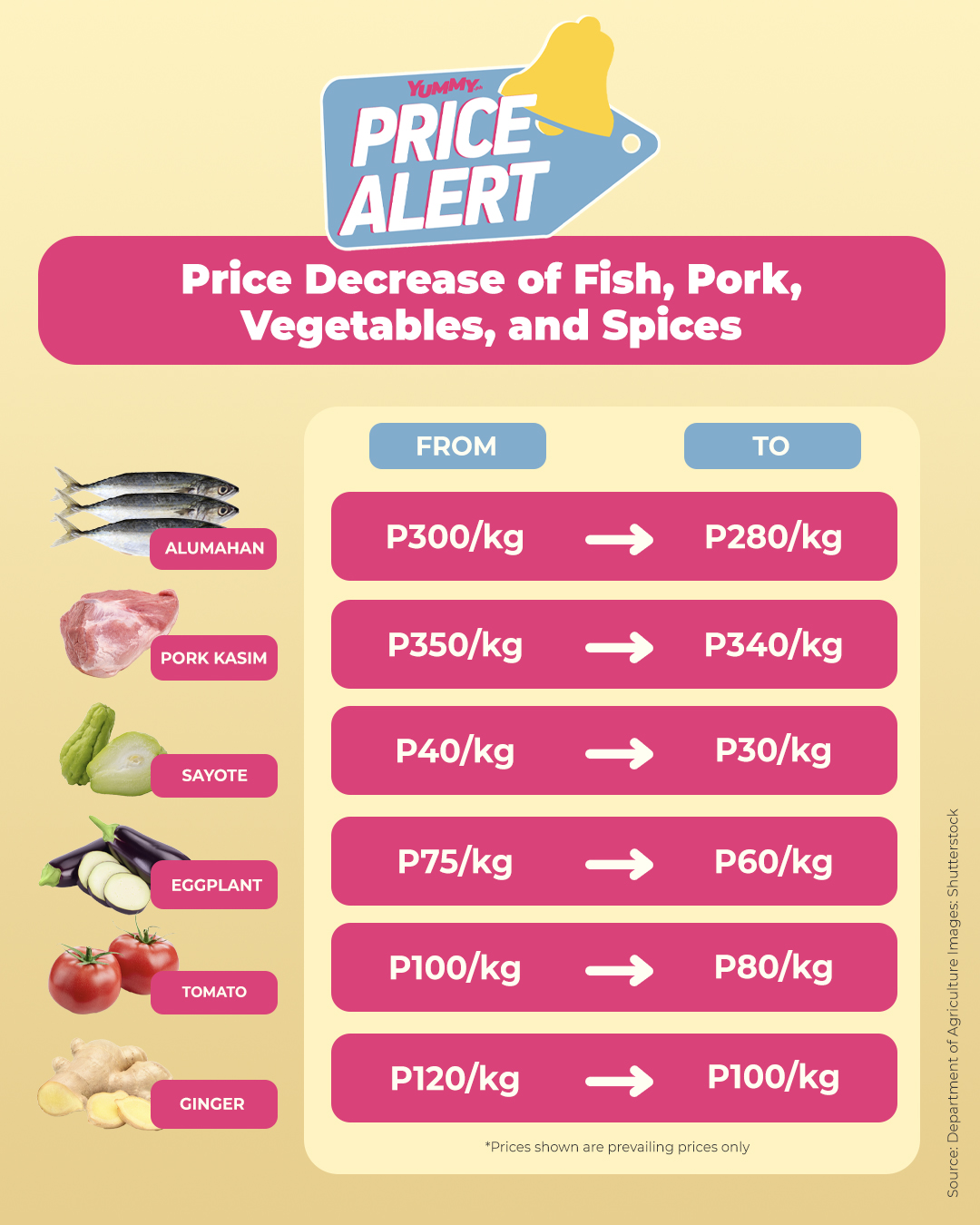 These palengke prices are sourced and gathered only from these markets in these areas in the metro: Commonwealth, Guadalupe, Las Piñas, Malabon, Marikina, Mega Q-Mart, Muntinlupa, Muñoz, Pasay, Pasig, Pritil, Quinta, and San Andres. 
For more information about the price monitoring of selected agricultural and fishery commodities in the metro by the Department of Agriculture, visit Price Watch on the government agency's website. 
ADVERTISEMENT - CONTINUE READING BELOW
Recommended Videos
Price Alert is a weekly roundup of the prices of common goods and other ingredients monitored using the Department of Agriculture's Price Watch. 
***