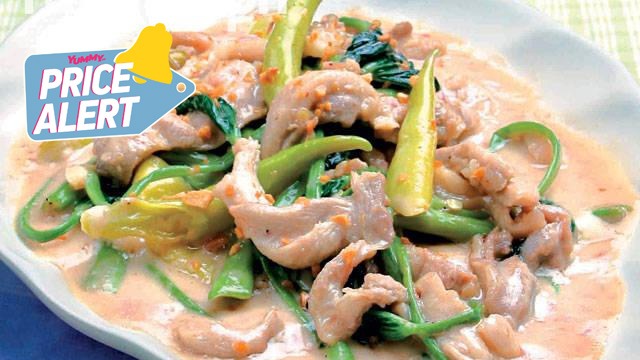 Have you been following the onion telenovela happening on the news? If you have, you might know that red onions are finally back on sale at various Kadiwa stores popping up around the metro and in select areas around the country. If you're dropping by a store, here's where you can find the schedule and where to find them this week:
[facebook url="https://www.facebook.com/dacentralphilippines/posts/pfbid03598Mc1R5mmrEKHKMNFYcaPUXWrRF5GpV6tH31w8dLiUkzgAArZRfY3ixPiFkY9Eel"]
When you go shopping, here's what youneed to know: Local red onions continue to see fluctuating prices with this week's price range seeing a drop, landing between P320 and P450 per kilo. This might be in view of the impending onion imports that are due to arrive later this month so feel free to take advantage of this marketing tactic.
Another food to take note of is the price of eggs. It rose to a high of P8 up to P10 per medium-sized egg this past week. The Philippine Egg Board claims the bird flu that razed through Luzon is the cause. The Department of Agriculture has yet to determine the real reasons why.
Meanwhile, tomatoes also saw a price decrease and are now cheaper with prices ranging from P40 to P100 per kilo compared to last week's P70 to P120 range. Spicy food lovers will be also delighted to know that their beloved siling labuyo is even cheaper than before. At P160 up to P300 per kilo, the siling labuyo is again an ingredient you can in your kitchen and make delicious spicy dishes such as Bicol express, spicy lechon kawali, or various homemade hot and spicy condiments.
What other food saw a price increase or decrease this week? Check out what ingredients your trusty cheat sheet says is cheaper (or more expensive!) in time for your palengke shopping trip this weekend.
Here are the food that saw a price increase this week: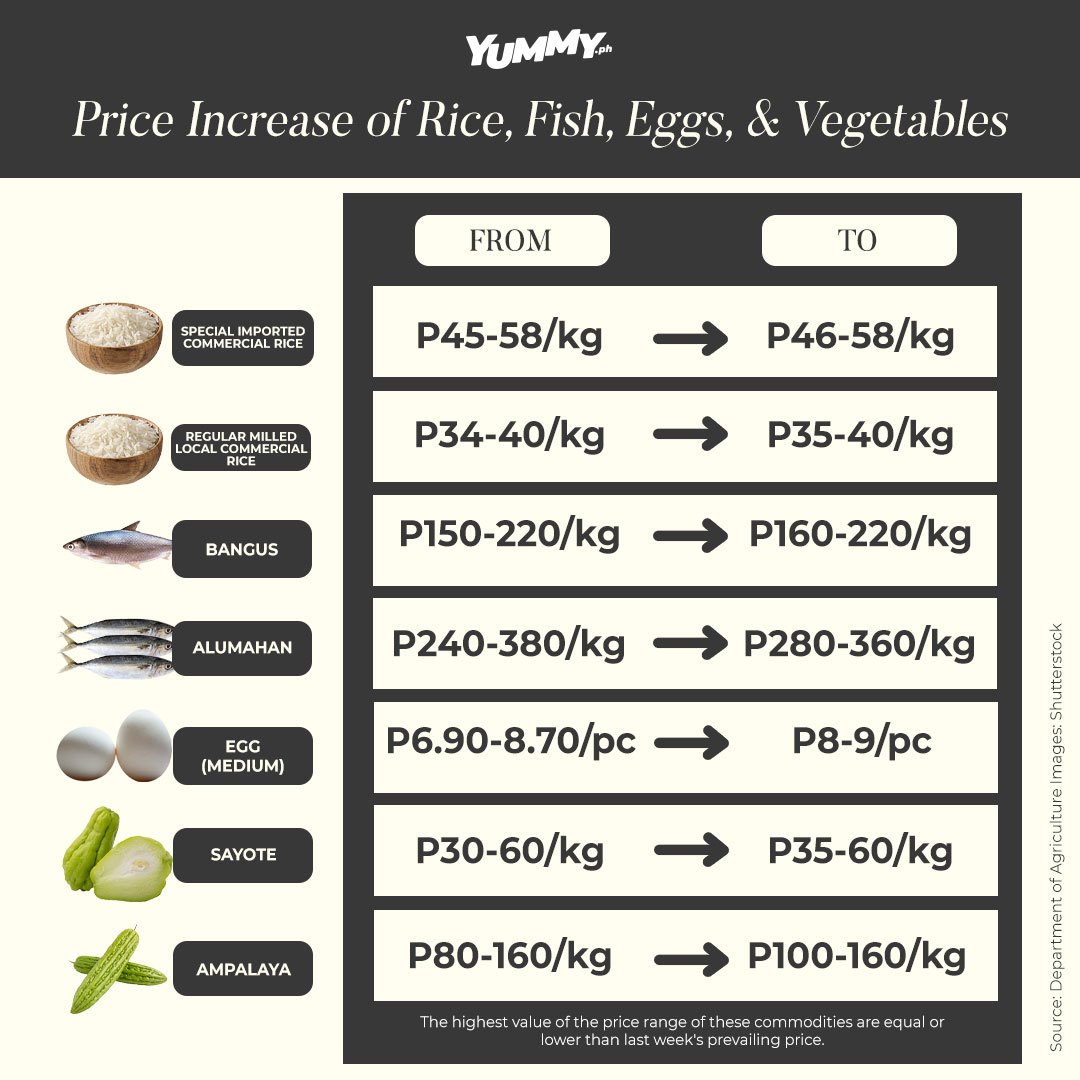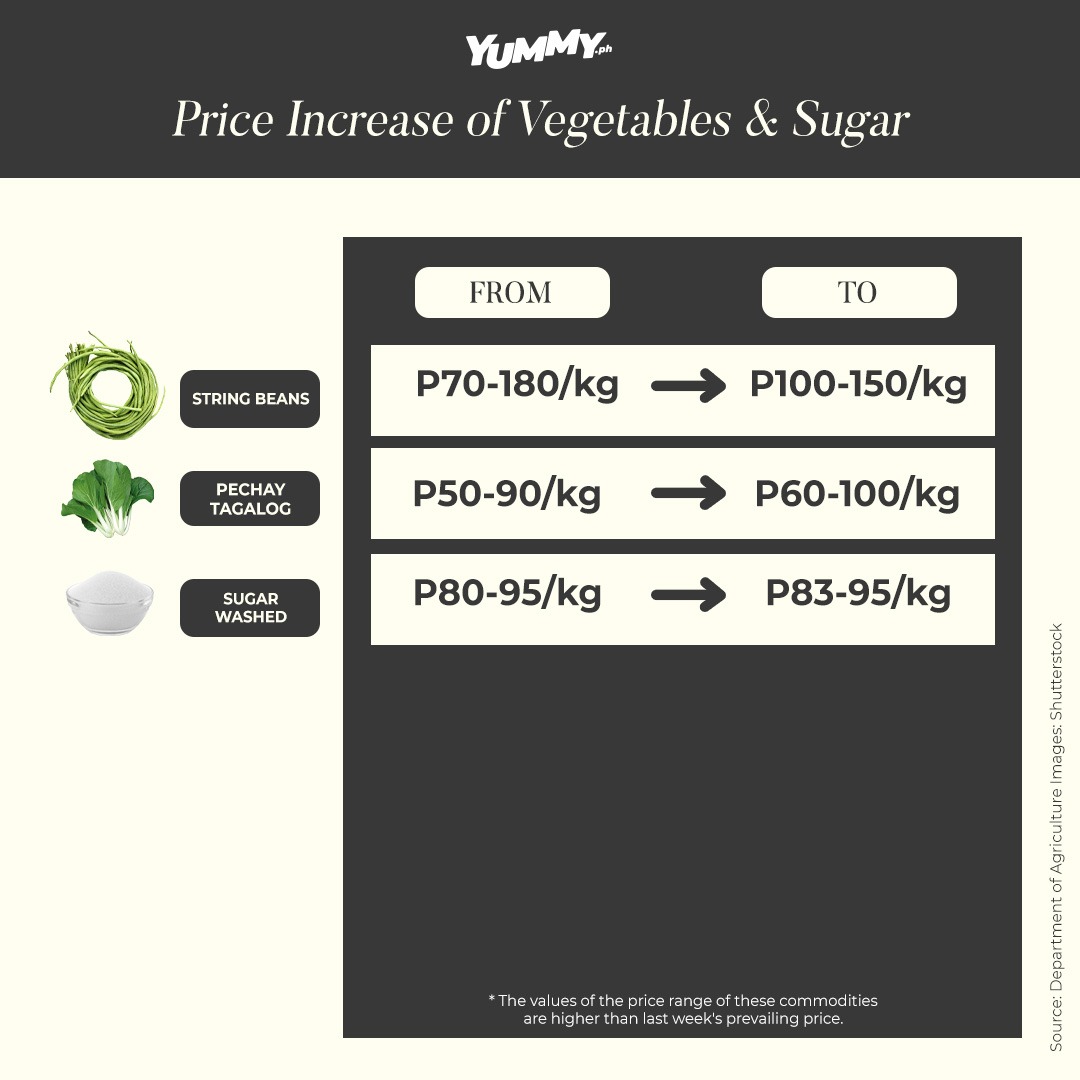 Here are the food that saw a price decrease this week: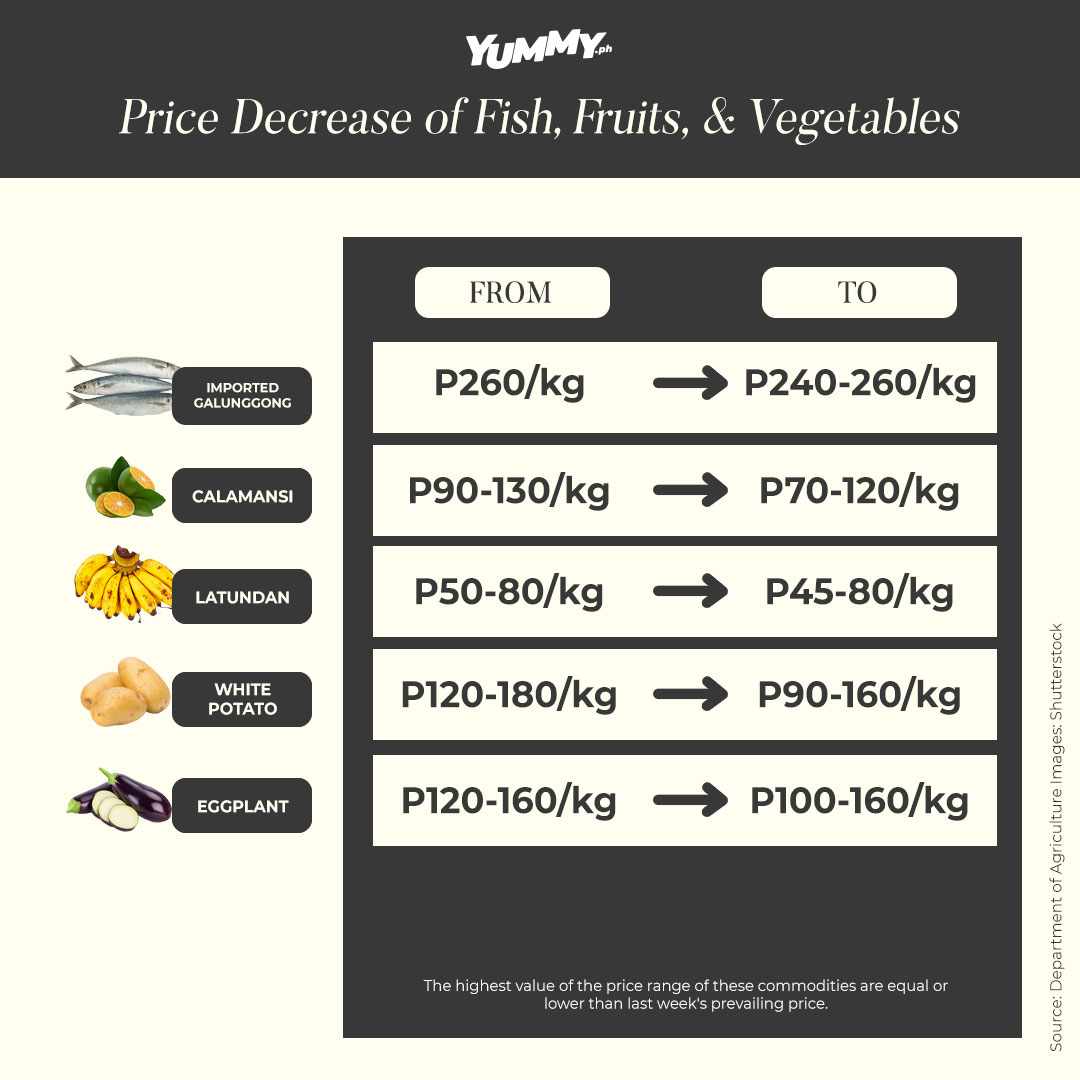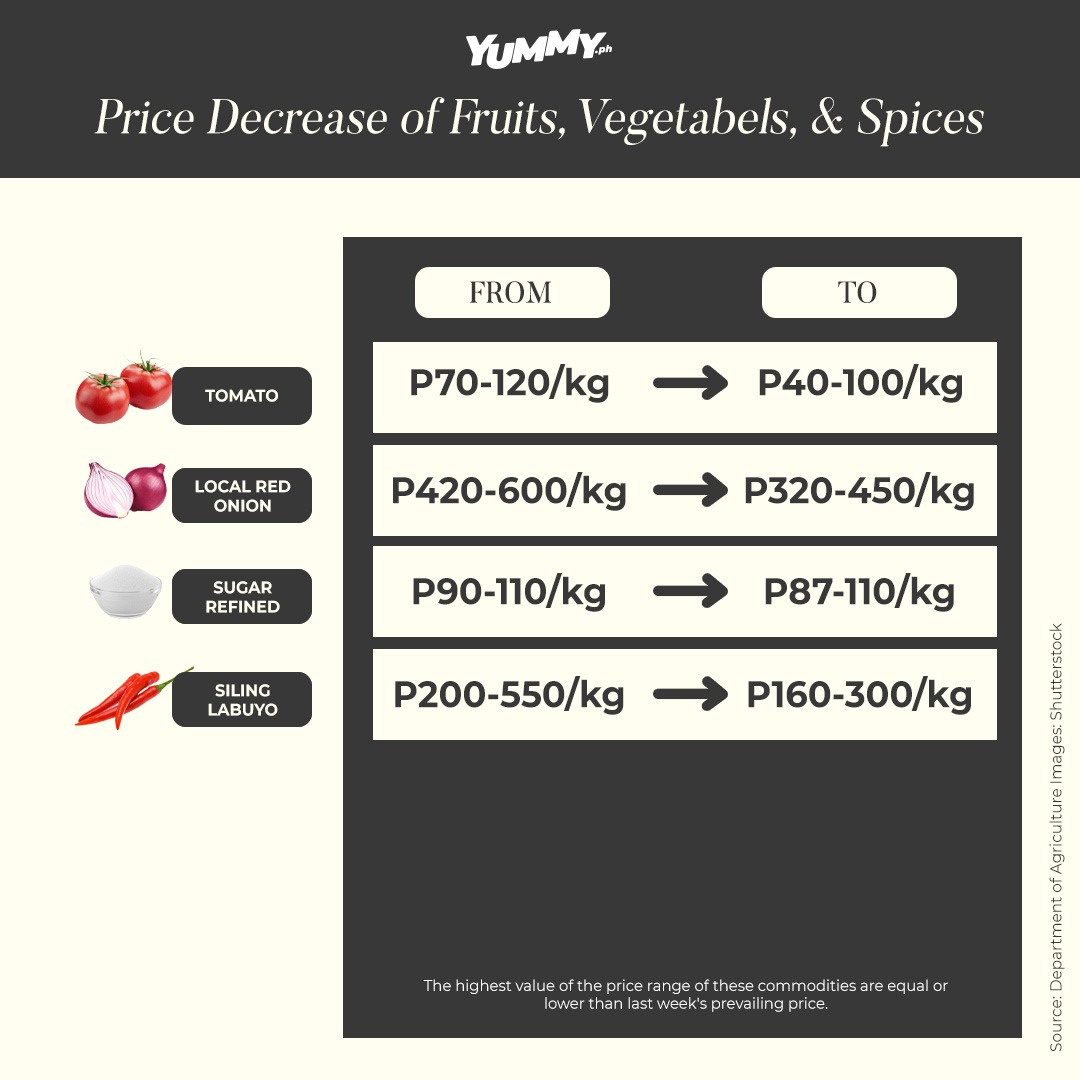 Do you know how spicy the siling labuyo really is?
In case you didn't know, here's a chart that shows you on the international Scoville scale how spicy the different local chili peppers are: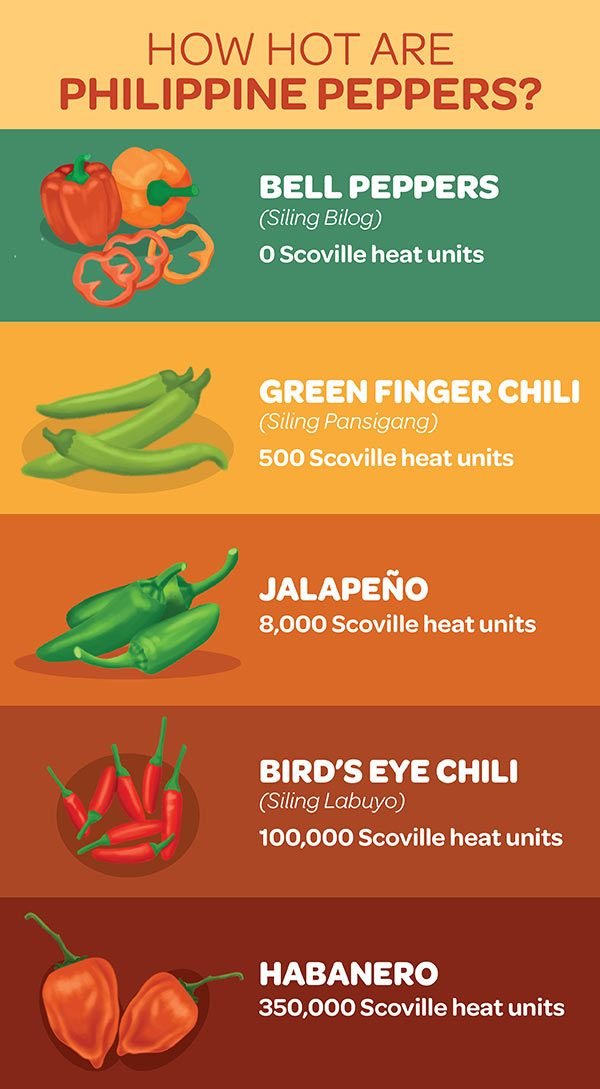 6 Spicy Dishes To Make With Gata + Sili
Since the siling labuyo is cheaper to buy this week, you might want to indulge your taste for spicy dishes again. Here are 6 recipes you might want to try that marry coconut milk and chili into incredibly tasty ulam dishes:
The palengke prices above are sourced and gathered from various markets in these areas around the metro: Commonwealth, Guadalupe, Las Piñas, Malabon, Marikina, Mega Q-Mart, Muntinlupa, Muñoz, Pasay, Pasig, Pritil, Quinta, and San Andres.
For more information about the price watch of the Department of Agriculture, visit the government agency's website.
Price Alert is a weekly roundup of the prices of common goods and other ingredients monitored using the Department of Agriculture's Price Watch.
ADVERTISEMENT - CONTINUE READING BELOW
Recommended Videos
***