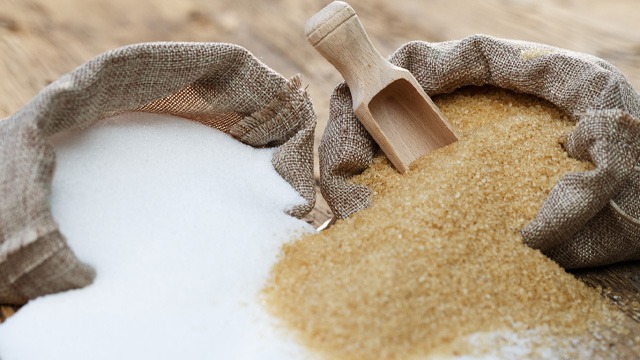 Petsa de peligro may no longer have meaning if every day feels like it's going to be a day you need to be a scrooge. If pandesals continue to shrink in size, pork continues to be expensive, and chicken becomes harder to source because of the bird flu as well as lack of supply, it's not hard to believe that other food may suffer the fate of a price increase. 
That's exactly what has been happening to sugar.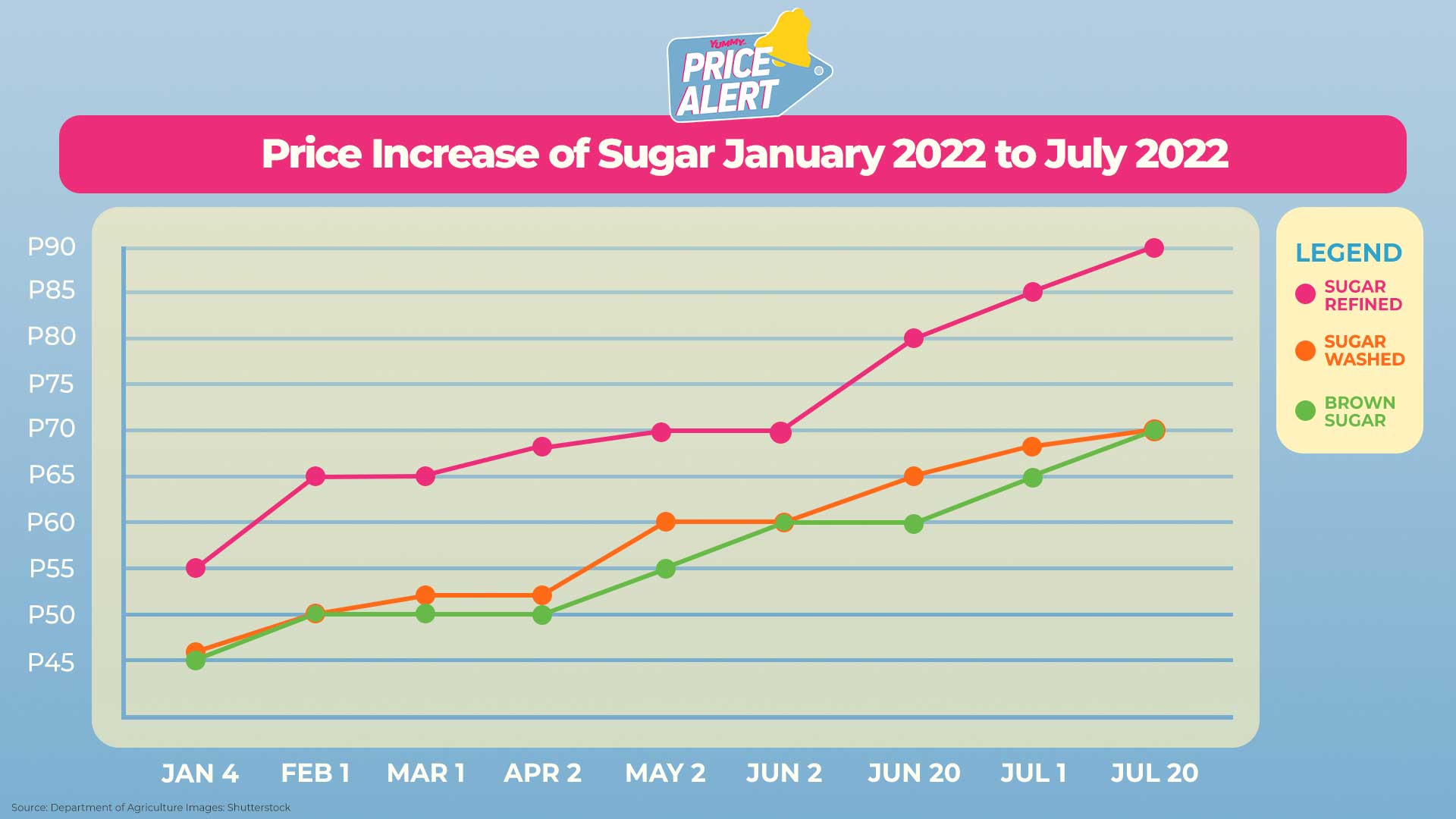 According to the reports of the Bantay Presyo or Price Watch of the Department of Agriculture (DA), the price of sugar or asukal has steadily increased since the start of this year, and it's a fact that the acting secretary of agriculture President Ferdinand "Bongbong" Marcos Jr. and its agency has noticed, too. 
Since January, the prices of refined sugar or white sugar, brown sugar, and even washed sugar has risen at an almost month rate. If one tracks the prices when each kind of sugar rose in price, you'll see a steady incline up, meaning prices steadily went up at an interval of every two weeks in some cases and one to two month in others. Refined sugar started the year priced at P55 but ended yesterday at P90. Washed sugar and brown sugar have been priced consistently within a few pesos of each other but rose to P70 when washed sugar was formerly P46 and brown sugar was P45 at the beginning of the year. 
In a July 18 meeting with the department, a suggestion that sugar imports may be needed or a suggested retail price (SRP) be set are being considered by the Sugar Regulatory Administration (SRA) to curb the continued rise of sugar prices.  
Here are the prices of the three kinds of sugar in the past year: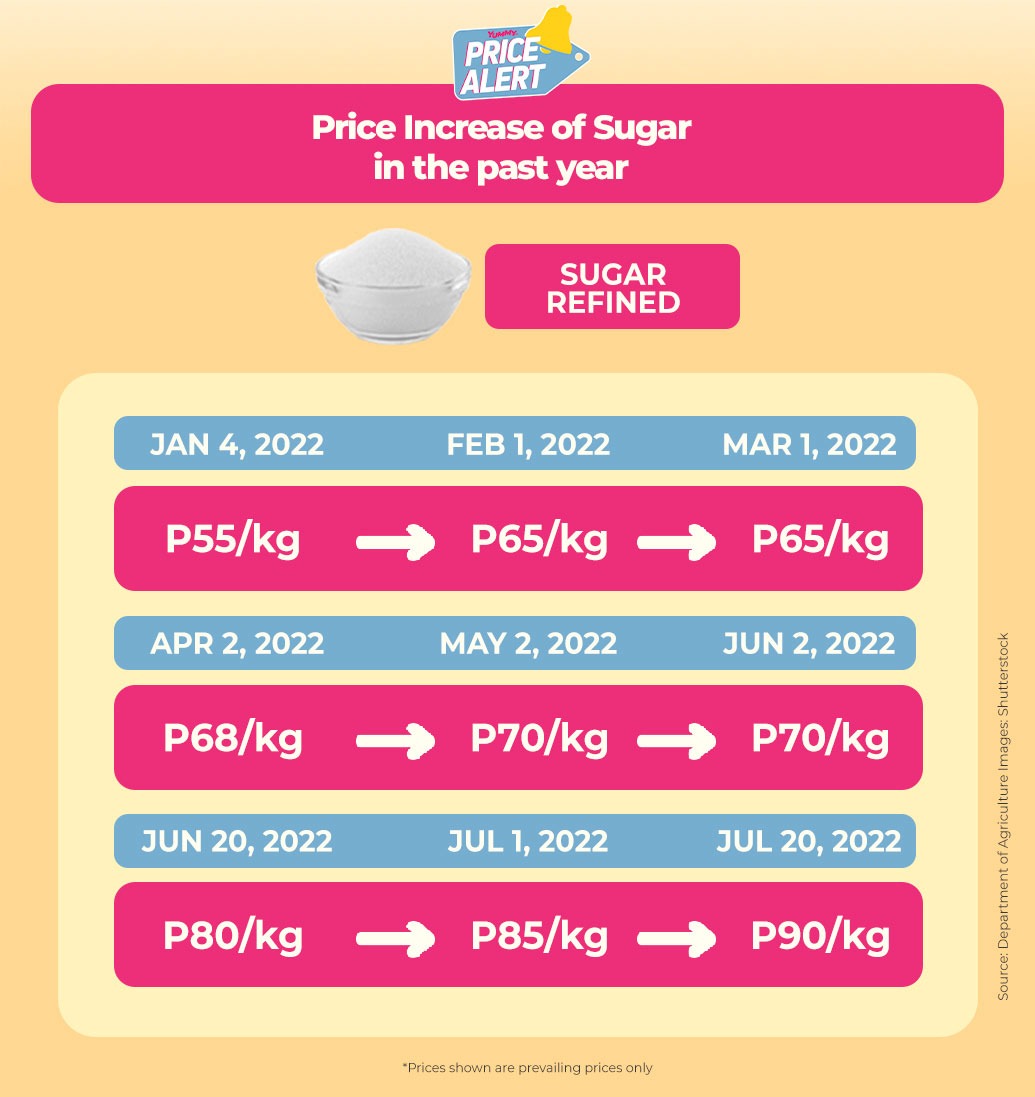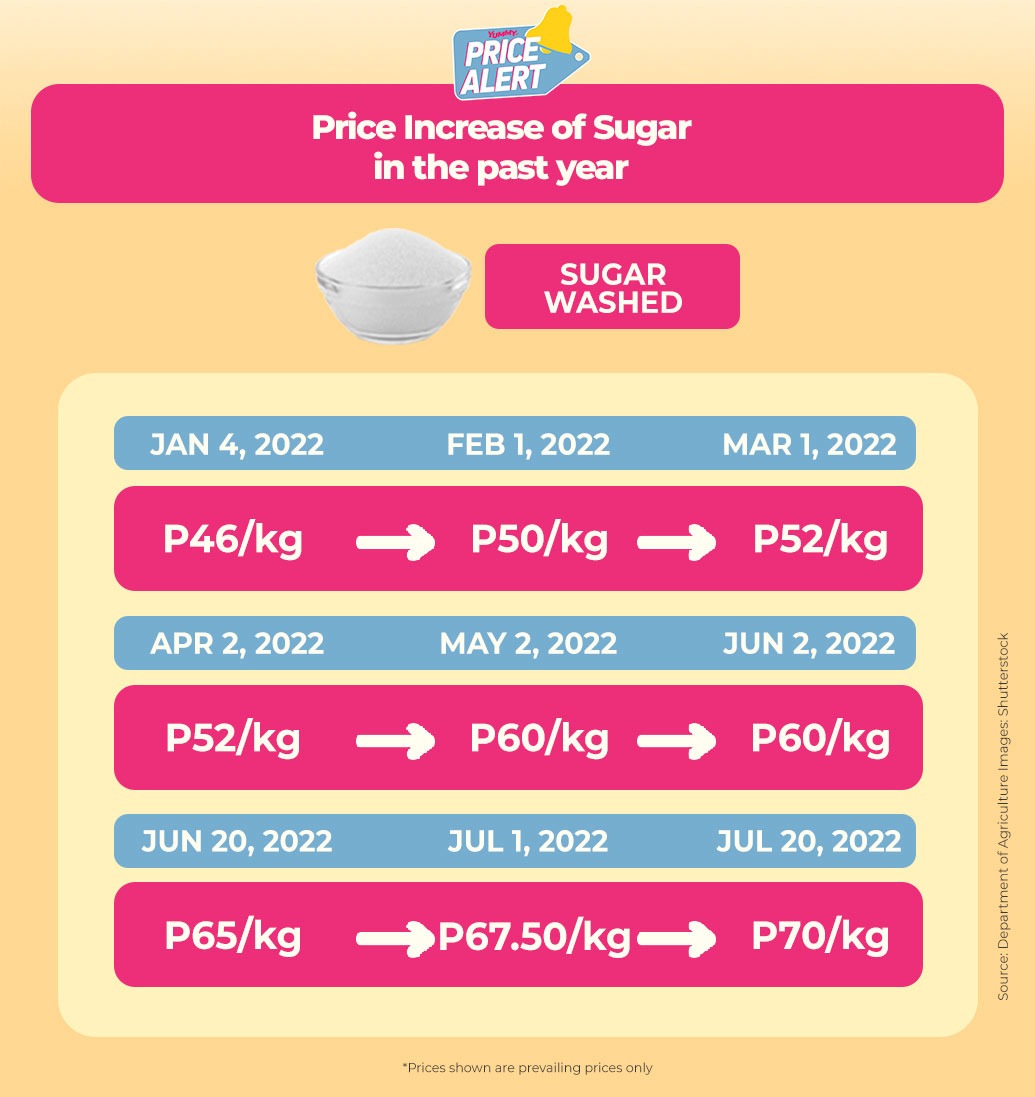 These prices are the average prices sourced from palengkes or farmers markets in the Metro Manila area, specifically those in Commonwealth, Guadalupe, Las Piñas, Malabon, Marikina, Mega Q-Mart, Muntinlupa, Muñoz, Pasay, Pasig, Pritil, Quinta, and San Andres. The prices of sugar may be lower or higher in supermarkets, grocery stores, sari sari stores, and other places where sugar may be purchased.
ADVERTISEMENT - CONTINUE READING BELOW
Recommended Videos
Recent food shortages have caused local restaurants and even fast food places to announce the lack of availability of certain menu items. 
For more information about the price watch of the Department of Agriculture, visit the government agency's website.
Price Alert is a weekly roundup of the prices of common goods and other ingredients monitored using the Department of Agriculture's Price Watch. 
***