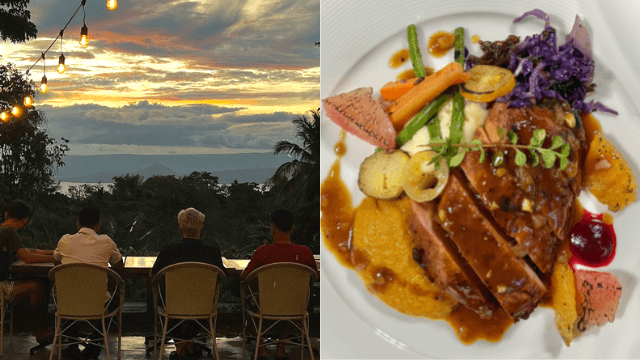 Are you getting tired of the Tagaytay crowd, the Tagaytay traffic? If it's delicious food with a view of Taal, sans the crowd, is what you're looking for, you can go to Prism Restaurant Cafe in Lipa, Batangas. 
Before we get into the beautiful interiors and the mouthwatering food of this restaurant cafe, here's some interesting trivia: Prism Restaurant Cafe is the younger sister company of Prism Cafe, the cloud cafe behind the gorgeous Harry Potter-inspired drinks.
[instagram url="https://www.instagram.com/p/CcnOxMagRV-/"]
From managing a cafe, the owners decided to open this gorgeous restaurant in the south.
At first glance, Prism Restaurant Cafe does give off a strong summerhouse vibe, but once you enter the establishment, you'll notice a sophistication to its interiors. The high ceiling, the chandelier, marble floors, and the creams and whites contrast the deeper colors of emerald, wood, and black.
[instagram url="https://www.instagram.com/p/CcInzNXNxrx/"]
They have an al fresco dining area if you want some fresh air. It also offers a better view of Taal, especially during sunset, which makes for a picture-perfect happy hour with your friends. Don't worry; they offer red, white, rose, and sparkling wine to maintain that level of sophistication that the ambiance calls for. 
[instagram url="https://www.instagram.com/p/CcEs0IwvVFY/"]
ADVERTISEMENT - CONTINUE READING BELOW
Recommended Videos
Prism Restaurant Cafe's menu
Prism Restaurant & Cafe's menu showcases Batangas' local produce in familiar dishes with a modern twist.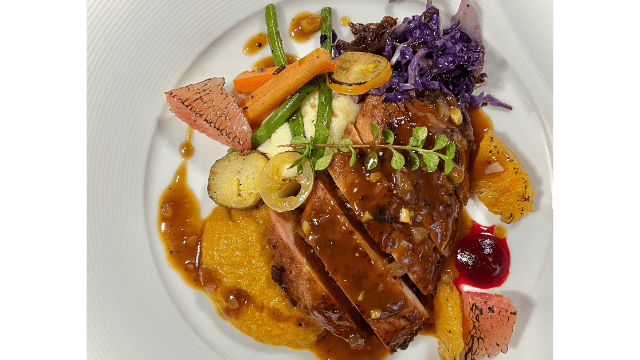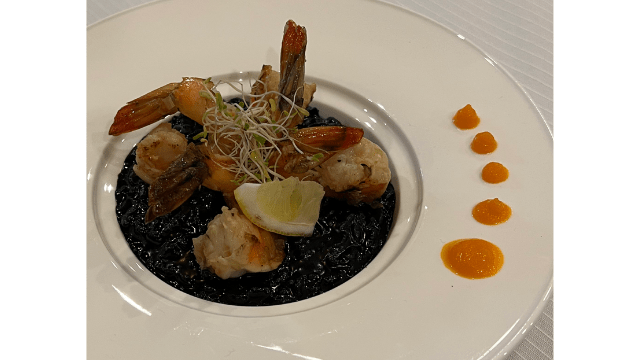 Some of these dishes are the Olive and Pepper Crusted Tuna (P850) which uses Batangas tuna, garlic-thyme chayote, and Barako-dark chocolate jus; Fettucini Allo Soglio (P550) which uses the local seafood of Batangas with a butter-white wine emulsion, garlic, parsley, and cherry tomatoes; and they even have a Barako Tiramisu (P160) you can enjoy for dessert.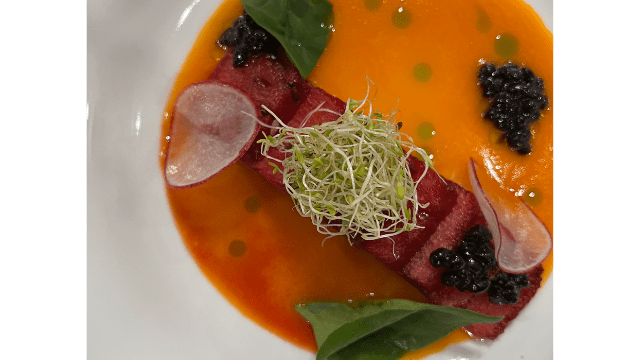 If you're unsure about what to order, you can play it safe and try their current crowd favorites Watermelon Sashimi (P510), Seafood Risotto (P620), Pinais Catch of the Day (P650), Truffle Spaghetti (P400), Adobo sa Dilaw Chicken Confit (P600), and the Olive Oil Gelato (P180). In fact, the Olive and Peppercrusted Tuna is one of their bestsellers, too!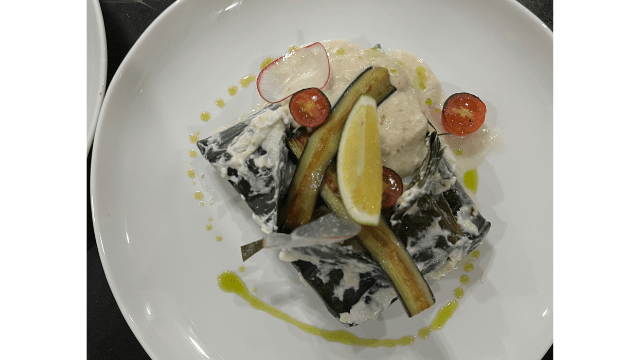 Prism Restaurant Cafe also houses Prism Cafe's selection of beverages and desserts. So if you're in the mood for coffee, tea, and ade, go ahead and ask for the cafe menu. You'll also see they have a wide selection of cakes, pastries, pasta bowls, bread, burgers, and sandwiches to choose from.
Ready for a road trip + food trip? Prism Restaurant Cafe is located at El Madero Farm and Resort, Bagong Pook, Lipa City, Batangas.
Follow Prism Restaurant Cafe on Instagram for more information.
*****