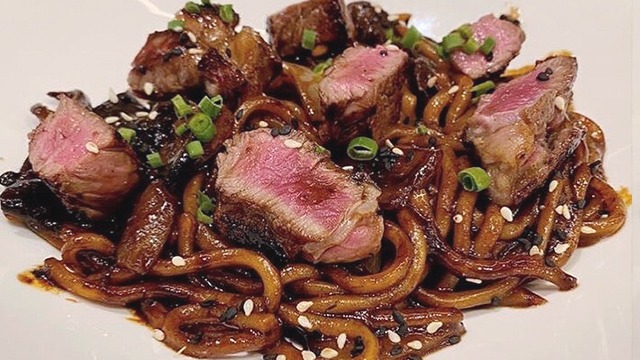 If you've seen the award-winning movie Parasite, then you're probably familiar with ram-don. The noodle dish, a combo of ramen and udon noodles and topped with cubes of steak, had everyone wanting to replicate the bowl of noodles at home. 
Sure, making Parasite's ram-don is easy, but if you feel like having a more elevated version of Mrs. Park's high-end comfort food, you can try it this weekend at Gochu Gang at The Grid, Powerplant Mall. Gochu Gang decided to serve their version of Steak Ram-Don Noodles (P420) this weekend, on March 7 and 8, for people who missed it last March 1. 
Gochu Gang replaces the instant noodles with tsukemen noodles (ramen dipping noodles), and uses their own sauce, then tops it with juicy medium-rare steak. Gochu Gang also has tteokbokki (P250) on the menu, too. 
Parasite's ram-don is basically a combination of two instant noodles: Chapagetti (a jjajang ramen noodles) and Neoguri (Japanese-style udon with a spicy seafood broth), then topped with beef—and not just any type of beef, Mrs. Park's ram-don is topped with cubes of Hanu, a premium beef similar to wagyu. If you want to make it the same way it was made in Parasite, you can make it at home using these instant noodles, too.
You can finally try Gochu Gang's Steak Ram-Don Noodles this weekend at stall #6 at The Grid, Powerplant Mall, Rockwell Center, Makati City this March 7 and 8, 2020. For more updates, follow Gochu Gang on Instagram.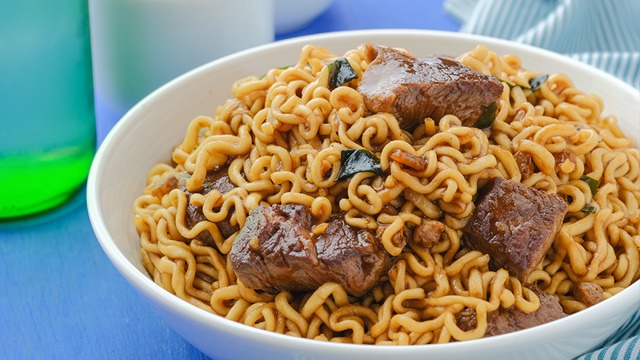 This Is How Easy It Is To Make Ram-don
Posted in:
Cooking
ADVERTISEMENT - CONTINUE READING BELOW
Recommended Videos