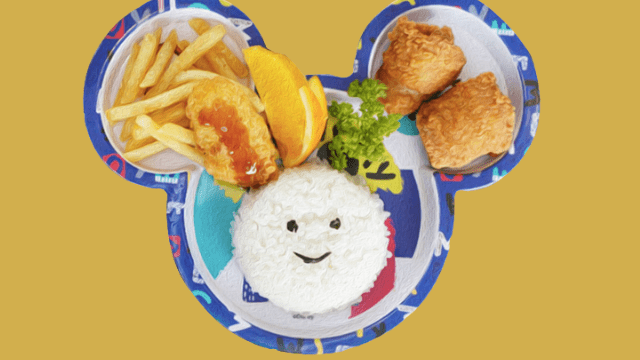 While we now know a certain ramen shop offering kiddie meals (placed in the cutest toy car plates), there's another ramen shop that offers kiddie meals! Ramen Kuroda serves Kids Meals, a complete meal served in smaller proportions, served on a Mickey Mouse plate!
[facebook url="https://www.facebook.com/kuroda.ph/posts/4634481856608361″]
Ramen Kuroda's Kids Meal includes protein from the two pieces of Chicken Karaage, plus carbs from the Potato Croquette, French Fries, and a cup of rice. You can dip the fries in the ketchup, and the chicken in the taru sauce which are both included in the meal. The Kids Meal includes a slice of orange which you can enjoy for dessert, and it comes with a cup of cold mango juice to quench your thirst.
[facebook url="https://www.facebook.com/kuroda.ph/photos/pcb.1050853381637911/1050846974971885/"]
Unfortunately, there's no ramen included in Ramen Kuroda's Kids Meal but they do offer other ramen sets that are reasonably priced! Among the many meal sets they offer, they have a Ramen Gyoza Set (P320) which includes ramen, gyoza, rice, fresh fruits, and an extra serving of rice or noodles, and there's also the Kuroda Basic Bento Set (P500) which has salmon sashimi, ebi tempura, chicken teriyaki, tsukemono, rice, fruits, and half ramen.
*****