If you find yourself racking your brains for new recipes more often than usual, we completely understand. Now that the whole family eats all of their meals at home, it's a lot more challenging to come up with fresh meal ideas and avoid the dreaded, "Iyan ulit?"
Plus, most of you also do a lot of errands on top of cooking. So, wouldn't it be nice to have an ally who can do some of the work for you?
Enter: Tita MAGGI Chatbot. She's the newest tita in town whom you can run to when you're running out of meal ideas. The best part? She's available to you 24/7 and is only one chat away on Facebook.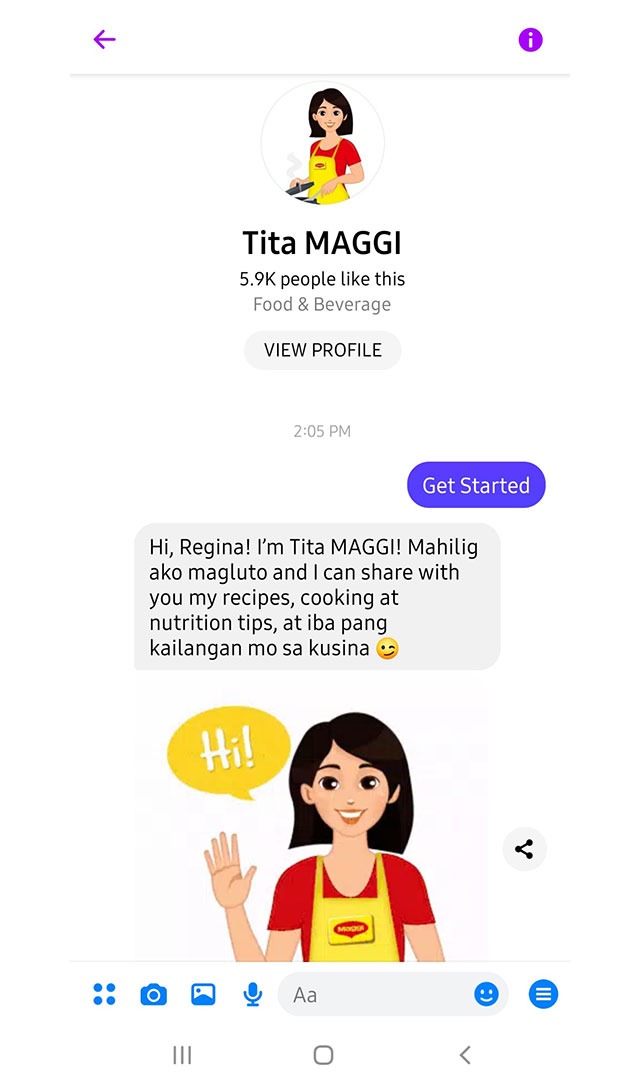 Getting help from Tita MAGGI is easy! Follow this step-by-step process:
1 Chat with Tita MAGGI via Facebook Messenger
2 Click "Get Started"
3 On the Main Menu, swipe to the left to view all the options: "Find a Recipe," "Discover Recipes," "View My Profile" "Ask Tita MAGGI," and "Purchase MAGGI Products"
4 Choose the option that coincides with your needs
How to ask Tita MAGGI for recipe suggestions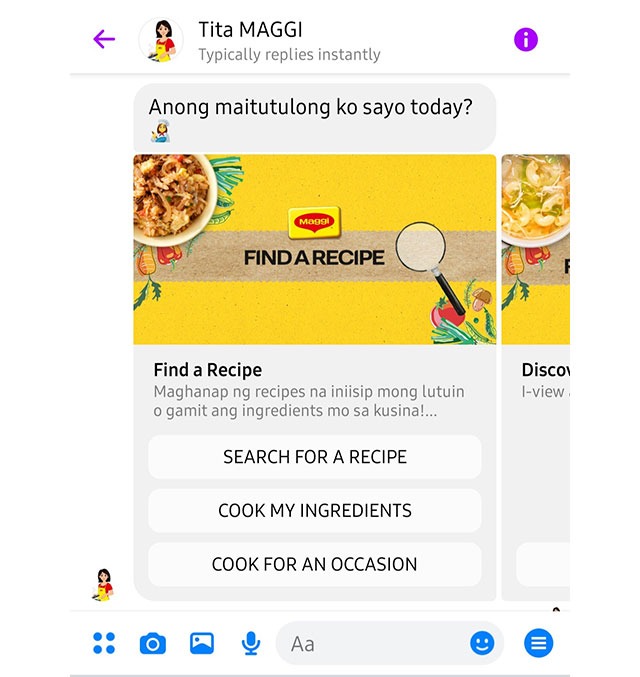 For meal ideas, "Find a Recipe" will be your best bet. There are three things you can do under this option:
Search For A Recipe: Click this option or simply type in the dish you're looking for. However, don't expect to get one basic recipe. Instead, Tita MAGGI will give you variations to choose from! For example, type in "adobo" and she'll send links to different adobo recipes like Pork Adobo with Oyster Sauce, Chicken Feet Adobo, Sinampalukang Adobo, Chicken Pork Adobo with Pineapple, and Adobo Flakes, among others.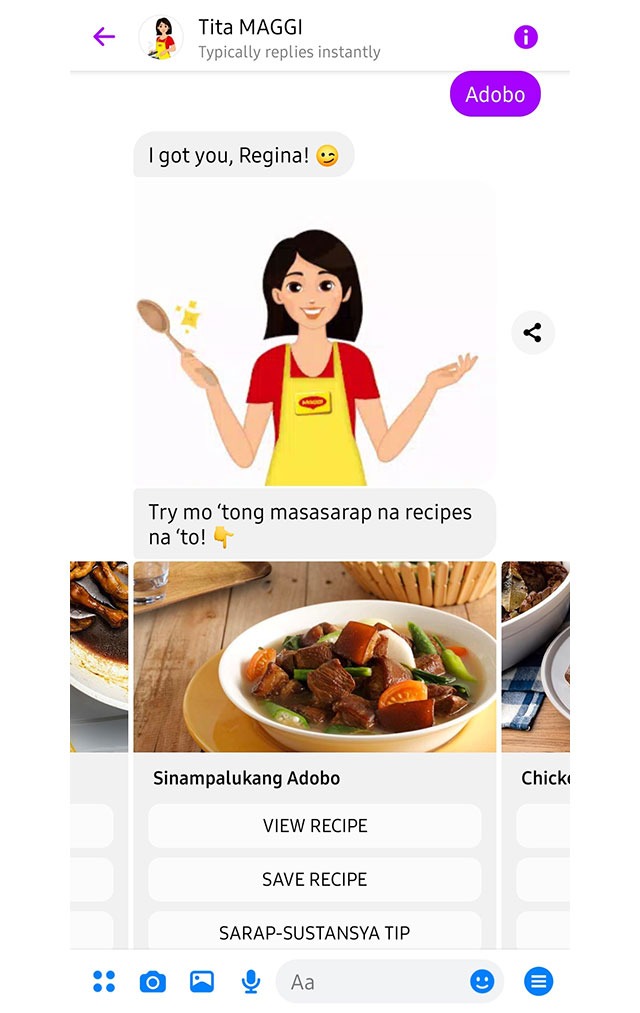 Cook My Ingredients: Be resourceful and use whatever ingredients are available to you at the moment. Click this option then type in your ingredients. You can list them down like this: "pork, garlic, onions, and tomatoes," and voila! Tita MAGGI will suggest recipes with those ingredients for you to choose from.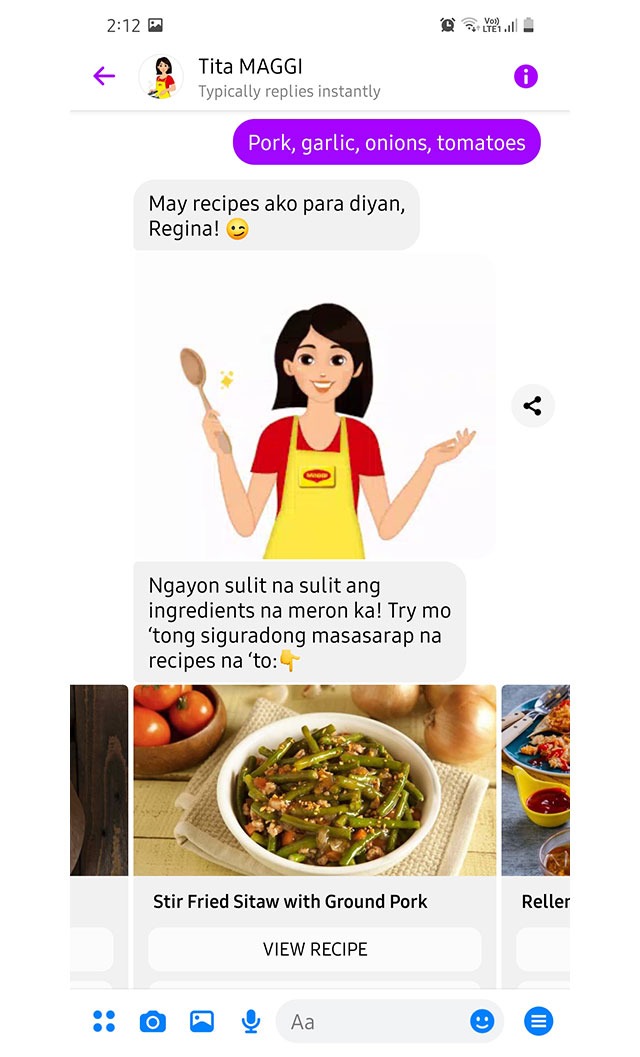 Cook for an Occasion: Click this and Tita MAGGI will offer recipe suggestions for birthdays, Christmas, weekends, and even for just every day! The amazing part is that she'll also take into account how much time you want to spend cooking and provide you with recipes based on that. Cool, right?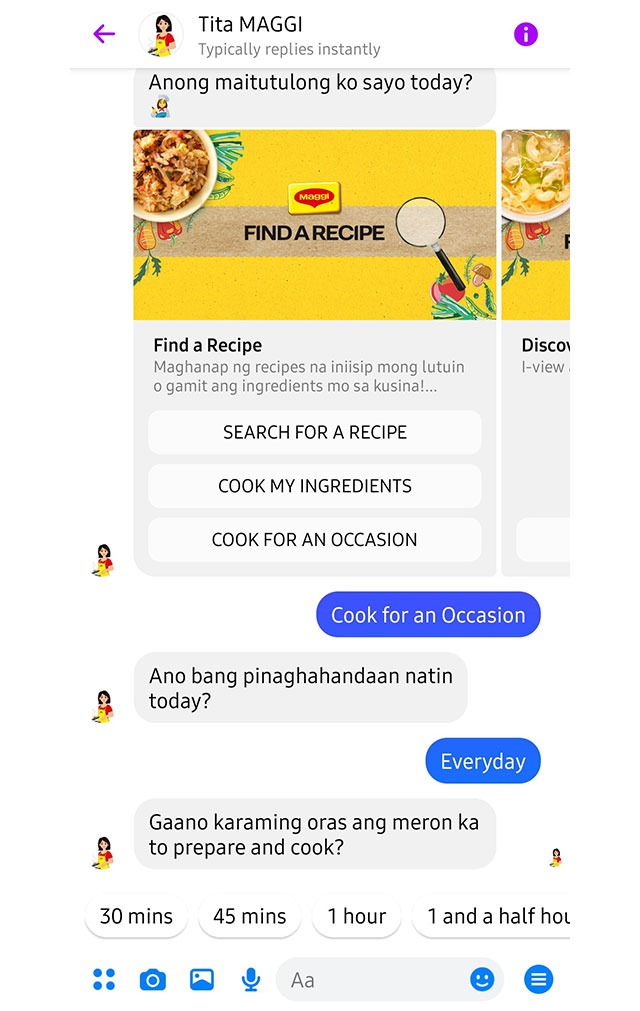 In case you're looking to try something new, "Discover Recipes" will be of great help. Here, Tita MAGGI will share featured recipes for you to try. It's a fun way to explore new dishes!
Just a tip! When exploring Tita MAGGI's recipe suggestions, you will see a "Sarap-Sustansya Tip" button. Click it for tips on how to make the dishes more nutritious for you and your family!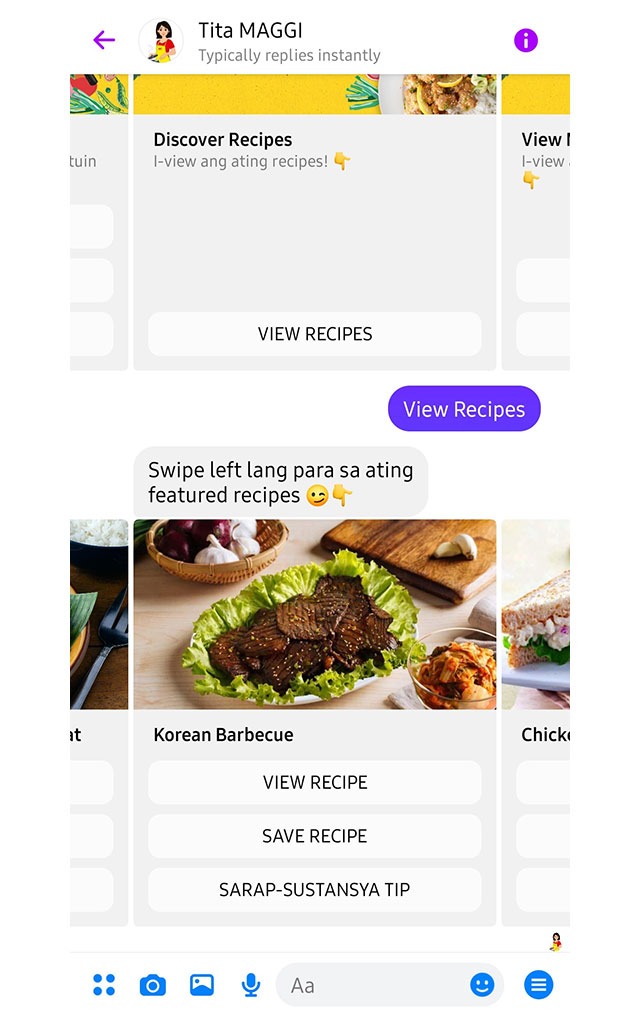 What else can Tita MAGGI do
Aside from providing you with suggestions on what to cook for your family, Tita MAGGI can also help you with your other kitchen concerns.
Save the recipes your family likes: Found a winning recipe? Bookmark it by clicking "Save Recipe." This will be stored in your profile. To access your saved recipes, go to the Main Menu and swipe left until you reach the "View My Profile" option.
Tell more about the various MAGGI products available: Everything you need to know about MAGGI products is in the "Ask Tita MAGGI" section. Go to the Main Menu and swipe until you reach this option. Click it and choose the MAGGI product you want to learn about. It will share info about its ingredients, variants and sizes, price, serving suggestions, and shelf life.
Help you stock up on MAGGI products: You can easily buy your favorite MAGGI products — and explore new ones, too! — with the "Purchase MAGGI Products" option, also found in the Main Menu. This way, you can shop online and from the safety of your own home.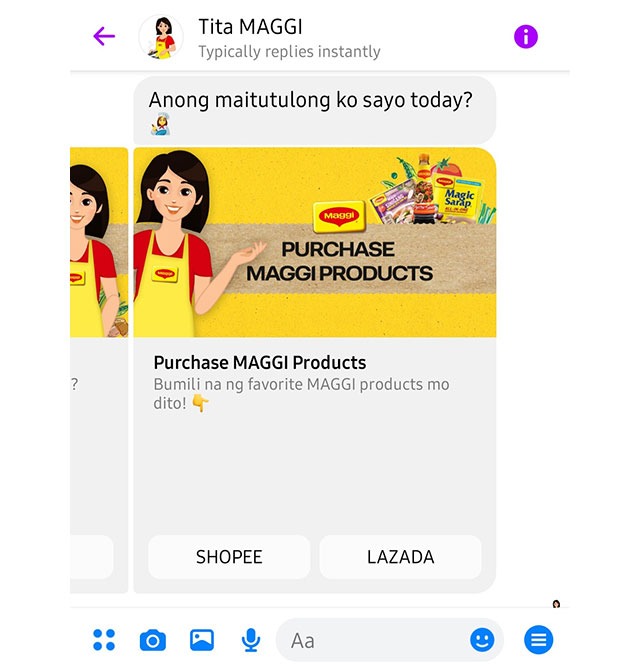 Meal planning can be challenging, but with Tita MAGGI's wide array of recipes, you won't run out of delicious and nutritious meals to cook!
Try out the Tita MAGGI Chatbot for recipes and tips by clicking this link. To learn more about MAGGI's products, visit maggi.ph.