Last year, Red Ribbon gave you a taste of heaven when it launched the delightfully delicious Chocolate Heaven Cake — and admit it, you still can't stop thinking about it.
If there's anybody who hasn't tried Chocolate Heaven yet, they're definitely missing out. There's so much to love about it, especially if you're a bona fide chocolate fan.
5 reasons to love Red Ribbon's Chocolate Heaven Cake: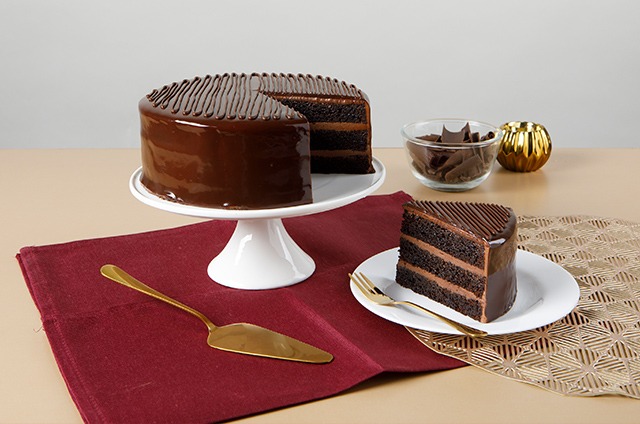 1. The satisfyingly moist chocolate fudge cake base
First, the very thing that holds it all together — Chocolate Heaven's base. The cake is made of layers upon layers of moist chocolate fudge cake, meaning every bite melts in the mouth. So yes, the base actually matches the icing. You'll be getting exactly what you paid for.
2. The indulgent creamy chocolate icing
You've already got a moist chocolate fudge base so there's no reason to stop with the chocolate now. The creamy chocolate icing that fills the cake puts the "heaven" in Chocolate Heaven.
3. The rich chocolate ganache
It's not only the inside that counts when it comes to this cake; what's on the outside matters, too. Chocolate Heaven features a smooth and rich chocolate ganache that's poured all over the base, tempting you to take a slice, let go, and indulge. This rounds out the full experience and ensures you get all the chocolate you could ever want.
4. All the ingredients are premium
The first three reasons in this list are valid because Red Ribbon uses truly premium chocolate ingredients to make Chocolate Heaven. The chocolate fudge, ganache, and icing are excellent because the bakeshop doesn't skimp on quality.
5. Chocolate makes you happy
Chocolate is so good that it'll just turn most days around. It helps lift your mood and makes you feel better. At the end of the day, you'll love Red Ribbon's Chocolate Heaven Cake because it tastes so heavenly and makes you happy.
If these reasons get you craving the Chocolate Heaven Cake, here's some good news: Red Ribbon is making it more accessible to everyone, as it will be available in over 150 Red Ribbon stores in Luzon starting April 1! Prices start at P899 for the Junior size and P1,239 for the Regular size.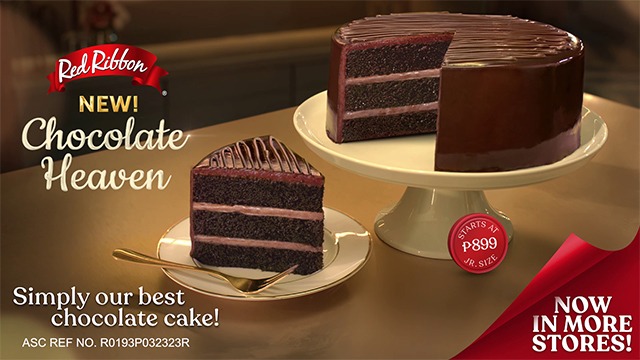 With Chocolate Heaven available in more Luzon stores, you can now have that heavenly and premium dessert experience you've always wanted. Head to the nearest participating Red Ribbon store and grab a Chocolate Heaven Cake to make moments with family and friends more special!
For the complete list of participating stores, visit this link. Follow Red Ribbon on Facebook.