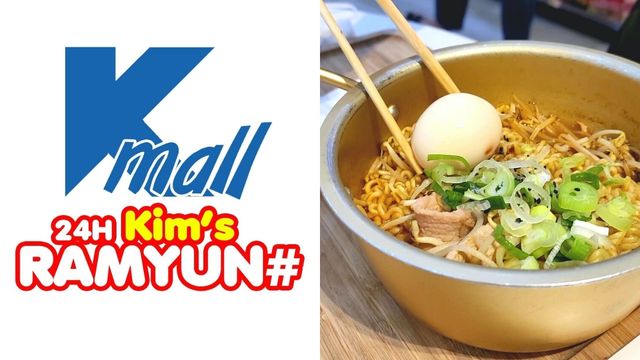 We've all done it: we've wished, at some point while watching our favorite K-drama, that we could just have a sip of the ramyun that the characters are slurping. And as if the universe heard our wishes, you can now do so at 24H Kim's Ramyun at Kmall where you can put together your own DIY ramyun meal!
We visited the store and here's what we experienced:
What You Need to Know About Kim's Ramyun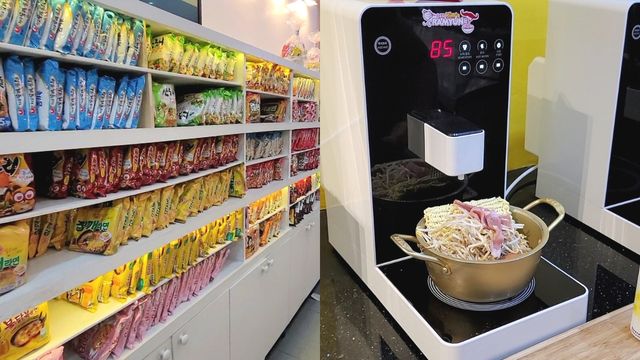 24H Kim's Ramyun is inside Kmall along Timog Avenue in Quezon City, and it's a 24-hour, Do-It-Yourself ramyun-slash-convenience store. The concept of the store is simple: you go in, pick your choice of ramyun, choose your toppings, then cook it using the fancy ramyun-cooking machines that dispense hot water and simmers your ramyun in a pot for you. Drinks, Korean banchan like kimchi and pickled radish, snacks, and ice cream are also available to complete your meal and your Korean food experience.
What We Loved About Kim's Ramyun
1 You won't feel lost navigating the DIY experience because everything is labeled.
One of the first things we noticed at Kim's Ramyun is just how organized the store is. When you enter, it's hard to miss the clearly labeled sections of the store:
1 Noodles: Choose your pick of ramyun from a wall of Korean instant noodles. Take your time; there are so many to choose from you might want something different every time you visit!
2 Toppings: Choose to top your noodles with boiled eggs, leeks, thinly sliced pork, or whatever you like that will go deliciously with your ramyun.
3 Cashier: Pay for your ramyun, toppings, and any drinks or snacks you'd like to add to your meal.
4 Cook: AKA the cooking station. This is where you can access the ramyun-cooking machines that dispense the just-right amount of water for your choice of ramyun. The machines have easy-to-follow instructions, too, and no matter what kind of ramyun you pick, you really only need to push two buttons: one that corresponds to whether you got a soup or fried ramyun, and the start button.
5 Return: This is the convenience store section where the frozen items and snacks are located (and where you're probably going to return so you can buy more Korean cookies and banchan to take home.)
2 Your ramyun order can be customized with a wide selection of affordable but delicious toppings.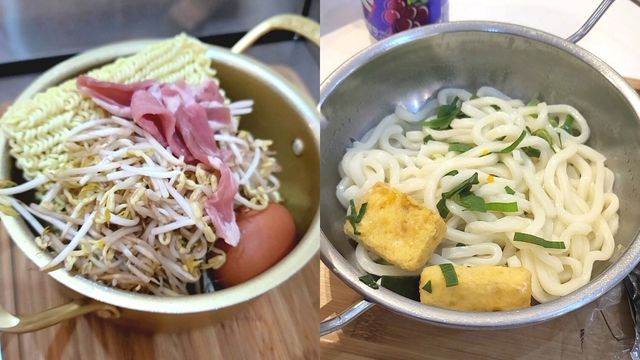 There is a wide variety of ramyun and Korean instant noodles in the noodle aisle; whether you're in the mood for a warm, soupy ramyun or you're craving for flavorful fried instant noodles, there's something for you! We opted to try both, so that we could experience cooking both kinds of instant noodles on their machines.
ADVERTISEMENT - CONTINUE READING BELOW
Recommended Videos
The toppings are also a fun touch; for P20 or P40, you can choose from a variety of toppings! The P20 toppings include cheese, mushrooms, crab fish balls, fresh or boiled eggs, and bean sprouts while the P40 toppings include their more premium ones, like the cheese fish curd, mushroom balls, thin slices of beef and pork, and shrimp, among others. The best part: if you're a fan of onion leeks, you can get your ramyun topped with it for free!
Our favorite toppings were the cheese fish curd, the mushroom balls, and the beansprouts! The cheese fish curd tasted like flavorful fish balls with cheese bits inside while the mushroom balls are hefty and packed with umami. We're also a big fan of beansprouts, and the staff put generous scoops of them in the bowl.
3 The automatic ramyun cookers are so convenient.
We were most excited about using the ramyun cookers: are they as advanced as they looked in the photo? It turns out – yes! All you need to do is select the setting you want (wet or dry noodles) and press start. It then dispenses the right amount of water depending on the kind of noodles you picked, and it also has a built-in timer. All you need to do, really, is occasionally stir your ramyun so that the noodles cook evenly and don't burn the bottoms if you're having dry noodles.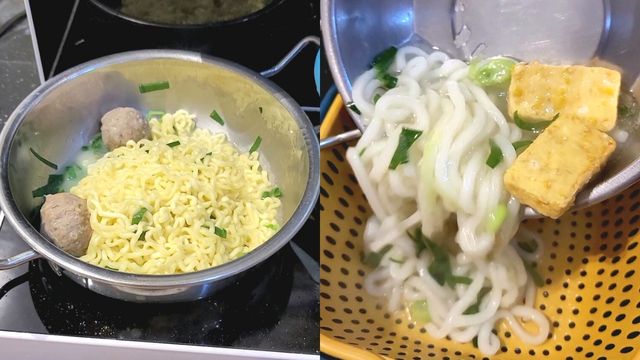 Surprisingly, for the dry instant noodles (Like the Nongshim Chapagetti), you don't even need to drain the water: the cooker puts just enough so that by the time the noodles are cooked, there's barely any liquid left. However, the Nongshim Yaki Udong does have to be drained, as the udon noodles do not absorb water. It's still convenient as the store has strainer bowls ready just for that.
4 The staff are super friendly and helpful, especially if it's your first time.
Having a good experience at any establishment includes having positive interactions with its staff. This certainly helped at Kim's Ramyun, where the experience might be unfamiliar for first-time goers. The staff helped us pick toppings, and even walked us through the steps with a smile – something that we greatly appreciated as we navigated the DIY ramyun experience for the first time.
Our Must-Try Recommendations:
1 Nongshim's Ansung Tangmyun and Nongshim's Yaki Udong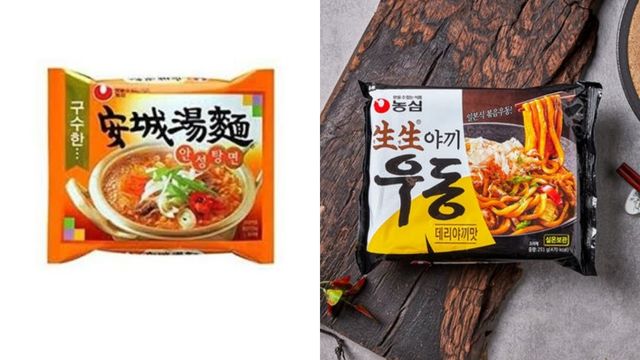 If you're looking for a hot bowl of ramyun, you can't go wrong with Nongshim's Shin Ramyun Black. It's a good ol' reliable ramyun that's spicy yet has a full-bodied flavor profile. A surprising discovery we made was the Nongshim Ansung Tangmyun, which is milder in spice level than Shin Ramyun (and goes very well with beansprouts)!
Meanwhile, if you're looking for fried instant noodles, you can't go wrong with the Nongshim Chapagetti, which is like a light, instant version of the classic Korean black bean noodle dish: jjajangmyun. We also loved the Nongshim Yaki Udong, which is an instant teriyaki udon that's just the right levels of savory balanced by a bit of sweetness and a touch of spice.
2 Frozen Sausage
Kim's Ramyun has a pretty comprehensive corndog collection in the freezer section, but we went for a simple sausage on a stick that can be heated up for less than 2 minutes in the microwave. We found (because of course we also tried all their condiments) that it tastes the best when dipped in honey mustard, which they handily keep a bottle of in the condiments section.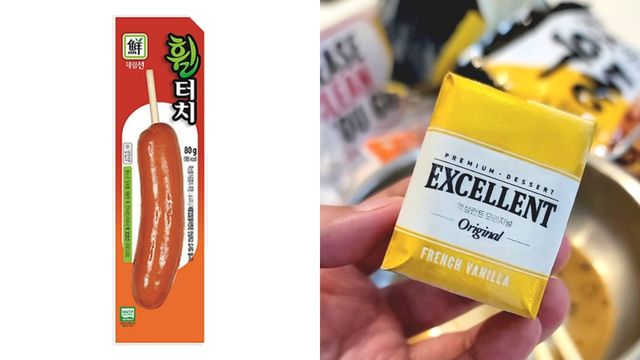 3 Binggrae's Excellent Premium Dessert
For dessert, while Melona is as classic as Korean ice creams can get, we discovered our new favorite at Kim's Ramyeon: Binggrae's Excellent Premium Dessert. It comes in regular and French vanilla flavors, and while both are good, we love the buttery creaminess of the French vanilla variant. And even though this ice cream does indeed taste premium, there's nothing premium about the price: the tiny bars cost only P24 each.
How To Get To 24H Kim's Ramyun
Kim's Ramyun is located inside Kmall, which is at 104 Timog Ave Diliman 1103 Quezon City. It's a convenience store, so unfortunately you can't make reservations – but you don't need them because patrons go in and out pretty quickly and it's easy enough to find seats, especially if you don't go during peak lunch or dinner hours.
For those who are K-pop fans, check out the BTS seating area where you can get cozy with your ramyun with RM, Jimin, Jin, J-Hope, Jungkook, Suga, and V in the background!
For more information, check out their Facebook page here.
***