"There's good Philippine coffee," Ros says. "You just need to know where to get it."
Coffee—that dark warm brew that summons our senses as we start our day, an early morning companion often taken for granted but whose presence is expected even at the most ungodly hours. For most people, coffee is simply a drink that helps them get through a day at work but for someone like Rosario "Ros" Juan, it's a key ingredient to the fulfillment of a dream.
Ros Juan has her own roastery. She brews her own coffee and likes it black. She can drink up to five cups before she tells herself to start drinking water instead.
Ros is also the owner of Commune, a coffee shop in the hip and happening district we now all know as Poblacion.
Ros's infatuation with coffee began when she was still a teenager; as a 13-year-old experiencing coffee during a family vacation in Europe many years ago.
"I kind of grew up with coffee," Ros muses. "What really sparked my interest was the first time I went to Italy with my family. They were telling me, 'You know in Rome, when you go to a cafe, you order an espresso at the bar.' It's cheaper than eating and drinking while seated [at your own table]. You pay extra for the seats.' So they just chug espresso at the bar and go."
Ros tried drinking espresso the Italian way and while she may have been too young to genuinely appreciate the bold flavor of a full espresso shot, she loved the experience.
"It seemed so sophisticated, so grown-up. I got fascinated."
Ros's aunt was in the coffee business and it was practically a given that she would become an intern in her aunt's company and officially work for her, eventually.
She worked in store operations and helped her aunt set up shop in Shanghai, China. When she went back to the Philippines in 2009, she felt the need to take a break from the food and beverage industry so she pursued a career as a digital marketing consultant, which in turn led to a job in an advertising agency.
Her work in digital marketing and advertising took up three years of her life, but even at the time, she knew what her big dream was: to open her own coffee shop. She just didn't know where or when, yet.
Ros's work in social media and events planning allowed her to meet plenty of people. She would organize small gatherings in—you guessed it—coffee shops. They were always pressured for time during these meetings since they could only stay inside the store premises during operating hours.
Friends cajoled her to open her own café so they didn't have to worry about finding a suitable venue for their meet-ups; family urged her to follow her dream. And then one day, she decided that it wouldn't hurt to try. She started planning, conceptualizing, and seriously considering renting a commercial space in Salcedo Village.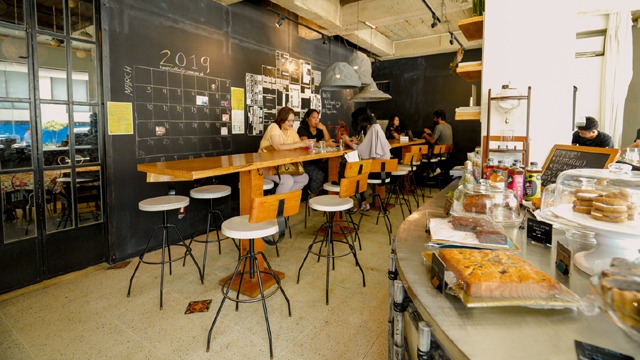 She was fully aware that the local coffee scene then was dominated by international players, but she took the chance and told her friends, "I'll take that spot 'cause it's sayang. Bahala na. I'll take a leap of faith and see what happens."
Ros didn't want her café to resemble any of the existing coffee chains that were on practically every other block in the metro. Since she had lived overseas and traveled frequently, she saw concepts during her trips and hoped to bring them to local shores.
"I wanted to take inspiration from concepts abroad that I wasn't seeing here yet," she shares.
In 2013, Ros opened Commune, a cafe built around the idea of sharing meaningful conversations while sipping freshly brewed coffee in a safe, communal space.
Only homegrown coffee
Ros recalls, "Because of my prior exposure to coffee and previous work involving coffee farmers, the first thing I was sure about was that we were going to serve only local coffee."
Ros sources her coffee from different parts of the country where the land elevation allows coffee to grow.
"The lowest elevation is near Amadeo, Cavite area which grows a certain variant called Robusta," Ros shares. "It is actually mostly used for instant coffee or blending. What people know as Barako or Batangas coffee is actually another species called Liberica. Unfortunately, it doesn't grow much in Batangas anymore. Mas lumipat na sa Cavite."
Ros continues, "Another variant, Excelsa, isn't usually sold on its own. Usually, its used for blending. But it's very distinct, even to the uninitiated. I'm sure you'll be able to smell langka (jackfruit). The most expensive and what is now known as specialty coffee is Arabica. It grows in much higher elevations like Benguet and Sagada."
ADVERTISEMENT - CONTINUE READING BELOW
Recommended Videos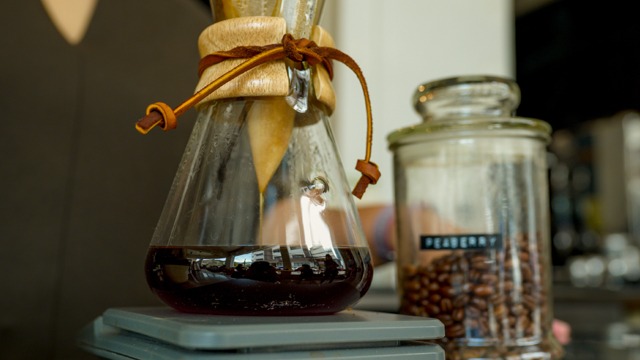 One might be surprised to know that there's also coffee grown in Mindanao. She shares, "Actually, there's a lot in Mt. Apo, in South Cotabato and Davao. In the north, Nueva Vizcaya nga nagro-grow na rin ng coffee. Most mountain ranges can grow coffee."
Ros used to source coffee only through the Philippine Coffee Board, but constant travel (she had just gotten home from a Sagada trip days before this interview), has allowed her to meet a handful of coffee farmers and she purchases coffee directly from them.
Her work is also for the farmers
Ros elaborates on why it's important for her to source directly from local coffee farmers. "I've known the plight of the Filipino coffee farmers since the '90s—that's what I was exposed to. Not to say that in 20 years, nabaligtad na yung plight na yun, but a lot of work has been done and the positive effects of work done 20 years ago are now being felt."
[instagram url="https://www.instagram.com/p/BeNz00bHvDJ/"]
"Before, muntik nang maubos yung Barako," She recalls. "It grows only in four countries around the world. Because nahihirapan yung farmer and hindi ganun kabilis mag-harvest and kumita ng money from coffee, pinuputol yung coffee plant and they replace it with something else."
She pauses a moment, then continues with more force in her tone, "For the farmers to keep planting local coffee, they need to know na may bibili, and even better kung may bibili at a good price."
Ros is a member of the International Women's Coffee Alliance. All members of this global organization are part of the coffee value chain (which includes business owners, equipment suppliers) in different countries. The organization has been conducting training sessions for female coffee farmers to improve the quality of coffee they harvest.
Why women?
According to Ros, women farmers aren't given the attention or training they deserve even if they are thoroughly involved in the production process; from planting and looking after the coffee trees to harvesting the beans and sorting them. The training, in a way, provides a certain level of assurance that the coffee produced by farmers would be of unquestionable quality.
Café lifestyle in the Philippines
Ros is pleased with the way local cafe culture has evolved over the years. Filipinos have learned to patronize not only international coffee franchises, and have embraced the third wave coffee scene where cafe owners are thoroughly involved in the operations and in catering to the needs of customers.
"The interest in coffee has grown by leaps and bounds," she says. "The interest of Filipinos in coffee has always been big—we're huge coffee drinkers!"
[instagram url="https://www.instagram.com/p/BpbQovNleyw/"]
However, Ros still sees an opportunity for coffee culture in the Philippines to improve, and it's in the amount of local coffee we consume.
There's nothing wrong with buying imported coffee or with patronizing foreign coffee brands, but many Filipinos have yet to develop a genuine appreciation for homegrown coffee. And this nationalistic manner of coffee consumption wouldn't simply for the sake of preserving coffee culture or helping café owners. More importantly, it's to support our local farmers and to encourage them to keep planting and harvesting coffee.
Ros feels very strongly about serving only Philippine coffee at Commune. She's ecstatic whenever she learns that other cafes are following suit, even if it's the competition.
[instagram url="https://www.instagram.com/p/Bu4FnFvFw-_/"]
"There's good Philippine coffee," Ros says. "You just need to know where to get it."
Produced by Trixie Zabal-Mendoza; Photos by Mark Jesalva