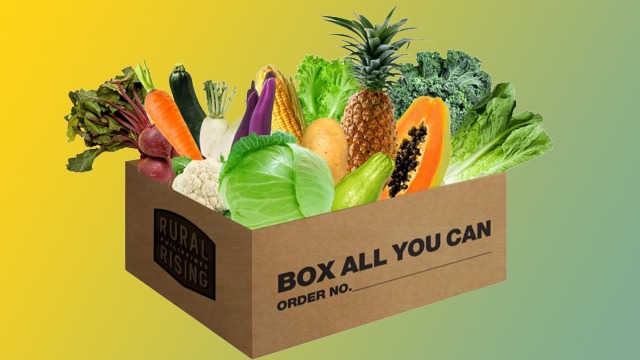 Not all superheroes who help and rescue others have superpowers. Rural Rising isn't a superhero organization but they do have the power to help our local farmers at the Box-All-You-Can events happening this July. 
Rural Rising's Box-All-You-Can is back in Alabang Town Center (ATC) from July 8 to 10. In case you're not familiar with the event, Box-All-You-Can is an event where you are handed a box and in 10 minutes, you can put as much produce as you can fit in it. The box is not weighed at this event, so for P699, you can pack as much as you can into your 16-inch box in the allotted time and walk out with it. You not only get a sulit load of fresh vegetables, but you also help your fellow farmers offload their harvest. 
If you can't make it to that one or can't book a slot anymore, there's another one happening in Makati in the Glorietta Activity Center on July 16 to 17, too. 
If you're curious about what kind of vegetables will be available at the Box-All-You-Can event, here is a partial list  from Rural Rising of what to expect: 
• Zucchini
• Watermelon
• Yakon
• Cabbages
• Wombok
• Carrots
• Tomatoes
• Bintong and Orange Kamote
• Pokopok and Señorita Bananas
• White Radish
• Baguio Lemons
• Yellow Corn
• Japanese Cucumbers
• Native Kalabasa
• Guyabano
• Pineapples
• Green Ice Lettuce
• Giant Beets
• and more.
To join the event, you'll have to register online at your desired venue. Here are the venues and dates of the Box-All-You-Can. Click on the venue if you want to register! 
In case you're located in Pampanga, watch out for the Box-All-You-Can event that's happening next month at the AyalaMalls MARQUEE in Angeles, Pampanga. 
Rural Rising is a non-profit company that seeks to help local farmers. Visit the Rural Rising website for more information on the Box-All-You-Can events and other rescue buys or learn how to become a member. 
***
ADVERTISEMENT - CONTINUE READING BELOW
Recommended Videos