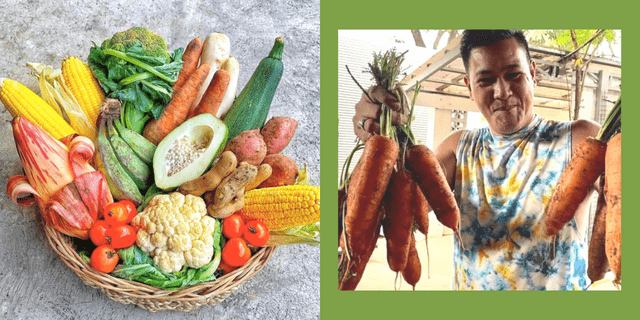 Do you remember during the start of the pandemic, amid the lockdowns and the difficulty of finding food, of the news about farmers having to throw away a surplus of perfectly plump tomatoes by the roadside? Do you remember how you felt then? Did you press the angry react button and move on? Did you share the news to raise awareness? Or perhaps, jaded already by the onslaught of bad news, you just scrolled through indifferent? Who could blame you? Life was hard enough without having to carry other people's burdens. Once again, it was just another sad thing we were helpless about.
But what if you could do something to help? What if all you needed to do was *click* to make a difference?
For Ace and Andie Estrada, when that news reached them, not only did they let themselves feel the full spectrum of sadness over the whole situation, they stewed in it, sat in their discomfort, anger, and grief, and let it grow until they felt like they had no choice but to help. And so: Rural Rising was born.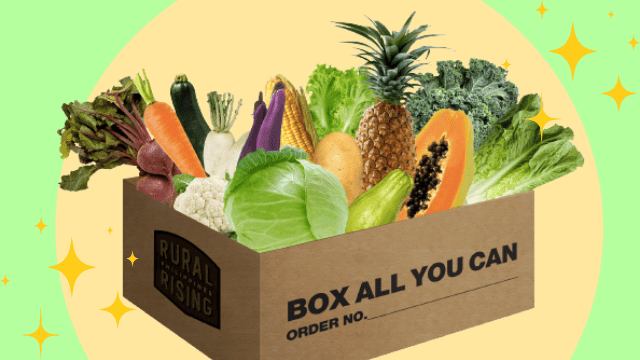 All of a sudden, everyone touched by the farmers' stories could easily pitch in to help the farmers. Not only then were they able to help, but they also got access to fresh, delicious vegetables. What started from one emotional post going viral, they unintentionally rallied 35,000 concerned citizens willing to transform powerful emotions into transformative action. Ace and Andie, found themselves thrust into their "accidental advocacy."
Holistic Helpers
"I wouldn't know the zucchini from an eggplant or a cucumber," Ace told Yummy.ph during a Zoom interview, describing where he started. Today, having worked with so many distressed farmers over the past few years, not only do they know everything about vegetables and agriculture, but they now also have a bird's eye view of the agricultural industry.
They see that there's no one person to blame, but it's a multifaceted problem: the lack of knowledge from the farmers, lackluster government support, the middleman system, and the customer's mindset, among some of the issues. Hence, Rural Rising is handling the problem in multiple ways, and in every way, they're making it easier for everyone to pitch in.
Here are the ways you can help farmers through Rural Rising:
Rural Rising, or Ruri for short, began as a viral social media post, and up to now, it harnesses the power of social media. Just following their Facebook page is already the first step to helping the farmers out! From their page, you'll get timely updates of RuRi's rescue buys, group buys, and snap buys, featuring stories of farmers who've encountered issues with oversupply, mal-distribution, or adverse weather events. Not only will you see the stories of these farmers, but you'll also be offered a way to help through RuRi.
If you're not buying, sharing Rural Rising's stories is another way to lend a hand! It takes just a few clicks to let your network know about a delicious time-sensitive deal or a farmer triumphing against the odds.
ADVERTISEMENT - CONTINUE READING BELOW
Recommended Videos
2 Sign up for BAYC (BOX-all-you-can) events at Ayala Malls.
In partnership with Ayala Malls, RuRi occasionally holds "BAYC" events. For P800, attendees are given 10 minutes to fill up a box to their heart's desire with every fresh produce they fancy that is provided during the event. BAYC isn't just helping the farmers; it's also pretty fun! However, this event doesn't happen regularly so make sure you do the first step (follow them on Facebook!) so you don't miss out.
If you can't make it to their event, you can also buy a "Pre-Packed BAYC." You can pick it up at the mall where the event is happening once it's ready. If your priority is to help, you can also purchase a ticket to be given to a guard or janitor stationed at the Ayala mall where the event is happening.
3 Pitch in for a Rescue Buy or Group Buy.
As of this writing, Ruri is currently selling huge fresh carrots at P250/5 kilos. For a single family, this might be too many carrots, or perhaps this can be your chance to finally make that 3-tiered carrot cake of your dreams! Or the easy and practical route to give some to your friends and family. You can't run out of ways to use carrots: big chunks in your favorite stews, frozen in your freezer as a quick veggie option, blended into your veggie shake, or julienned fresh as a crunchy snack.
Whatever way, you get to use your food budget not just to fill your own tummy, but also get to help distressed farmers.
4 Pitch in for a Snap Buy.
RuRi also offers limited-time "snap buys" which feature small quantities of fresh produce that need to be bought fast. As of this writing, they're currently selling 100-peso White Onion Raffle Tickets! A quintessential ingredient for a lot of Filipino favorites, Filipinos have dubbed onions as the new "gold" for the extreme inflation from the past few months.
The raffle's Jackpot is 20 kilos of white onions you can use for all the dishes you've been dreaming of–imagine bistek with plenty of caramelized onions, the satisfying crunch of onion rings, or hitting your kinilaw's spicy notes with fresh slices of onions.
5 Donate to send produce to communities in need.
If your heart is set on helping but you and your loved ones are already brimming with fresh fruits and veggies, RuRi can also do donations on your part. Sometimes, RuRi gets vegetables that are edible but not of the preferred quality, so members are humbly invited to donate amounts so that the product can be sent to communities in need.
6 Be a Founder Member.
For only P3,600 a year, you can be a Founder Member. Members are given first dibs on all the deals. Provided with information before everyone else, this is the best option if you have plans to be a reseller. In addition, members get the privilege to stay in Camp Mingan for work or for pleasure and also the chance to buy a farm property around that area. And, of course, as with every peso that goes to RuRi, the money goes to helping farmers such as providing fertilizers and investments into their other long-term plans.
You can apply to be a Founder Member here.
7 Be a Rural Rising Partner.
In the three years that RuRi has been operational, they have saved tons of fresh produce and many farmers from going completely bankrupt. They've done great work but they also know they are only scratching the surface. Wanting to challenge the roots of these problems head-on, RuRi has big dreams. They hope to give farmers the opportunity to process goods into shelf-stable nutritious powders especially helpful in times of calamity. They also hope to open stores that would make their goods more accessible.
To do this, you can sign up to become a RuRi partner and help by either becoming a reseller or an agent. You can sign up here.
Rural Rising on Transforming Everyone's Lives
Now, imagine yourself in your kitchen, unpacking fresh veggies from RuRi. Using the money you would have spent anyway, you not only scored a deal but also helped a farmer. You check out RuRi's page and come across a video of a farmer thanking you for your purchase.
Ace points out an irony: "The real thanks should be to the farmer."
According to Ace, farmers are part of the poorest sector in the country. Most of the farmers' kids naturally, don't want to be farmers. Most Filipinos have accepted that farmers are doomed to poverty and that this is normal. But we're actually the odd ones. Everywhere else in the world, farmers are extremely prosperous. Ace says that in Taiwan and Japan, farmers are the ones that "wield power and influence over the nation." Food—and therefore farmers—is what keeps us all alive.
"They're (the farmers) the lifeblood," Ace says.
What happens when a country's lifeblood isn't cared for? We start relying on imported goods, causing prices for our basic necessities to skyrocket. Onions become the new "gold." Tomatoes and strawberries are dumped on the wayside, broccoli turns into mush in rivers, people go hungry, and everyone suffers. Helping farmers is really just helping ourselves.