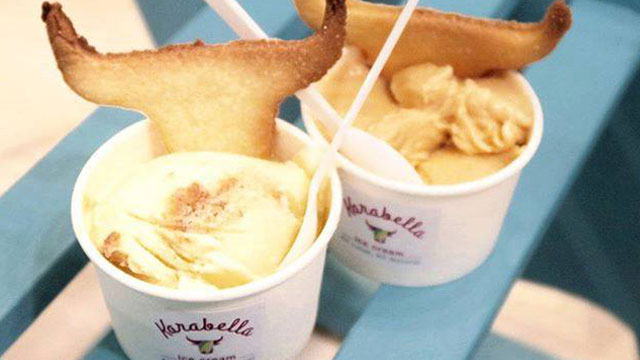 You don't always need an excuse for ice cream but did you know that you can help local farmers and community partners with every ice cream cup (or cone!) you buy? Karabella Dairy Products makes ice cream from 100% carabao milk and works with local farmers and Gawad Kalinga (GK) communities to produce them.

According to Erika Wong of Karabella Dairy Products, 98.8% of dairy products in the country is imported. "That's almost all the milk products that you see in the groceries and supermarkets. Despite having milk-producing farm animals in the country, almost all of the milk products that you see are not from here," she shared.
She left a job in a multinational company in 2014, learned more about the GK Enchanted Farm, lived on the farm for two years and worked in GKEF's events and partnerships group.
"I started Kara & Beau Ice Cream (Karabella's previous name), and created ice cream from carabao's milk. Karabella believes that we can produce local and healthy milk products than what we have in the market," Wong told Yummy.ph.
"But since my background is in corporate management, I have limited knowledge in product development. There were a series of flops, mishaps, and failed experiments.
When I was starting it out I had a trusty aid, YouTube, that taught me how to make ice cream without an ice cream machine. However, this method was not effective and I ended up making ice candy!"
We chatted with her about Karabella and talked about their delicious salted egg ice cream:  
Did it take a long time to come up with the salted egg ice cream flavor? 
It took us a few weeks before we were able to come up with the right blend that we are happy with. We were in a rush then because the flavor was set to be launched during Our Awesome Planet's Ultimate Taste Test 2016 event last September 2016.
ADVERTISEMENT - CONTINUE READING BELOW
Recommended Videos
Looking back at the process, we had around 5 different versions before ultimately deciding the flavor profile of what is now known as Salted Egg Caramel. Since salted caramel is a big hit in the Philippines, why not use that as a platform to introduce salted egg? Sweet caramel and salty egg yolks sounded like an interesting combination to us! Luckily, it worked. Honestly, even after the launch of this flavor, we have been getting feedback to adjust the caramel and salted egg taste. From our launch in October, it was only recently that we were able to finalize its recipe and to standardize the process of making this flavor.
What was the most difficult part about making the salted egg ice cream flavor? 
The most difficult part was analyzing which flavors will go best with salted egg. None of the partners ever had salted egg ice cream, and majority weren't a fan of salted egg. We took cues from the famous salted egg chips and considered adding spices such as curry, lime, kaffir, and chili, among others. Thinking that this approach might be too radical for our market, we sought to find a base which people are already familiar with. And using [the team] as tasters, we wanted a product that will convert us non-salted-egg-fans, to salted egg ice cream fans. Thankfully, the flavor is very well-received by the market.
How long does it stay in the freezer?
Since our ice creams are made with all-natural ingredients, with no preservatives or stabilizers, we advise that the keeping period to be at a maximum of 3 months. But then, who keeps their ice cream in the freezer for more than 3 months? Our personal supply doesn't even last for more than a week!

Are you coming out with more trendy flavors?
We'd like to be as creative and unique as possible, but still take cues from our Filipino culture and heritage. Right now, we're looking at Filipino desserts or snacks which we can transform into ice cream. And it's not just about creating a yummy product. More than the taste, we'd like to offer something that brings back memories. It's safe to say that you can expect Karabella Dairy to come up with flavors that will remind you of your childhood or your favorite holidays.
E-mail Karabella at [email protected] or follow their Instagram account to see where they're popping up soon!