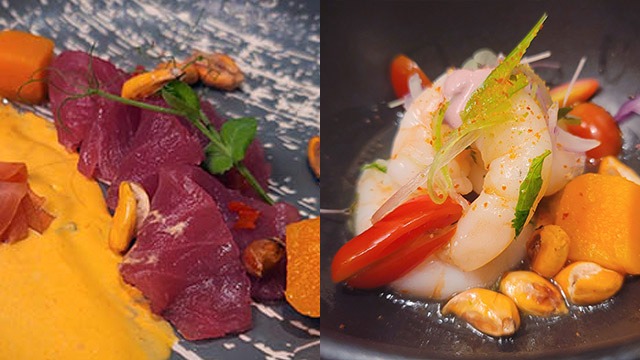 Peruvian cuisine is one of those cuisines you may not have frequently so if you're curious and want to do it in line with United Nations' Sustainable Gastronomy Day on June 18, Shangri-la The Fort's Samba has launched a special menu featuring sustainably sourced seafood.
Their sustainable gastronomy menu is called "Samba Saves the Seas" and is comprised of five flavorful Peruvian specialties created by Chef Carlo Huerta of Cusco, Peru, which is a UNESCO World Heritage Site.
For P1,950 per person, the special menu is a delight to experience for both your taste buds and the environment. The special menu starts with Ceviche Camarones y Tomates Cherry: a refreshingly delicate shrimp kinilaw that delightfully combines a fruity leche de tigre, a classic Peruvian ceviche marinade, with the sweetness of sustainably-sourced vannamei prawns, cherry tomatoes, and toasted cancha corn kernels. 
Here's a diner's tip: if you've got any of Samba's orange chips left over, dip a chip or two into the leche de tigre sauce.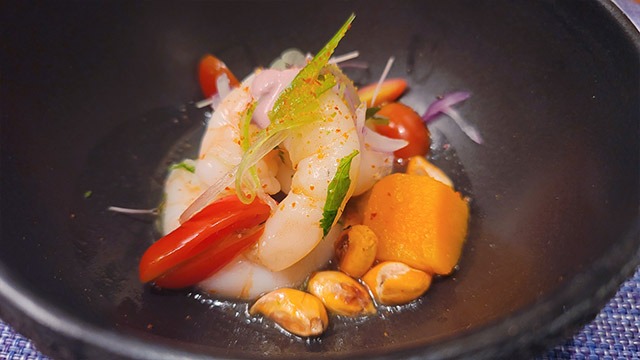 Next comes the Tiradito de Atún en Leche de Tigre de Rocoto, which is a beautiful plate of sustainably line-caught tuna, served sashimi-style, with creamy yet spicy rocoto pepper sauce, sweet and soft pumpkin cubes, and toasted cancha corn kernels. You'll enjoy the succulent fish when paired with the creaminess and fruitiness of the pepper sauce.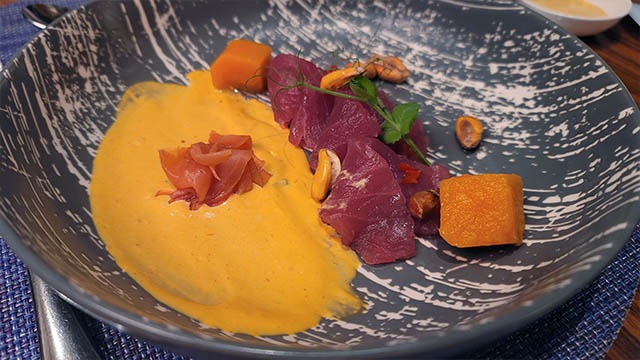 Also on the menu is the Sudado de Corvina Asiatica, which is a well-balanced dish featuring barramundi, or sea bass, fillet delicately steamed with chicha de jora, a surprisingly delicious cinnamon-infused Peruvian beer made from corn. The dish is especially flavorful because the fish is cooked in its own juices, resulting in an aromatic and tasty broth that is a gentle flavor combination of the fish and the notes from the beer. It is served with roasted onion and tomatoes.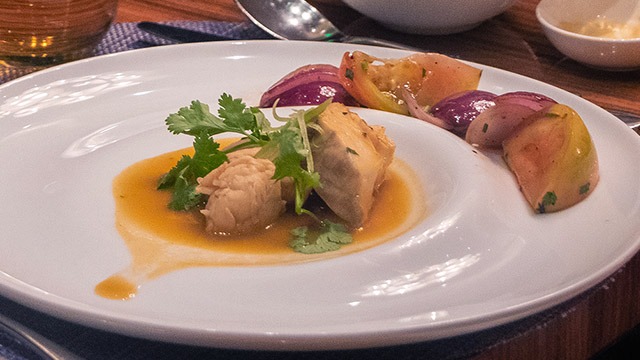 The last of the savory menu items is the Jaleon de Betilya Fish with Seafood Sauce, which is a masterful play on textures with its crispy fried betilya and juicy black tiger prawns. Betilya, also spelled as bitilya or katambak budlis is also known as the emperor fish and is a meaty white fish similar to the maya-maya or lapu-lapu. The seafood offers a wonderful contrast of flavors as it comes with sweet yucca or kamoteng kahoy puree and spicy aji amarillo, a tasty chili pepper sauce.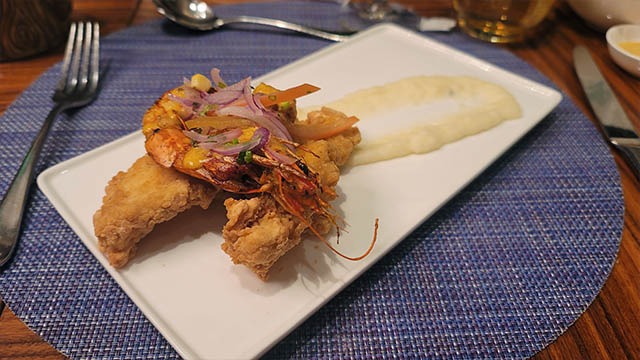 For dessert, Samba offers the Crema de Guanabana y Merengue, a light yet flavorful dish that features guyabano or soursop-infused cream, served dolloped on crisp meringue and puff pastry, and topped with fresh blueberries and white chocolate.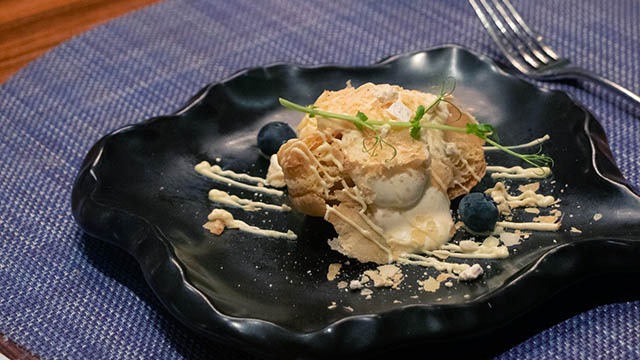 Samba's special sustainable gastronomy menu is only available until June 18, 2022. Help save the seas and get a delicious meal out of it, too! 
ADVERTISEMENT - CONTINUE READING BELOW
Recommended Videos
You can find Samba on the 8th floor of Shangri-La The Fort, which is located at 30th Street, corner 5th Ave, Taguig, Manila or visit its website for more info. 
***