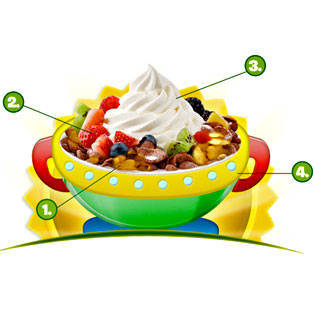 .
All the other breakfast choices, move aside! Whole grain breakfast cereal is the must-serve meal right now.
Why? Not only is it easy to prepare, it also contains the nutrients your children need to help bring out the best in them at play and at school. It's a great every day meal!
Getting bored of eating the same thing though, is something kids and adults feel. So how can we make them still enjoy whole grain breakfast cereals all the time? Easy, we change things up a bit! Here are some great ideas that can help you, Mom!
1. All shapes and sizes
Whoever said that you should stick to one kind of whole grain cereal? Upgrade breakfast by mixing and matching different flavors and shapes! Serve up the universe with HONEY STARS and you can imagine the planets are made of MILO. It's a fun surprise your kids will love!
2. Favorite fruit
Adding fruit is always good. It gives your kids something else to munch on plus, it has a lot of added vitamins to make them healthier! Slice up some bananas, oranges, or even mangoes, and drop them into the bowl.
3. Happy inside and out
Yogurt is a yummy way to make any digestive system work the best it can. So imagine topping some off with some whole grain breakfast cereal? Yum! Serve your kid a bowl of this for extra nutrients and extra fun!
4. Bye-bye bowls
Bowls aren't the only place where you can serve whole grain breakfast cereal. Why not try serving it in a mug with warm milk or even a clear glass so your kid can see all the different layers and colors? You can even make your kid choose where he wants to eat his cereal next. Allow his creativity to go wild but just always make sure everything's clean!
Head to the supermarket to get a box or two of whole grain breakfast cereal! NESTLÉ has many varieties that you and your kid can choose from. They'll surely enjoy eating the yummy breakfast and you'll be happy that they're getting the right nutrients their bodies need.
ADVERTISEMENT - CONTINUE READING BELOW
Recommended Videos
Learn more about Nestle Breakfast Cereal on our Facebook page: www.facebook.com/nestlecereals.ph