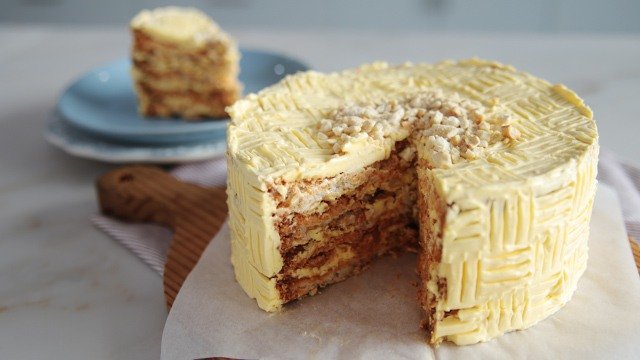 My lolo, Cipriano, was no baker by profession, but he was fearless in the kitchen. He had the curiosity of a craftsman, so it was in his nature to tinker with things… sometimes to a fault. It wasn't unusual for him to abandon instructions and invent new ways to pull off the same recipe. He was a Mr. Fix It—good with his hands, constantly wanting to improve the world around him.  By 'world,' I mean our house.
When I was little, he would make me chocolate icing for dessert. It wasn't anything fancy, just the kind made with some cocoa powder, butter and sugar so it was rich and thick, like fudge. He kept the chocolate icing in the refrigerator overnight, allowing it to thicken on its own. Then we'd scoop it out with a spoon straight out of a Tupperware, eating his concoction like lollipops. It was delicious.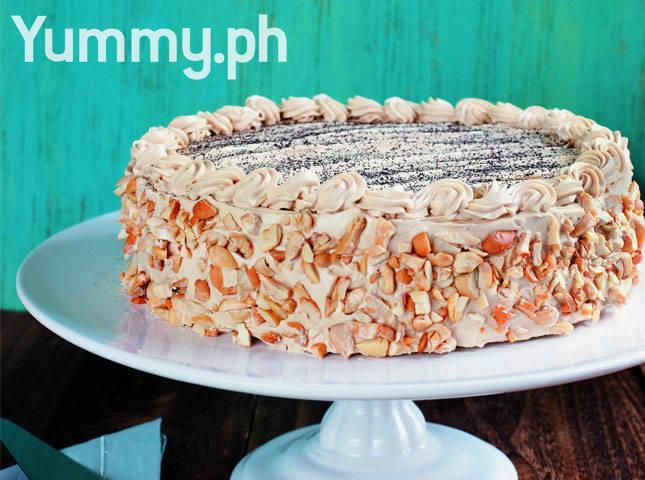 Kapeng Barako Sans Rival
Posted in:
Recipe
He and my lola started a no-name homebaking operation in the '60s. They got their hands on a sans rival recipe from an old magazine, which lolo tweaked to his own style, until it eventually became the definitive version of what sans rival is for our family: rich French buttercream spread over layers of makunat meringue, purposely made chewy, with chunks of toasted cashews liberally thrown in. Not too sweet; it was just right. They sold Orange Chiffon Cake and Chocolate Cake, but it was their Cashew Sans Rival that earned a following.
Because I grew up eating his sans rival, I could never really enjoy the store-bought kind, which often had a crisp, or worse, crumbly meringue. In fact, the first time that I tasted crispy sans rival, I was surprised other people liked it that way. For me, and everyone in my family, it had to be makunat. The chewier, the better. When lolo passed away in 2010, memories of his sans rival haunted us for years. We tried many different sans rivals in the city—the best of the best as recommended by foodie friends—nobody made sans rival like he did. And while there were a few good ones, none came close to his version.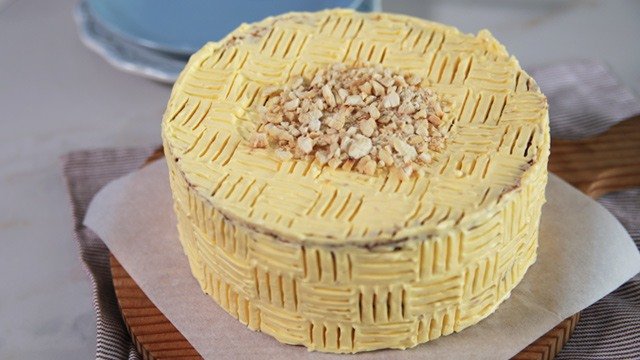 And so out of sheer frustration, and after a lot of prodding from my husband who is a sans rival enthusiast himself, we decided to take a crack at making it ourselves. We both have no formal training, so decoding the handwritten recipe he left behind took a nerve-wracking six months of trial and error. Sometimes I could tell when things were going south simply by the way the icing looked or how the baked meringue felt in my hands. I had seen lolo make it more than a hundred times but had never made it myself, so I replayed those moments in my head, using our memories as a roadmap to craft this cake.
I remember many mornings waking up to the whirr of his Kitchenaid and the sweet aroma of freshly baked meringue lingering in the air. When the buttercream was ready, which he generously makes with real butter, he would show us how to etch the fork marks by hand, before masking any imperfections with chopped cashew. Come December, friends and neighbors would anticipate our family's Christmas gift every year—an unmarked white box housing my lolo's specialty. His sans rival became a big part of the family tradition not just for us, but for our friends and their families too. "It tastes like my childhood," a friend once told me.
ADVERTISEMENT - CONTINUE READING BELOW
Recommended Videos
Now that I make it myself, I have an even deeper appreciation for his sans rival and the hard work that goes into it. Because while it might be a deceptively simple, 5-ingredient recipe, it is laborious to make, one that requires extra care to perfect. But the labor of love is all worth it when I see the excitement it brings to those who taste it. Lolo might not be around anymore, but I find a lot of comfort and joy in making sure that a piece of him still is.
Find Cipriano Sans Rival on Facebook: facebook.com/ciprianosansrival