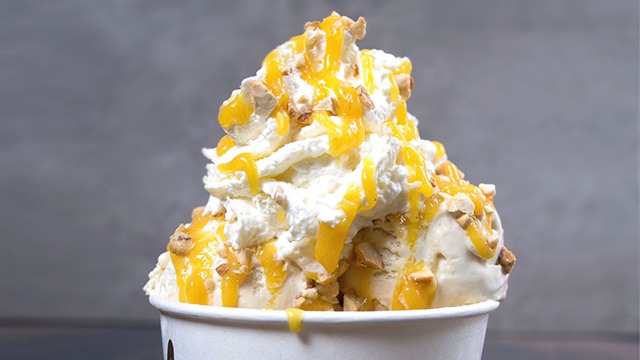 In college, while his classmates were trying to survive the chaos of making ice cream inside the chemistry laboratory, Ian Carandang—perpetually ahead of the pack—was already doing it as a hobby. Today, he continues to impress with new, fresh flavors, including last Valentines' season's insanely delicious, reinvented cheese ice cream christened "Matinong Girlfriend."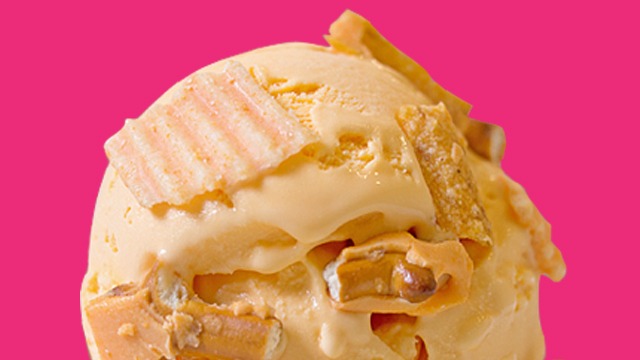 It started with a recipe book.
But before becoming head sorbetero of Sebastian's Ice Cream and amassing a loyal army eager to taste the next flavor he'll come up with, he had to rely on books and research to teach him how to make the perfect scoop. A visit to a bookstore at the now defunct Virra Mall began his fascination for serious ice cream-making and unconventional flavors.
"I found myself reading the Ben & Jerry's Homemade Ice Cream and Dessert Book. I was fascinated by its recipes, but I didn't buy the book because I didn't have an ice cream maker then." His next encounter with Ben & Jerry's ice cream would be in Duty Free where he hoarded every flavor available. On his next visit, to his dismay, not a single pint was left in the freezer. "That's when I decided I wanted to make my own."
It seems only reasonable that Sebastian's Ice Cream now sells the most indulgent milk shakes made from their artisanal ice cream.
With the same Ben & Jerry's book ordered online and an ice cream maker given by his aunt, Ian made his first batch of ice cream—his own version of Chunky Monkey. He experimented with different flavors, adding Toblerone or Nestlé Crunch to the mix and developing a variety of bases. To get feedback, he'd let customers try them out at Hotstix Barbecue, a family-owned restaurant on Quezon Avenue. "It was very basic, nothing compared to what I am doing now," he admits. Still, his ice creams gained a cult following of their own.
ADVERTISEMENT - CONTINUE READING BELOW
Recommended Videos
When one door closes, another opens. 
After Hotstix had to close up shop, time still proved to be on Ian's side when some classmates from business school brought up the possibility of starting a small ice cream-selling enterprise. Sebastian's Ice Cream officially started in 2005, with a plan of approaching restaurants and making custom flavors for them. "Honestly, it was hard selling ice cream with a brand that was competing with a restaurant's own," Ian recalls. "So we decided to try selling to the direct market."
This is where Ian succeeded, delivering creative and inventive flavors that were anything but vanilla. His blue cheese flavor, named "Once In A Blue Moon", served with Palawan honey and walnuts, was a turning point in how experimental he could go. With a fan base that was willing to go with his vision and devour his experiments, he felt he had the creative freedom to take more risks. More than that, this particular flavor made it clear to him what Sebastian's Ice Cream was all about.
"It exemplifies everything that Sebastian's is as a brand. Unafraid to experiment but also strives for the best flavor. It may not be for everyone but for the ones that get it, they love it. And with our selection, we're banking on you finding one flavor on our menu that will resonate with you and you will love, regardless of what your preference is."
Surviving ang going beyond trends.
It worked in spite of artisanal ice cream's niche market, come hell or high water. When frozen yogurt soon began as the new food trend, some of his outlets had to be closed down and his family ended up taking sole proprietorship of the business. Looking back, he remains thankful for those days.
"It forced me to shake myself up and learn new techniques."
It's that passion that continues to see Ian through. Where other may have given up, he saw it as a growing oppurtinity because he was dedicated to what he was going. "I love food, I love eating it, I love learning about it. What I love about it is that with all the cultures and countires and ingredients out there. You could spend your entire life learning about food and never ever say, 'I've learned all there is to know.'"
Their leche flan torte is one unforgettable ice cream experience. This custard slice is everything you love: leche flan, mangoes, and ic cream.
After what seemed like rock bottom, Ian reflects, "Even though things are better now, I don't take it for granted. People's tastes can turn just like that—so I try to push myself to keep making something new," he shares. With his fearless drive and passion for innovation, there's no stopping Ian from coming up with new flavors to watch out for.
Fourteen years he's after the opening of Sebastian's Ice Cream, he's still doing the hustle, refusing to be complacent. "I've seen trends come and go: frozen yogurt, Italian Gelato, Liquid Nitrogen Ice Cream, Milk soft serve. The current hot trend is I Tim Pad or Rolled Ice Cream, and four years from now I'm sure there will be another one. It never really ends, so I just stay aware and focused and never take anything for granted."
Just last year, Sebastian Ice Cream's Poppits made it to Yummy.ph's Favorite Desserts. Our ultimate favorite was the bright, delicious, one-of-a-kind passionfruit poppits. 
Sebastian's Ice Cream today, remains constantly challenging the norm. It's still evolving up to now. They continue to push with creative bravery, to the point of selling ampalaya ice cream. At the same time, Sebastian's Ice Cream has matured, just like its owner, meaning, it's become more business savvy. It's now more than Ian's creative outlet.  He now knows what sells, what doesn't, timing  promotions, when to let a flavor stay or go, and even, how to adjust to, "the rise of Instagram." Today, Sebastian's Ice Cream is an ice cream brand that proved it is here to stay. 
You can visit one of Sebastian's Ice Cream branches at Podium Mall, Ayala Mall Vertis North, and Regis Center Katipunan.
ALSO READ: