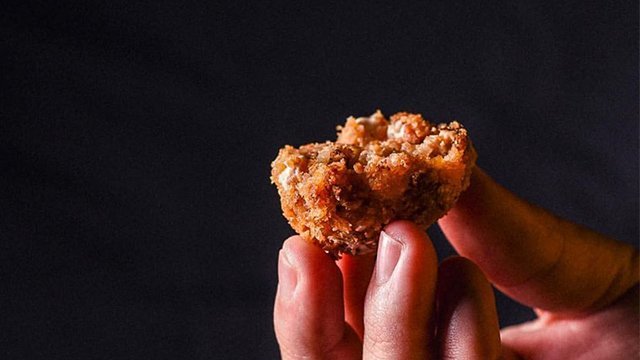 We love a good twist on a classic Filipino dish, especially when the result is mouth-wateringly wonderful and 100% satisfying. Meet our newest favorite food obsession: Sisig Kaninballs from The Broken Oven.
The dish consists of saucy sisig that sits inside a ball of long-grain rice coated in a crunchy herbed Panko breadcrumb crust (reminiscent of Italian arancini), and served with a dollop of spicy mayo on top. And really—few things are better than a sisig dish that's done well.
Brother-sister team Marco and Kyla Olives run The Broken Oven, a food stall that's set up in Industrie Food Loft in City Golf Plaza, Ortigas City. Their family has been selling roasted pork belly for the past two years, but they set up shop to breathe new life into the food that they prepare, making The Broken Oven a creative outlet.
"We wanted to eat sisig in a fun and different way," says Kyla, "and you should always have the courage to make dishes that are exciting." Marco, who is a self-taught home cook, developed the Sisig Kaninball recipe as a special dish to serve in The Broken Oven.
Industrie Food Loft is home to 12 food concepts, including The Broken Oven, and is located at the heat of the Ortigas Business District in the City Golf Plaza along Julia Vargas Avenue.
ADVERTISEMENT - CONTINUE READING BELOW
Recommended Videos