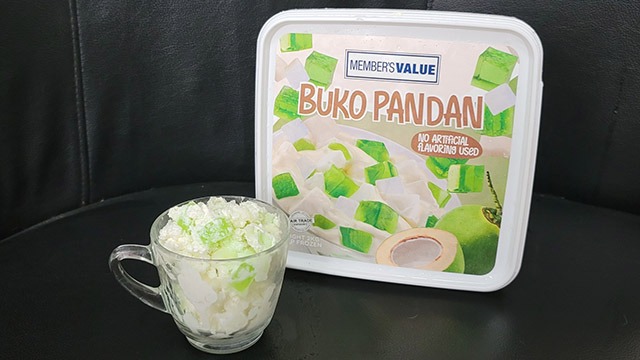 There is something comforting about buko pandan. Maybe it's the unique combination of the flavors of coconut and pandan. Or maybe it's how fun it is to experience the different textures of the sliced buko, the soft pandan jelly, and the chewy nata de coco all the while savoring the rich flavors of the sweet, pandan-flavored cream. Either way, it's hard to say "no" to this chilled treat. Plus, you'll be happy to know that if you ever need a tub (or two) of these, S&R Membership Shopping has got your buko pandan craving covered with its Member's Value Buko Pandan tub.
What You Need to Know
In the freezer section of the S&R nearest to you, tucked away with the ice creams, you might find S&R's Member's Value Buko Pandan. It's a hefty tub weighing two kilos – yes, that's 2 whole kilograms of buko pandan! The label claims that no artificial flavoring has been used (verdict on that later), and if we're going by the image, the ingredients look pretty straightforward: pandan-flavored jelly, coconut, nata de coco, and cream.
The tub only comes in this 2-kg size, so it's perfect to bring as potluck to parties or big group meals. Of course, if you're a big fan of buko pandan and would like to have it all to yourself, we've got two things to say:
1. If kept frozen, the tub expires 5 months from the manufacturing date (it's indicated on the tub), and
2. We won't judge.
What We Love (And Don't Love) About The Member's Value Buko Pandan
Remember when we said the label said there are "no artificial flavorings"? Well, it certainly tastes like it! We were pleasantly surprised to find that S&R's Member's Value Buko Pandan does, in fact, have a very natural coconut and pandan flavor, and upon further checking, the listed ingredients reflect the same claim: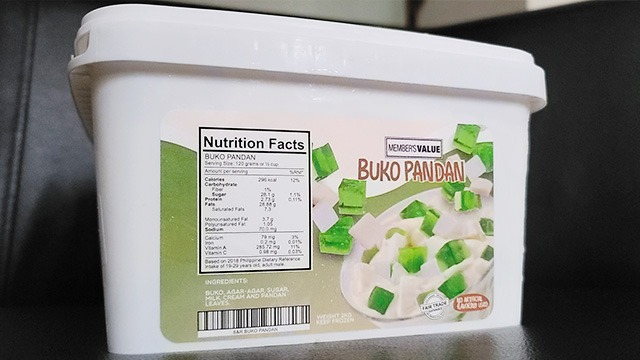 Our Feelings on the Fillings
Our first bite contained a little bit of everything and the best part was that even as we blindly chewed through the (kind of big) spoonful of buko pandan, we could identify which ingredient we were chewing on. The nata de coco had a chewy bite to it that burst with a sweet, juicy coconut flavor while the coconut meat had a sort of al dente crunch to it that tasted creamier as you kept eating. You could tell because as mentioned, the coconut was diced! So instead of disappearing into the background as they do when they are, as Melai's daughter Mela puts it, in "noodle" form, you get big chunky bites of coconut as you eat.
ADVERTISEMENT - CONTINUE READING BELOW
Recommended Videos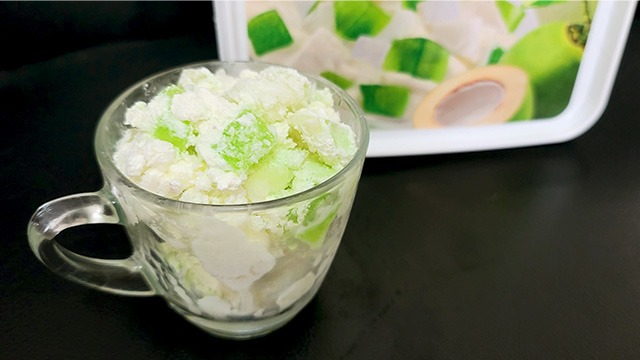 What stood out to us the most was the pandan jelly. Unlike the usual buko pandan where the jelly all but melts in your mouth, S&R's pandan jelly was chewier than expected. It's still soft and yields easily to the bite, but it is firmer than regular jelly.
The Crème de la Crème Was the Cream
While the fillings are of course integral to buko pandan as a whole, we feel like the most important component of buko pandan is the cream as it is what holds all the different ingredients together. And S&R's Member's Value Buko Pandan hits the flavors right on the head. It's sweet, but not overly or cloyingly so, something that we noted as we were able to finish about two cups before feeling the need to drink water. Aside from being sweetened, the cream itself seemed to have been infused with the flavors of both coconut and pandan, which really pulled the whole thing together nicely.
Another thing we liked was that when the buko pandan melted a little bit and the cream began to thaw, the consistency was still light and airy, reminiscent of melted ice cream. All in all, the buko pandan was made impeccably well, and you get what you see on the label.
What don't we like about S&R's Member's Value Buko Pandan?
If we're talking about the product itself, we've got no complaints. It's a classic buko pandan that has well-balanced flavors and very thoughtfully-sized fillings. However, at P849 for a 2-kg tub, we think that it's on the pricier side. For the budget-conscious, it might be more economical to make your own buko pandan; however, this price point could be justified if you don't have the time to make it and need a dessert that's sure to impress at a big handaan.
Where to Get It
Member's Value Buko Pandan is available at all S&R branches at P849 per 2-kg tub. As of this writing, it doesn't seem to be available on online delivery services (yet), but we will update this space when S&R relaunches its new shopping website.
***