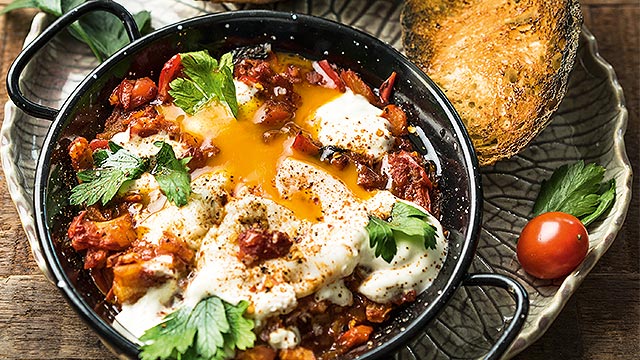 Here's a sneak peek into celebrity, fitness guru and runny egg yolk-lover Solenn Heussaff's kitchen staples. Plus, she also shared an easy and delicious breakfast recipe with us! Find more home cook-friendly recipes and advice about getting fit and eating well in her new book, Hot Sos.
Yummy.ph: What is your go-to busy weeknight meal?
Solenn: I usually do something fast: a quick salad with fresh tomatoes, tuna, and a nice French vinaigrette.
Yummy.ph: What are the contents for your fridge as we speak?
Solenn: Chicken breast, oranges, pineapple, beets, asparagus, lots of eggs, and dark chocolate.
Yummy.ph: Any tips on easy ways to make home cooked meals healthier?
Solenn: Try not to fry. For me, invest in an oven because you can do almost anything with one. Plus, get a good non-stick pan so that you don't use too much oil. Lastly, lessen the amount of salt you put into your meals. Use lots of herbs and spices instead. The more herbs, the merrier! Your food will taste great without actually having to go overboard with salt.
Poached Eggs with a Punch
2 cloves garlic, smashed and chopped
1 medium white onion, chopped
Olive oil or any vegetable oil, for sautéing,
1 palm-sized bacon slab
1 bell pepper, chopped
1 large tomato, chopped
½ teaspoon tomato paste
Salt and pepper, to taste
Cumin
Paprika
5 basil leaves
Sour cream
Two eggs, poached
Parsley, for garnish
Cayenne pepper, for garnish
Sourdough or any brown bread, to serve
1  In a pan, sauté garlic and onion in a swirl of olive oil until fragrant and translucent.
2  Add the bacon slabs.
3  Toss in the bell pepper and tomato.
4  Add the tomato paste, then season with a small pinch of salt and pepper, and add a dash of cumin and paprika.
5  Toss in the basil leaves.
6  Transfer to two baking plates and bake in an oven set at 350 degrees F for about 5 minutes.
7  Add two poached eggs and sour cream on top, and bake for another 10 minutes.
8  Garnish with parsley and sprinkle with cayenne pepper.
Find recipes, fitness advice, and a whole lot of motivation in Hot Sos, available in National Bookstore for Php 295.
ADVERTISEMENT - CONTINUE READING BELOW
Recommended Videos