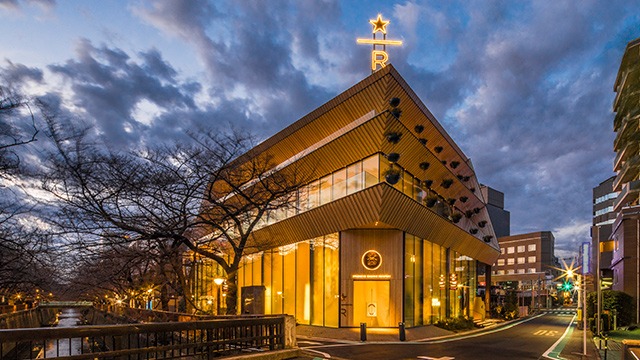 The new Starbucks Tokyo Roastery in Nakameguro, Tokyo is the biggest Starbucks store in the world. It's a four-story building with a 55-foot cask adorned with copper cherry blossoms. The main bar is on the first floor, where the customers can see the skillful art of roasting, brewing, and hand-crafting their premium coffee beverages. Artisanal Italian bread, like focaccia and cornetti (croissants) are freshly baked at the Princi Bakery, which can also be found on the same floor.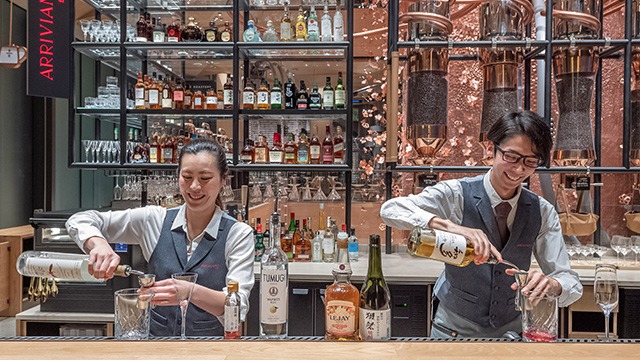 The second floor of the Starbucks Tokyo Roastery pays tribute to the Japanese culture of drinking tea. The largest Teavana Bar in the world features dozens of creative tea beverages and desserts, and three premium Japanese green teas sourced from local Japanese farms. The third floor houses Arriviamo, a cocktail bar that highlights delicious and intoxicating coffee and tea-inspired cocktails. The top floor serves as the AMU Inspiration Lounge, a space forcommunity gatherings hosted by change-makers and game-changers across Japan.
If you're taking a vacation to Japan anytime soon, you should add Starbucks Tokyo Roastery to your itinerary. Here's a peek into the extensive and creative menu they offer and some Tokyo Roastery-exclusive beverages you should try: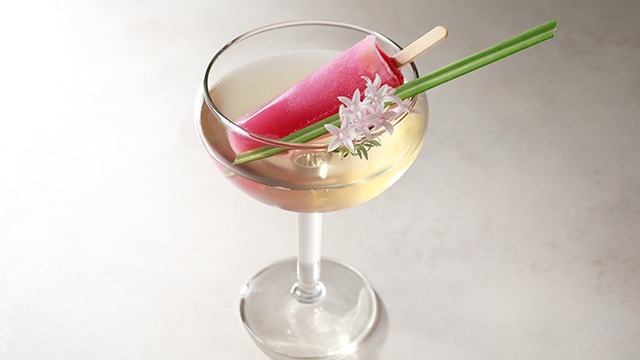 Pop'n Tea Sakura Jasmine
One of the most creative cups of tea you can get at the Roastery's Teavana tea bar is the Pop'n Tea Sakura Jasmine. It's made with Jasmine Silver Needle Tea (a sweet white tea), topped with a handmade hibiscus and cherry-flavored pink popsicle. You can take a bite of the popsicle and alternately take a sip of the tea, or you can let the popsicle melt and let it blend with the Jasmine tea.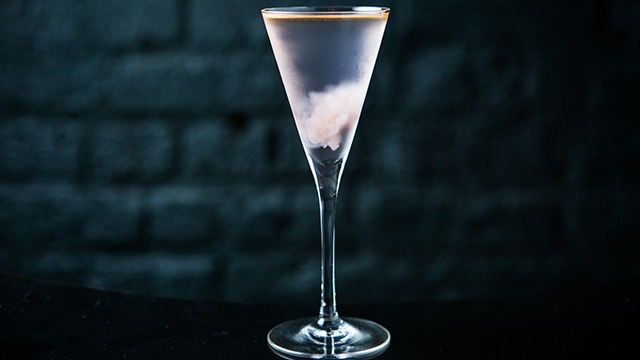 Spring Shower
The Roastery's signature cocktail is made with Dassai shochu (distilled spirit), Wapirits Tsumugi Buntan spirits, and grapefruit liqueur. This cocktail is finished with a spritz of Starbucks Reserve Cold Brew Coffee and a beautiful, pink floating flower. The Spring Shower has a floral, fruity, smoky, and woody notes that will remind you of spring.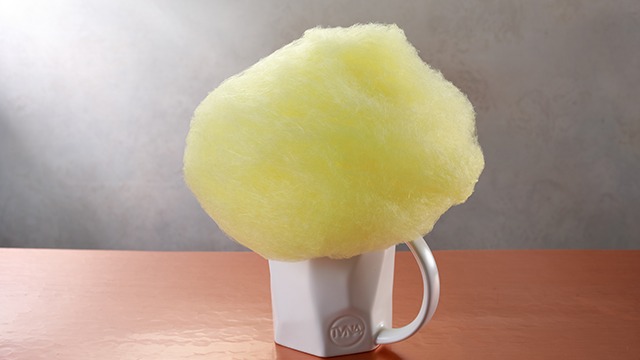 Golden-Sky Black Tea Latte
The Golden-Sky is another creative concoction made with spiced tea latte made from black tea with notes of cardamom and turmeric, topped with a cloud of turmeric sugar-blended golden cotton candy. You can take a pinch of the cotton candy to taste it, but it would be best to let the cloud-like candy melt into your cup of tea latte to give it a hint of sweetness.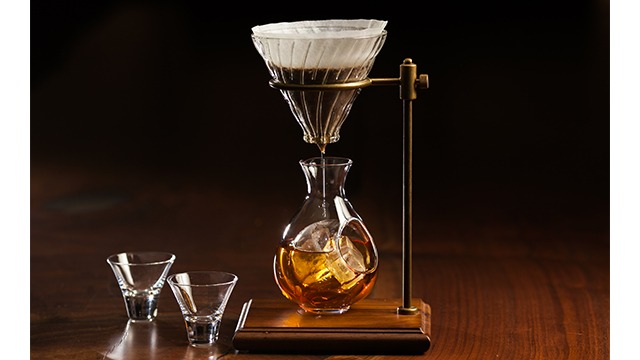 Tokyo Pour Over
If you're up for an intoxicating coffee experience, the Roastery's Tokyo Pour Over is a caffeinated cocktail that pours the filtered and brewed coffee over a Japanese whiskey cocktail. It is meant for sharing and is served in a tokkuri, a traditional Japanese sake decanter, with a pair of ochoko glass, that is traditionally used for drinking sake.  
ADVERTISEMENT - CONTINUE READING BELOW
Recommended Videos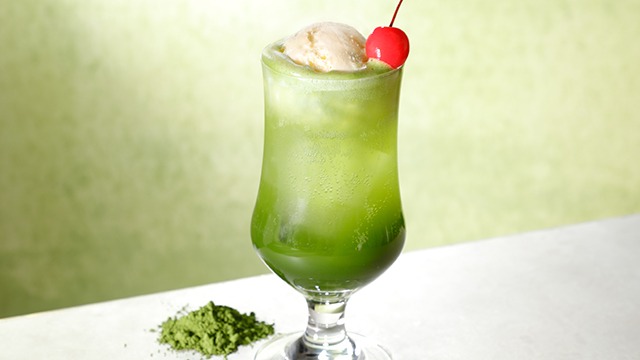 Teavana Cream Soda Matcha
The Roastery's Teavana Cream Soda Matcha is a sweet concoction made by brewing special matcha from Uji, Kyoto, mixed with sparkling water and Starbucks Japan's original vanilla ice cream, and topped with a bright red cherry. This slightly bitter and sweet beverage is the Roastery's way to pay homage to traditional kissaten (tea) houses, which are integral to the Japanese food culture.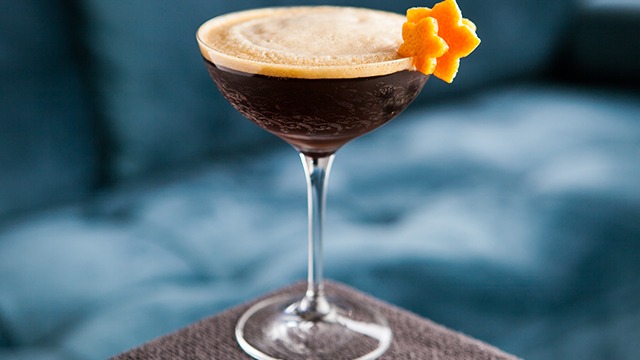 Cascara Lemon Sour
The Cascara Lemon Sour is another Tokyo Roastery-exclusive cocktail is a mix of Starbucks Reserve cold brew and the traditional lemon sour, shaken with sweet maple syrup, freshly-squeezed lemon juice, and garnished with flavorful cascara sugar, lemon peel, and a maraschino cherry.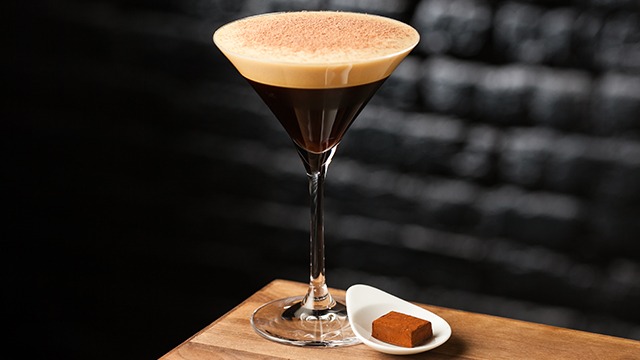 Nakameguro Espresso Martini
If you're a fan of chocolate, coffee, and cocktails, the Nakameguro Espresso Martini is the way to go. This dessert-like cocktail is a concoction shaken with Japanese Nikka Vodka, chestnut liqueur, freshly-brewed espresso, and cocoa liqueur, and topped with shaved chocolate. This sweet and intoxicating drink is served with a Peruvian single-origin ganache.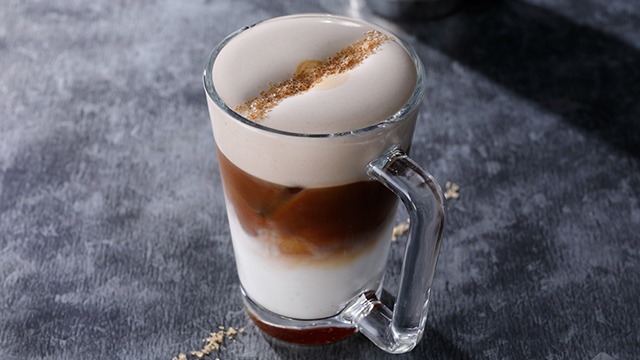 Iced Macchiato Con Crema
You have to try the Roastery's creative Iced Macchiato Con Crema if you love a milky cup of coffee. This Iced Macchiato is an iced espresso beverage layered with frothy cold foam and sprinkled with Demerara sugar. 
Nakameguro Way
The Roastery's Nakameguro Way is an alcohol-free cocktail made with Starbucks Reserve's Cold Brew, tonic, Italian chinotto soda, and garnished with a cherry blossom petals-shaped grapefruit.
 ALSO READ: