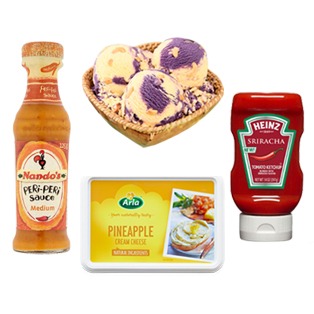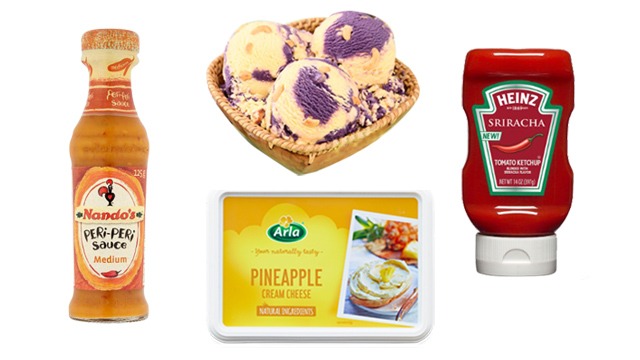 The sun is shining, the beaches are ready to be raided and it's the perfect time to load up on treats like ice cream and barbecue!
With summer get-togethers in mind, we've put together a list of great grocery finds which we think will help make your summer even more special. Why not try a new flavor or two of frosty ice cream, or douse your grilled chicken in some super spicy peri-peri style sauce? Summer is all about bright, exciting flavors and we can't wait to indulge in them!
1 Arla Pineapple Cream Cheese
Plain old cream cheese just isn't enough, especially when there are so many sweet, vibrant fruit around. Arla's sweet and decadent Pineapple Cream Cheese spread is a perfect union of silky smooth cream cheese and tart, sunny pineapple. We love having this served on toast or even alongside other seasonal fruit!
2 Selecta Ube Langkasuy Ice Cream
How can you go grocery shopping in the summer without buying a tub or two of ice cream? This time around, local fruits are at their peak, so it should come as no surprise that loads of ice creams feature proudly Pinoy flavors and ingredients such as langka or jackfruit and cashews. We also have a sweet spot for any ice cream that features the unique purple color of ube!
3 Magnolia Strawberry Crumble Pie Ice Cream
While most people are off to the chilly heights of Baguio to cool off for the summer break, we're content with stuffing ourselves silly with all things strawberry. Magnolia's fun take strawberry ice cream includes crunchy crumble bits, jammy strawberry pieces and sweet, creamy strawberry ice cream! What more can you ask for on a warm summer's day?
4 Nando's Bottled Peri-Peri Sauces
Summer is the perfect time to head outdoors for a great big barbecue with friends and family, so why not spice things up by serving your freshly grilled veg and chicken with any one of Nando's Peri-Peri Sauces. Available in a variety of spice levels, the sauces go great with smoky grilled meats and are just the thing you need to give your standard summer barbecue that much needed twist.
5 Heinz Sriracha Ketchup
Sriracha is the stuff of fiery food dreams, filled with hot, vinegary, garlicky flavors. For those of you who aren't too big on the spice, however, we've just discovered a much milder, but equally tasty alternative: Sriracha-flavored ketchup! You can serve it with all your summer faves, such as French fries, barbecue chicken, and sausages. Grab a bottle while you still can and head out for a sunny summer picnic!
ADVERTISEMENT - CONTINUE READING BELOW
Recommended Videos
Collage by Riell Santos