While you may have your go-to shopping stop (which you'd usually credit to its proximity), not all supermarkets are obviously created the same. From one-of-a-kind products to the availability of certain brands, supermarkets may even vary from branch to branch. This week, we're turning the spotlight to grocery stores in Metro Manila to give you the lowdown on what sets your friendly neighborhood supermarket apart from others.
First stop: Rustan's Supermarket in Glorietta, Makati
A main player in the local supermarket industry, Rustan's Supermarket has been in the business for more than four decades now and has never ceased stepping up their game to give their discerning customers access to the best products in the country and from abroad.
The Shopping Vibe
Isolated from the main mall and located just below the department store, Rustan's Supermarket in Glorietta is a world on its own. It's spacious, well-lit, clean and polished, and gives off a modern yet a homey vibe. Light, jazzy tunes play on loop on low volume—a far cry from the loud and upbeat pop music playlists blaring from the speakers of most supermarkets in the city. But perhaps the most inviting thing about this supermarket is the scent of smoked ham and roasted chicken wafting in the air, compelling you to give the deli and rotisserie section a visit.
So many international brands!
A carrier of various international brands, it is a one-stop shop of unique food products such as infused salts from Italy, exquisite wines and spirits from across the globe, imported fruits, and more that you won't find anywhere else. Rustan's Supermarket is also the only licensed retailer of grocery items from the UK's leading chain Waitrose and France's trusted supermarket, Casino, in the country.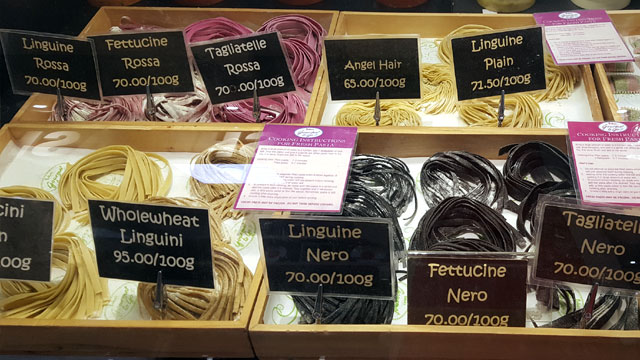 Fresh, handmade pasta.
The Fresh Factor
Above anything else, this supermarket doesn't take the word "fresh" lightly. Walking into the store, any first-time shopper would be struck in excitement upon seeing vibrant greens, red and plump tomatoes, bright-colored bruise-free fruits, organic potted herbs, and more in the produce section. Their cuts of raw meat and seafood are delivered fresh daily. They also sell handmade pasta, freshly-pressed fruit juice, and various salads and sandwiches.
Value Picks
Although most of the items in Rustan's Supermarket are quite pricey, shoppers working with a smaller budget can still head on over to the checkout counter without shelling out too much cash. Sure Buy, the house brand of Rustan's Supermarket, offers its shoppers quality items—ranging from flour, to spreads, to aluminum foil—for less.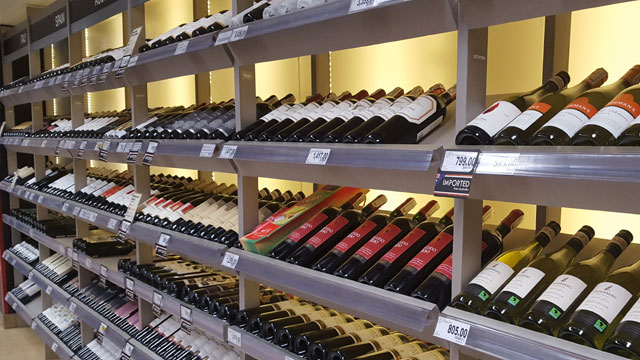 Wine for every budget.
Grub Stops
If all the shopping made you hungry, Rustan's Supermarket in Glorietta has quite a selection of mini restaurants where you can sit down and have your fill. Perhaps, you want to have a bibingka from Via Mare Express, some baked ziti from Sbarro, beef tapa from Benny's, or pastries from artisan Parisian boulangerie Eric Kayser.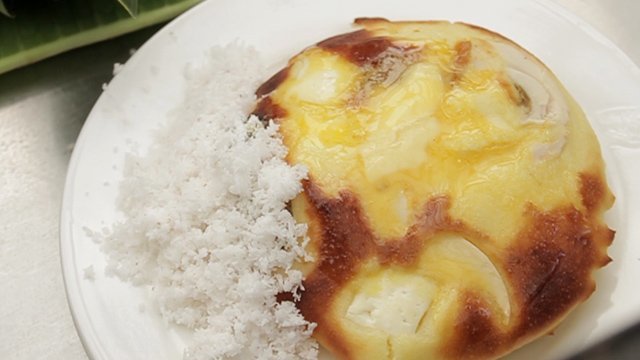 WATCH: Here's How Bibingka Is Made
Posted in:
News + Trends
Loyalty Program
Rustan's Supermarket offers frequent customers the Fresh Shopping Rewards Program to ensure that they receive great value through rebates, perks, and privileges. Shoppers have the option of availing the Rustan's Supermarket Fresh Card in two ways: pay a P200 membership fee or submit accumulated receipts in the past 3 months worth P5,000. Every P1 you spend is equal to 1 point. For more information on Rustan's Supermarket's loyalty program, visit their website.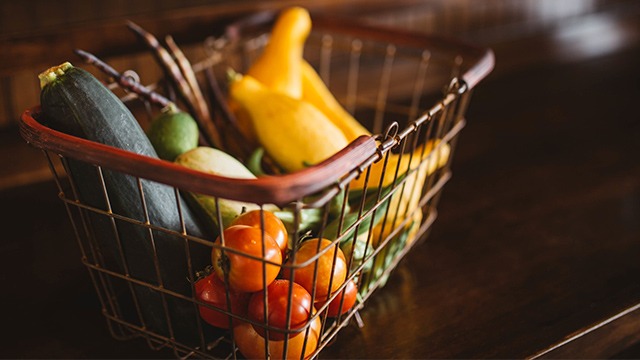 5 Tips for Smarter Grocery Shopping
Posted in:
Prepping