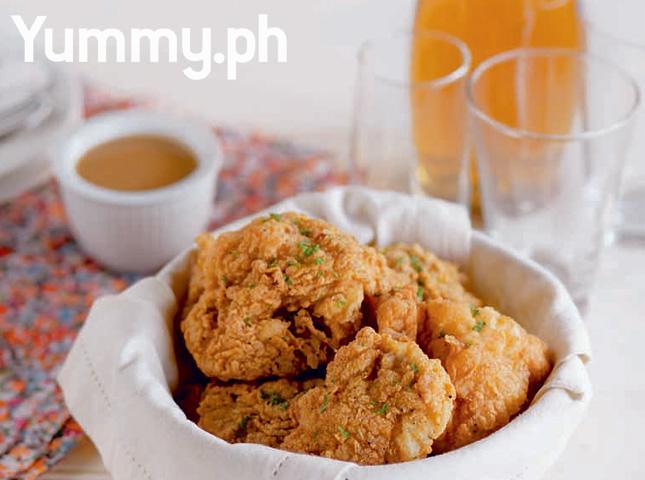 Buttermilk makes your everyday fried chicken better: marinating chicken meat in buttermilk makes the meat extra tender and juicy, plus they quickly brown when pan-fried.
Can't find buttermilk in the supermarket? You can make it by mixing 1 tablespoon white vinegar or lemon juice + milk to make 1 cup of buttermilk.
Serves 4 to 6
Prep Time 15 minutes, plus marinating time
Cooking Time 30 to 45 minutes
For the breading:
2 1/2 cups all-purpose flour
1/2 cup yellow cornmeal
2 tablespoons salt
1 teaspoon white pepper
1 teaspoon onion powder
1 teaspoon garlic powder
1 teaspoon paprika
2 cups milk
2 tablespoons vinegar
2 teaspoons salt
1 whole chicken, cut into 8 pieces
vegetable or corn oil for deep-frying
chopped parsley for garnish
For the gravy:
1/4 cup butter
1/4 cup all-purpose flour
1 cup chicken stock (or 1/4 chicken bouillon cube dissolved in 1 cup water)
1/4 teaspoon salt
1/8 teaspoon pepper
1 Make the breading: Combine all dry ingredients in a bowl and mix until well combined. Set aside.
2 Combine milk and vinegar in a large bowl; let sit for 5 minutes. Add salt and stir.
3 Marinate chicken in buttermilk mixture for 30 minutes or overnight in the fridge.
4 Heat oil to 360°F in a deep-frying pan. When oil is ready, dredge chicken pieces one at a time in the breading, tossing to coat completely. Dip dredged chicken in the buttermilk mixture and coat again with
the flour mixture.
5 Deep-fry chicken until golden, about 10 to 15 minutes. Drain on paper towels to remove excess oil. Set aside. Garnish with chopped parsley before serving.
6 Make the gravy: heat butter in a small saucepan. Cook flour; mix until it turns brown and smells nutty, about 5 to 10 minutes. Gradually add chicken stock, stirring with a wire whisk. Be careful as the initial pour will create some smoke. Season with salt and pepper. Cook until slightly thickened. Serve with chicken.
ALSO READ: How to Cook the Best-Tasting Fried Chicken
Photography by Aldwin Aspillera | Styling by Trinka Gonzales