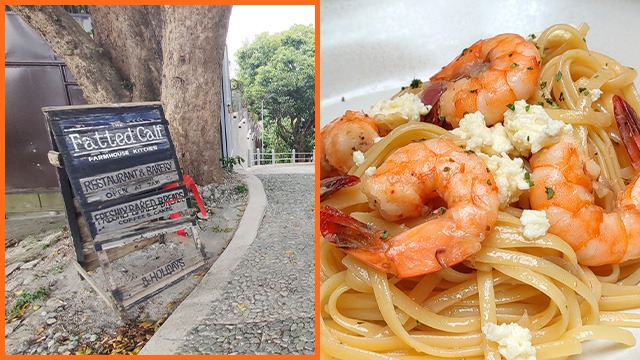 If you need one more good reason to go up and revisit Tagaytay again, The Fatted Calf Farmhouse Kitchen is it.
This humble little restaurant, more popularly known simply as The Fatted Calf, is located along the Tagaytay-Nasugbu Highway in Tagaytay City but is closer to Nasugbu than the bustling city center. You will need to keep an eye out for the humble little sign it has just outside its gates.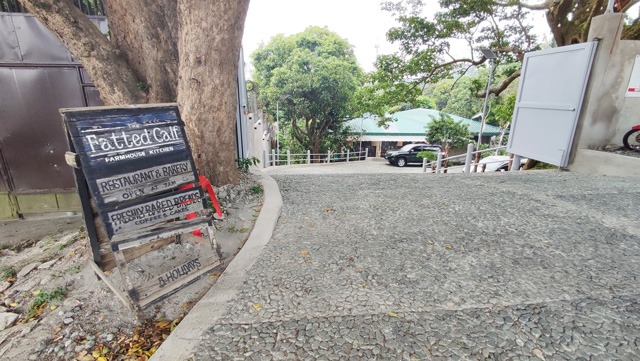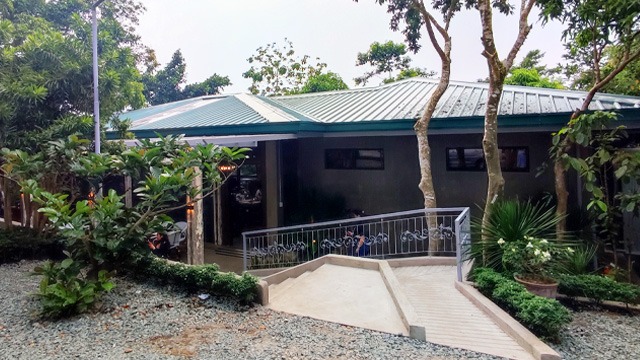 However, don't let the humble façade fool you. The Fatted Calf is a hidden little gem of a restaurant that boasts a dining experience that is lovingly local with equally homey touches that makes it feel like you are a guest at someone's home.
If the restaurant does not sound new to you, it is not. Not really anyway because it only recently reopened again much to the delight of its former patrons who had tearfully bid it farewell a few months ago. It has since then been a long journey for Chefs Jayjay and Rhea Sycip to transplant the restaurant from its old home into its new one, but the delicious dishes that emerge from its kitchen are dishes that were worth it.
Here are the dishes you should try at the newly reopened The Fatted Calf in Tagaytay: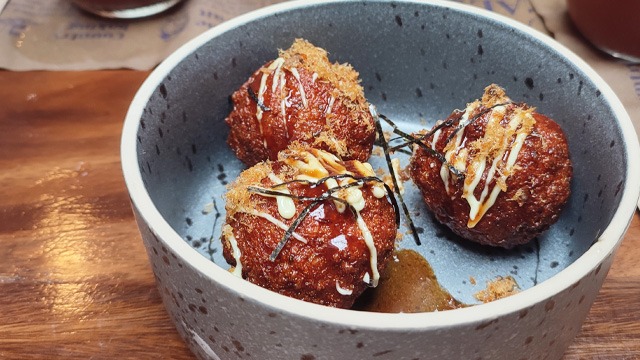 If you ever eat only one shrimp ball in your life, these Vietnamese Shrimp Balls (P450) the shrimp ball you must taste. These shrimp balls are inspired by Vietnamese shrimps skewered on lemongrass sticks. The twist The Fatted Calf took is, instead of skewers, the shrimps are finely ground, seasoned, and made into deep-fried balls. It's a genius take on a humble dish made incredibly flavorful and succulent that are super addictive.
ADVERTISEMENT - CONTINUE READING BELOW
Recommended Videos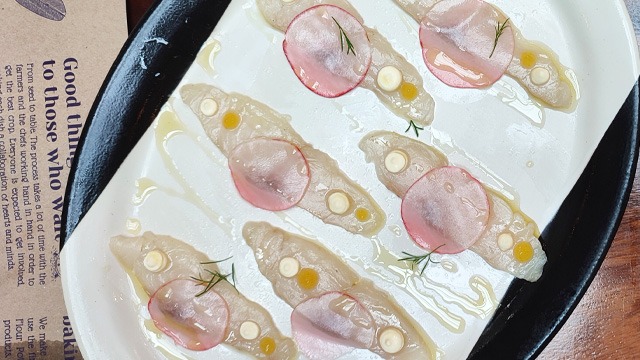 The Cured Fish (P395) is one dish that some may not appreciate but those who love sashimi and smoked salmon definitely will. The fish slices are from gindara, an oily fish that is also known as a kind of cod fish locally. These are cured in a mixture of patis or fish sauce and gin. The resulting fish slices taste like cured fish, pungent but without too much funk.
The slices are flavorfully highlighted with touches of crème fraiche, lemon puree, and thin slices of radish all drizzled with kaffir lime oil that, together, are a delight on the palate.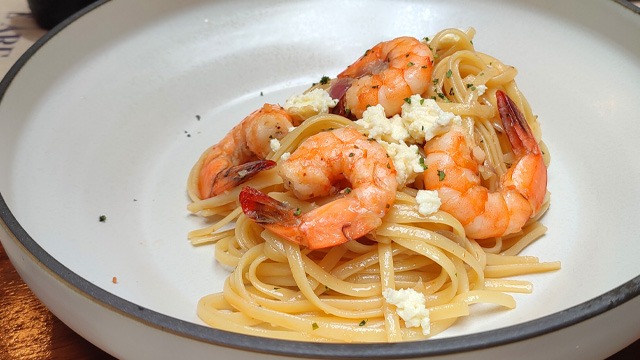 This bowl of Shrimp Spaghetti (P575) is a testament of how chefs (and cooks!) can be super creative with scrap ingredients while delivering intense flavor into their dishes. The sauce of this deceptively simple shrimp dish is made from the shrimp heads. The flavor from the heads are extracted, seasoned, and made the base of the sauce. This is tossed with pasta together with the rest of the shrimp (sans heads and shells of course) and brined kesong puti. The resulting pasta dish is a shrimp lover's dream.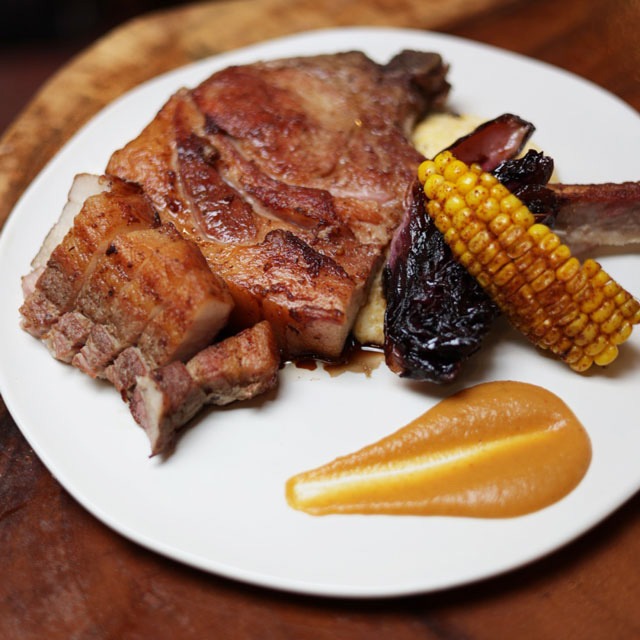 Pork is a staple on any menu and The Fatted Calf outdid themselves creating this plate of meat and sides with a sauce that you might want to lick off the plate. This Thick Cut Pork Chop (P1,475) is definitely thick and juicy but the sides we think are the true stars of this dish. The pork is served with a tangy braised red cabbage, corn made into the once popular air fryer corn ribs, Cebu corn turned creamy corn porridge or grits, and a seasoned apple sauce that's so good, it's the highlight of the plate!
Each is a wonderful accompaniment to the pork, but there's a good reason why apples and pork work so well together. Smear some of that applesauce on the pork chop, and you'll discover why.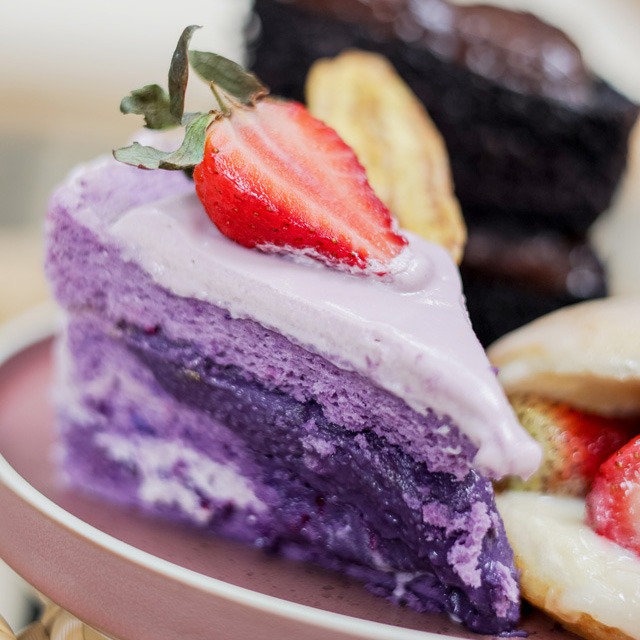 The Ube Kinampay Cake (P350/slice, P2950/whole) is one such treat you cannot allow to pass you by! It's not just because this lovely purple-hued cake that is beautifully tender, moist, and bursting with real ube flavor but also because The Fatted Calf sources these tubers from the last kinampay farm in Panglao Island, Bohol. Chef Ria claims she buys all the harvest from the farm to create the ube jam that you'll taste in the cake… and you really should if it's in season.
You won't regret a single bite, especially if you love the earthy subtle sweetness of ube halaya.
We're salivating again just thinking of these dishes and we know you will too once you get a taste of The Fatted Calf's menu of curated dishes.
The Fatted Calf Farmhouse Kitchen is now open, starting June 1, 2023 for breakfast, lunch, and dinner. It is now located along Tagaytay-Nasugbu Highway, Barangay Neogan, Tagaytay City. For more information, visit The Fatted Calf on Facebook or Instagram or reserve a table by calling +63 977 6437477 or +63 917 7892352.