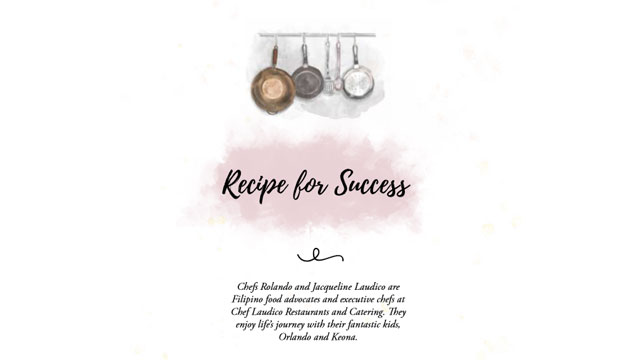 Restaurateur and chef Rolando Laudico has worked with his wife, pastry chef Jackie Laudico since the year 2000 when they put up the Chef Laudico Group. Filipino food advocates and executive chefs at Chef Laudico Restaurants and Catering, they write to their children about being unique, adding uniqueness to everything they do, and never compromising on yourself in the new book, "Letter to my Children".
Dear Orlando and Keona,
Let us share with you this one-of-a-kind recipe:
LAUDICO RECIPE FOR SUCCESS
Ingredients:
12 cups of Talent                                      
1 pinch of Uniqueness
10 gallons of Confidence
1 lifetime of Craftsmanship 
7 cups of Energy
A stream of Sacrifice
21 grams of Soul
Directions:
1. Uncover talent. Starting at a young age, do what you love doing, whatever it is that makes you happy. You will discover that those things are actually talents that you can develop. Top the talent with passion and perseverance, and you will eventually be very good and very skilled that it would be like second nature. We were lucky that we discovered the joy of cooking and baking at an early age, so we just kept doing them and somehow never got tired of them. We still have fun cooking and baking to this day.
2. Add uniqueness. Always be yourself. Don't be afraid to be unique and different. Sometimes it's hard to fit in and be accepted by your friends and classmates, so you try so hard to be part of a group and just belong. True friends will accept you for who you are; great friends would even admire you. Don't just blend in—stand out from the crowd. Be comfortable in your own skin. Which brings us to the next step… 
3. Build confidence. Self-confidence is one of the most important ingredients for success. Without it, you will be afraid to tackle challenges, try new things, or handle problems that arise in your life. Confidence gives us the strength to learn from our mistakes and not look at them as failures. Have the heart to rise above life's challenges. Before we became chefs, we probably failed a hundred times in cooking. But instead of giving up, we chose to believe in ourselves. 
Read the full letter and other heartfelt messages from contributors from fields such as entertainment, sports, arts, media, fashion, beauty, business, public service, and more. Putting their heartfelt thoughts about parenting on paper are Lea Salonga, Gary Valenciano, and more.
Letters to My Children is now available in newsstands, bookstores, convenience stores, and supermarkets nationwide for P295.

ADVERTISEMENT - CONTINUE READING BELOW
Recommended Videos