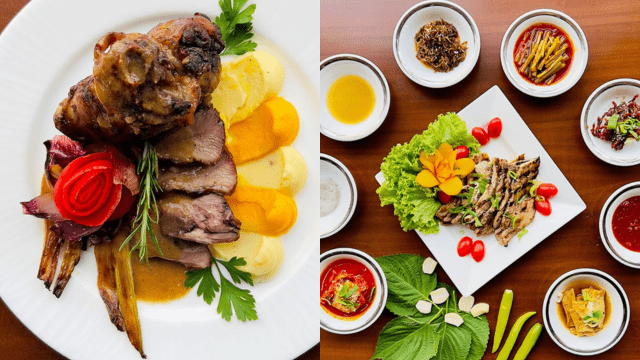 The Manila Hotel is bringing diners the exquisite flavors of locally-grown kurobuta pork at their buffet restaurant, Café Ilang-Ilang. Led by Executive Chef Konrad Walter, The Manila Hotel embraces sustainable and ethical farming by featuring Esguerra Farm's sustainable and ethically-raised Berkshire pigs. For the whole month of June, diners can enjoy exquisitely-prepared kurobuta dishes in Café Ilang-Ilang's dinner buffet.
What is Kurobuta?
Kurobuta, which translates to "black pig" in Japanese, originally hail from the English county of Berkshire. Black Berkshire pigs are known for their abundant marbling, tenderness, and rich flavor profile; Berkshire pork, or as it's more commonly called in Asia – kurobuta – is widely considered as one of the more premium kinds of pork. 
"We are excited to elevate the buffet spread of Café Ilang-Ilang with the produce of Esguerra Farms," says Konrad Walter, The Manila Hotel's Executive Chef. And we couldn't agree more – Esguerra Farms is a local farm that places emphasis on ethical and sustainable farming practices that ensure the pigs are "raised in a safe, clean, and stress-free environment."
Here Are Some Of The Exquisite Kurobuta Pork Dishes We Loved At Café Ilang-Ilang's Dinner Buffet: 
Café Ilang-Ilang boasts a wide selection of buffet stations that celebrate different dishes from all over the world, and in each one you'll find a kurobuta dish expertly incorporated in that section's cuisine. You can even enjoy the savory kurobuta flavors in the pastry section, where they serve Ensaymada with Pork Lard!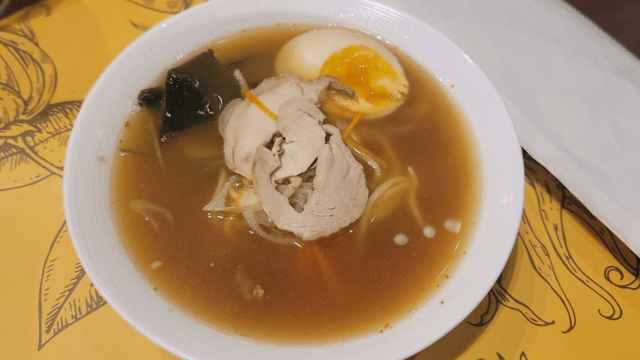 The Kurobuta Ramen in Café Ilang-Ilang's Japanese section beautifully showcases the pork's clean, savory flavor. Served with springy egg noodles and a light but umami-filled broth, the kurobuta ramen is a must-try, especially if you're hankering for a comforting bowl of meat and noodles.
ADVERTISEMENT - CONTINUE READING BELOW
Recommended Videos
2 Mandarin-style Kurobuta Pork Spareribs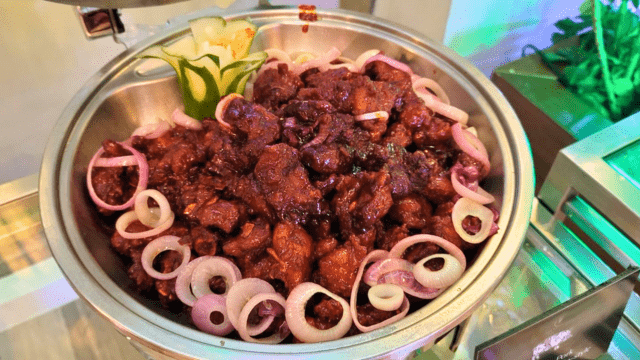 The Mandarin-stule Kurobuta Pork Spareribs are crunchy on the outside and practically melts as soon as you bite through the crunchy, flavorful breading. As the meat falls apart in your mouth, you'll enjoy the harmony of flavors delivered by the Mandarin-style sauce: it's sweet, it's savory, and has just the right tang to keep you wanting more.
3 Mediterranean Kurobuta Pork Stew in Red Wine and Plum Sauce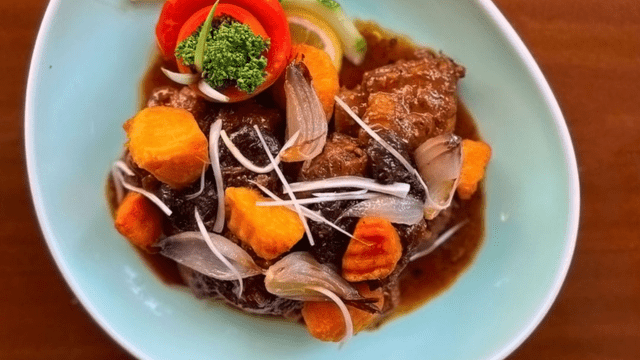 This Mediterranean take on kurobuta pairs the light-flavored pork with the hearty, rich red wine sauce. It's slow-cooked to perfection, and the succulent kurobuta pork comes alive with the fruity addition of plums. It's a delicious stew that balances the complex flavors of the red wine and the pork with a touch of herby sweetness.
4 Korean-Style Grilled Kurobuta Pork Belly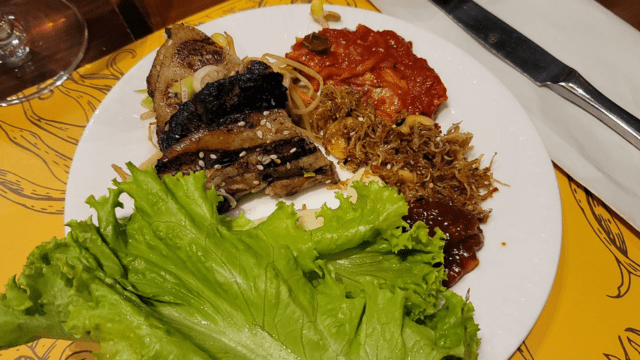 Where there's pork belly, you can't miss the chance to have it samgyupsal-style. That's exactly what you get with Café Ilang-Ilang's take on this beloved grilled Korean dish! The juicy kurobuta pork belly is grilled to perfection and cut into the perfect bite-sized pieces, and they don't skimp on the ssamjang, lettuce, and banchan, either!
5 Italian-style Whole Roasted Kurobuta Pork Shank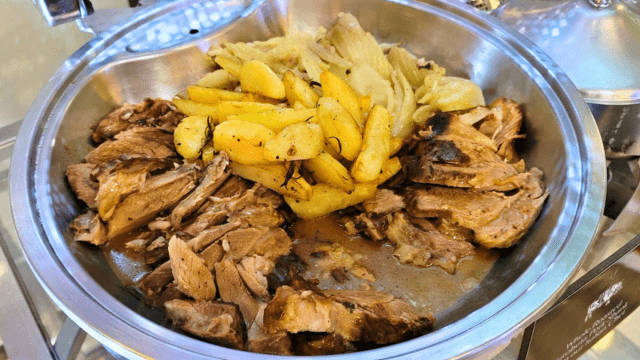 One of the risks of roasting pork – or any kind of meat, really – is that you could get a dry dish, but this wasn't the case with the succulent whole roasted kurobuta pork shank. Not only are the slices of pork juicy (we credit this to the beautiful marbling of the meat); it's also been roasted in a carefully balanced selection of Italian herbs that complement the natural flavors of kurobuta.
How Much Is Café Ilang-Ilang's Dinner Buffet
Guests can enjoy the delightful dishes from The Manila Hotel and Esguerra Farms for the entire month of June, and the kurobuta dishes will be served on a rotating line-up at Café Ilang-Ilang. The kurobuta dishes will be available at Café Ilang-Ilang's Dinner Buffet every Monday, Tuesday, and Wednesday, from June 5 to 28, 2023, for P3,145 per person. Children aged 5-12 years old get 50% off, while those aged 4 and below may dine free of charge.
The Manila Hotel is located at One Rizal Park, Ermita, Manila, Metro Manila. For inquiries and reservations, you can call (+632 8527 0011 or +632 5301 5500) or email.