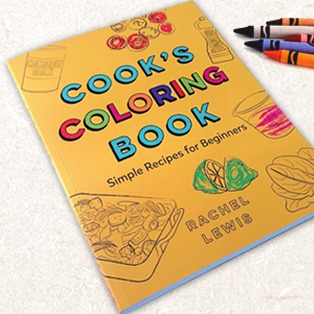 .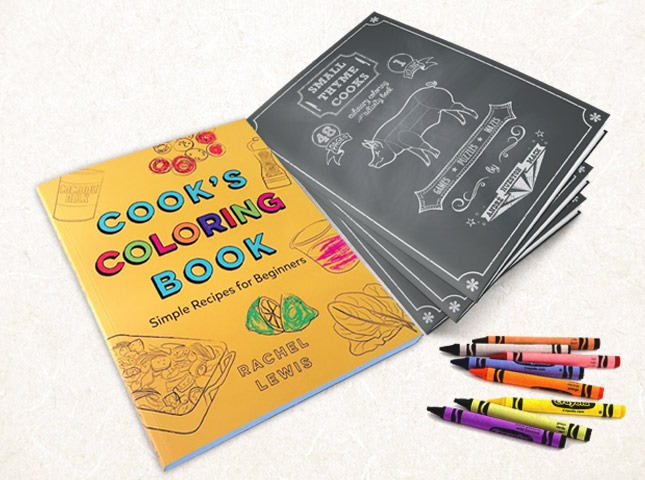 Just when you thought your coloring book phase is long over, these page-turners come along and tug you right back to your favorite childhood pastime, now fused with your favorite grown-up hobby: cooking.
Cook's Coloring Book by Rachel Lewis
Combining the elements of today's surprising coloring book trend and everything you love about cooking, graphic designer and kitchen buddy Rachel Lewis' Cook's Coloring Book: Simple Recipes for Beginners is a fun buy.

Reader-friendly and not the least bit intimidating, Cook's Coloring Book lets you in on easy recipes like roast chicken, chili con carne, and chicken parmigiana—with directions limited to eight short steps! The best part? You can color the illustrations and make it your own!
Aiming to foster confidence in beginning cooks, the cookbook doesn't focus on the perfect ingredients, the perfect measurements, or even cooking the perfect dish. The book reminds kitchen newbies that in the same way coloring isn't always about staying between the lines, cooking isn't entirely about strictly sticking to a recipe, too. This coloring cookbook is perfect for people who like experimenting in the kitchen and are up to learning new recipes at home.
Small Thyme Cooks: Culinary Coloring and Activity Book by Andre Hueston Mack
If you've always dreamed of hanging out with your favorite celebrity chefs, this book might just make your wish come true—well, kind of.
It took a little over three years for winemaker and designer Andre Hueston Mack to conceive the idea for the ultimate coloring and activity book. Fast forward to 2014 and his brainchild Small Thyme Cooks: Culinary Coloring and Activity Book, finally hit the shelves.
Featuring original illustrations celebrating today's most notable food personalities like April Bloomfield, Marcus Samuelsson, and Sean Brock, Small Thyme Cooks is a delicious and definite must-have for all kinds of food nerds.
Design your own food truck with Roy Choi, creator of the gourmet Korean taco truck, Kogi BBQ; come up with the next gorgeous Mast Brothers chocolate bar wrapper; forage for mushrooms with Anthony Bourdain in a massive word search; cut out a restaurant critic disguise kit with New York Magazine's esteemed food writer Adam Platt, or give Sam Mason's tattoos a burst of color—the fun-packed activities in this book are endless!
So, whether you're a seasoned chef or simply someone with a zest for food and cooking, Small Thyme Cooks guarantees you 52 pages of sheer amusement you probably won't get in the kitchen.
ADVERTISEMENT - CONTINUE READING BELOW
Recommended Videos