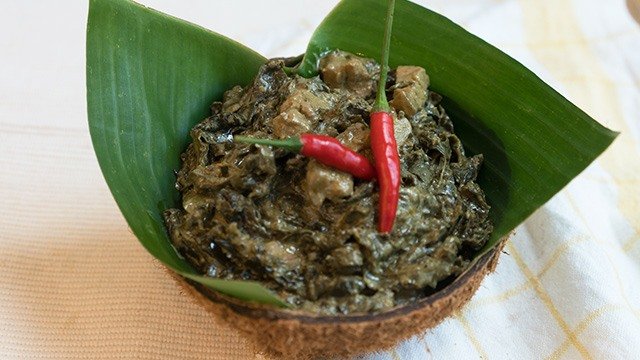 Filipino cuisine is always hard to qualify. How can you find the best when the best is usually what you have at home? The rich dishes in the Bicol Region are hardly an exception. Famous in the country for their abundant use of chilies and coconut, Bicolano dishes represent the diverse cultures that make up this humble but colorful region.
1 Bicol express
The most popular Bicolano dish did not actually originate from Bicol. The rest of the Philippines thinks of Bicol express as a coconut-rich stew made of chunks of pork, large pieces of chili, and shrimp paste—a recipe based on the original Malate creation. Bicolanos, however, have come up with their own version of their namesake dish: Instead of pork, the preferred star is balaw or sautéed shrimp. The extra saltiness boosts the flavor and makes it perfect with rice.
Try it at: Bob Marlin Restaurant & Grill, Magsaysay Avenue, Naga City, Camarines Sur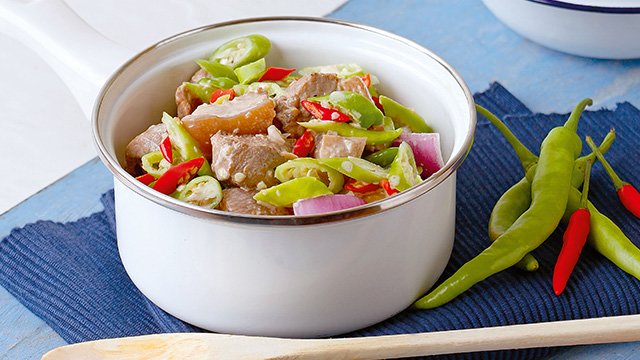 Bicol Express Recipe
Posted in:
Recipe
2 Laing
Another Bicolano icon is laing or natong. While it may look like a humble vegetable dish, it's actually tricky to make. When prepared incorrectly, the dried gabi leaves can scratch your tongue. But when perfect, it's a satisfying medley of stewed greens, coconut milk, chilies, and, occasionally, fish, pork, or chicken.
Try it at: Waway's Peñarada Extension, Legazpi City, Albay
3 Kinunot
In this dish, the ever-present coconut milk teams up with malunggay leaves to dress chunks of stingray or shark meat. The coconut helps break down the chewier protein, and the milder flavors of this delicacy make it appealing even when served without steaming hot rice.
Try it at: Geewan, P. Burgos Street, Naga City, Camarines Sur
4 Puto bukayo (bocayo)
In Bicol, puto is made with bukayo. The soft and squishy rice cake is shaped into a ball and filled with sweet and crunchy coconut that's been cooked in brown sugar.
Find it: Along streets and outside churches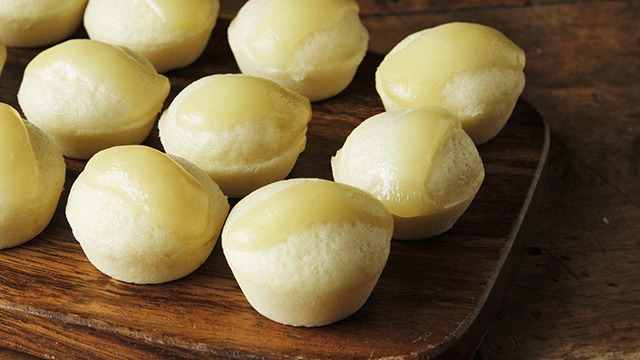 The Ultimate Guide to Making Puto at Home
Posted in:
Cooking
5 Linubak
This creamy kakanin variety made with mashed kamoteng kahoy (cassava), bananas, or taro, and sugar and milk (plus points if it's gata!) is a staple at any town meeting. Served with grated peanuts and a swipe of margarine, linubak feels like a thicker, extra-chunky pudding. Because the base ingredients have a unique flavor on their own, you don't need to embellish the dish with toasted coconut—not that a sprinkling would hurt.
Look for it from: Your trusty kakanin vendor
6 Kandingga
Not every Bicolano dish has to bathe in a pool of coconut milk. Kandingga, for example, wears that characteristic heat without being drowned out by coconut flavor. The Bicolano's answer to bopis, the tangy kandingga is a delicacy with Spanish roots, made with chopped pork lungs and heart (or other types of offal), onions, garlic, vinegar, and peppers.
Try it at: 1st Colonial Grill, Gaisano Mall, Legazpi City, Albay
7 Tiwi Halo-halo
Ask anyone what their favorite Bicolano dish is and halo-halo is hardly top of mind. Still, it has to be acknowledged that the little town of Tiwi is where cheese was first added to the long roster of components. Though it looks just like every other version out there, you'll notice a much milkier flavor. The secret? Coconut milk is used to cook the ingredients!
ADVERTISEMENT - CONTINUE READING BELOW
Recommended Videos
Try it at: DJC Halo-Halo & Snack Inn, 330 San Lorenzo Street, Tiwi, Albay; Landco Business Park, Legazpi City, Albay; Tabaco City Mall, Albay; West Park, Magsaysay Avenue, Naga City, Camarines Sur
8 Toasted siopao
You can find crunchy siopao in Metro Manila, but nothing beats the ones from the motherland. The extra step of toasting adds extra texture, and is well worth the effort. You might not want the regular steamed version again.
Try it at: 40 General Luna Street, Naga City, Camarines Sur
9 Chakoy
If Bicolanos aren't too impressed by beignets, it's probably because they have their own version of the fried, sugar-sprinkled treat. Similar to bicho-bicho and best enjoyed fresh from the fryer, this delicious roll is fluffy, with a nice crisp exterior and a light sweetness from brown sugar. Some bakeries even add a cheese filling!
Try it at: Aljosh Café, ALDP Plaza Mall, Diversion Road, Naga City, Camarines Sur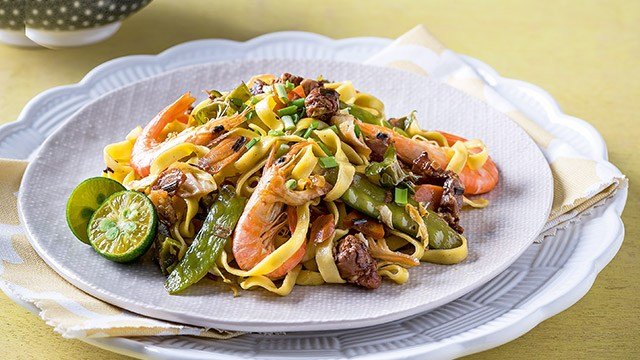 10 Pancit Bato
Unlike pancit Malabon and pancit Olongapo, pancit Bato doesn't represent a cooking style, but rather the noodles themselves. Originating from the small town of Bato, these short, curly strings are more al dente than usual and taste best prepared guisado or in sabaw. Sometimes, they're also topped with dinuguan for an extra layer of flavor.
Try it at: Chef Doy's, Magsaysay Avenue, Naga City, Camarines Sur
11 Kinalas
Naga City's unassuming noodle soup is a street-side specialty packed with flavor thanks to a broth made by simmering pig's head in water for hours. Brain and offal are tossed in with short noodles, then the whole bowl is finished off with a zesty brown gravy made of soy sauce, flour, pig's head, and a hefty dose of fried garlic.
Try it at: Chef Doy's, Magsaysay Avenue, Naga City, Camarines Sur
ALSO READ: 
 Article was published in the September 2016 issue of Yummy magazine. Minor edits were made Yummy.ph editors.