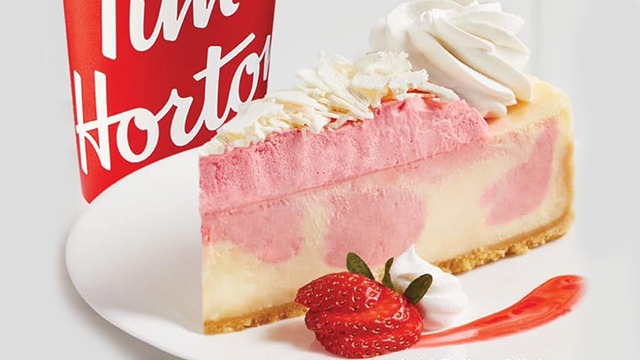 The Cheesecake Factory is popular for its cheesecakes. Since the Philippines doesn't have its own branch of The Cheesecake Factory (hopefully, soon!), the next best thing you can do now is to go to Tim Hortons. Now, you can pair your cup of coffee with The Cheesecake Factory's cheesecakes at Tim Hortons.
[facebook url="https://www.facebook.com/TimHortonsPhilippines/posts/2441606106096063″]
The Cheesecake Factory's rich, dense, and melts-in-your-mouth cakes that are available in Tim Hortons include Wild Strawberries and Cream, Red Velvet, Banana Foster, Dulce de Leche, Cinnabon, and Blackout. Each of this cake is made more irresistible as the sweetness of it comes in contrast with the strong and bold notes of coffee, that you won't even need to add milk or sugar to your coffee.
But before you go to your suking Tim Hortons branch, these are only available at the following branches: BF Paranaque, Estancia, Glorietta 4, I-Care, L'ermitage, Paseo 111, SLC, Three E-Com and Vistamall Sta.Rosa, Laguna only. 
Follow Tim Hortons Philippines for more updates.