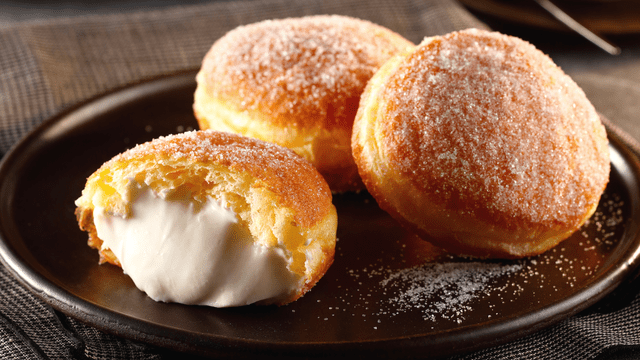 You can always rely on Tokyo Milk Cheese Factory to churn out delicious pastries and desserts. From their famous Cow Cow Ice Soft Serve, Honey and Gorgonzola Cookie, Salt and Camembert Cookie, Cheese Puff, to the other limited-edition flavors, you can never run out of options! Especially if you're going to the newly-opened TMCF branch in Mitsukoshi in Bonifacio Global City because of a new branch-exclusive dessert called Nama Doughnuts.
These doughnuts use special flour (created specifically for the product!), pure Hokkaido butter, and special frying oil, so it results in light, pillowy doughnuts that aren't oily. If you want to appreciate the doughnut itself, you can go for the Classic Nama Doughnut (P95/each, P435/box) as this doesn't have any filling.
But, if we're completely being honest, the filling is the star of the Nama Doughnuts! You can choose between the Rare Cheese (P135/piece, P635/box) and the Mascarpone & Custard (P135/piece, P635/box) flavors that Tokyo Milk Cheese Factory offers for this exclusive Nama Doughnuts line.
The Rare Cheese has a pronounced tang to it as it uses loads of cream cheese, while the Mascarpone & Custard, our favorite of the three, is on the sweeter side as the doughnut is filled with a combination of mascarpone cream cheese and sweet custard cream.
Tokyo Milk Cheese Factory's Nama Doughnuts are best eaten as soon as possible, so if you're going to Mitsukoshi, do allot time for dining in! Grab a table and a cup of coffee (we recommend going to UCC, found inside Mitsukoshi Fresh) to pair with your Nama Doughnuts.
*****
ADVERTISEMENT - CONTINUE READING BELOW
Recommended Videos