These Are The Best Churros You Can Find in Manila
Dip them in thick tsokolate!
 
You'd be hard-pressed to find anyone who doesn't love fried stuff, so it's no surprise that churros, or fried finger-shaped choux pastries that are popular in Spain and Portugal, are such a hit in the Philippines. For 2017, these are Manila's best churros based on whether they've got the perfect crunchy-soft balance down pat, as well as the flavor of the fried pastry with and without the dip. The less greasy, the better, too!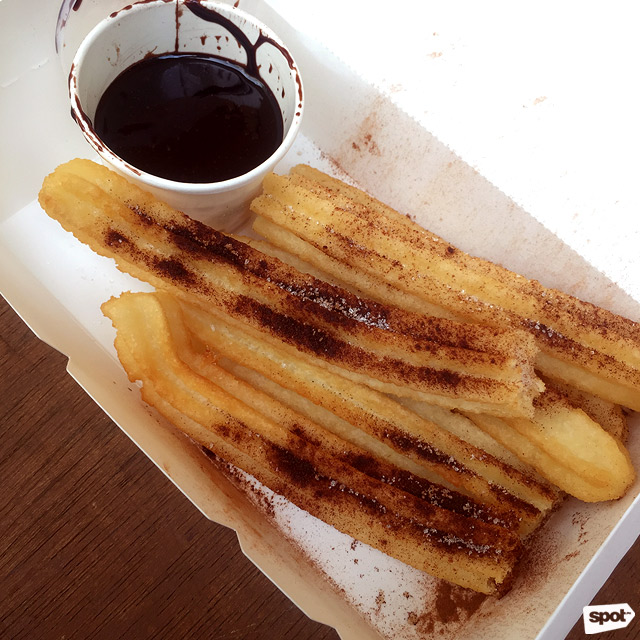 ADVERTISEMENT - CONTINUE READING BELOW
 
Don Churro's Churros (P100/three pieces, P150/six pieces)
There's something about the busy-ness of weekend markets that makes you want to get your hands on the most indulgent fried food available. Lucky for you, Don Churro is a regular at both Salcedo and Legazpi weekend markets. Served in a carton and dusted with lots of cinnamon, its simple appearance belies how tasty this treat actually is. These churros have a distinct saltiness to them-almost as if a stick of butter was mixed into their batter-that makes them so addicting to munch on. Dip your churros in their sweet milk chocolate dip, and get a lip-smacking sweet-salty combo you won't be able to get enough of.'
 
Don Churro is at Legazpi and Salcedo Weekend Markets, Makati City.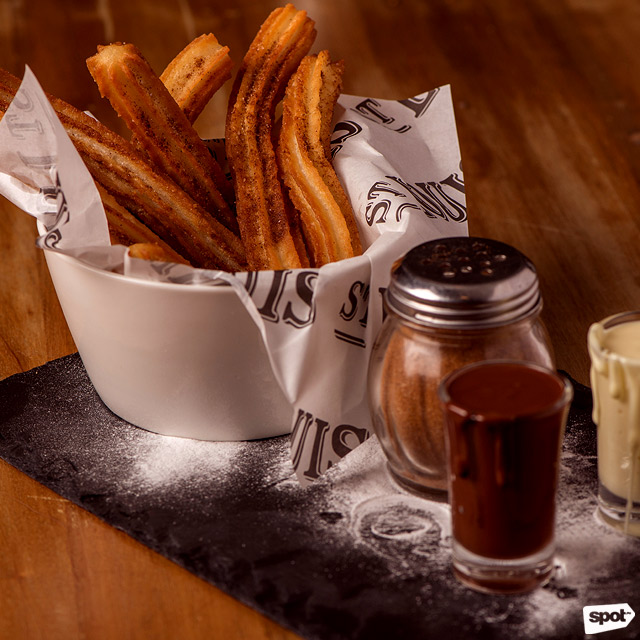 ADVERTISEMENT - CONTINUE READING BELOW
 
St. Louis House of Fine Ice Cream and Dessert√Ęs Churros (P200/three pieces, P350/six pieces)
You'll be tempted to finish off St. Louis' churros on their own, with their light vanilla flavor that's enhanced by a dusting of cinnamon. It helps that these fried pastries have zero hints of grease. Still, why miss out on their chocolate dip? Rich, incredibly thick, and bittersweet, it's almost like they melted a bar of dark chocolate just for this treat.
 
St. Louis House of Fine Ice Cream and Dessert is at Unit C3-104 Bonifacio High Street, Bonifacio Global City.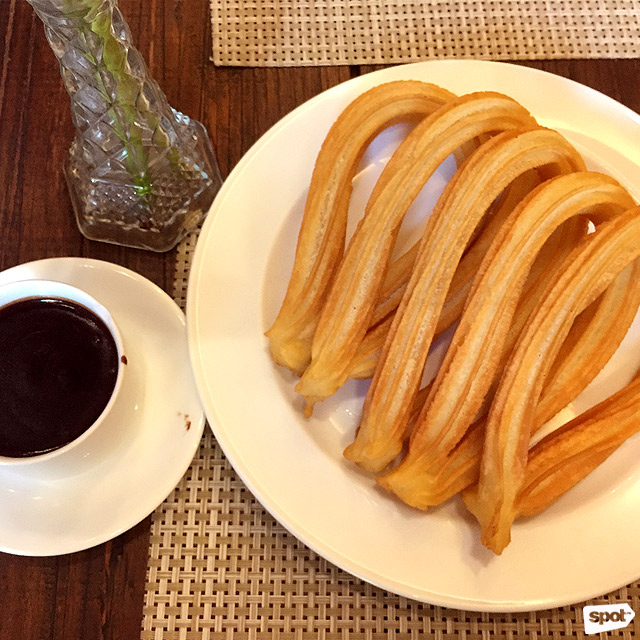 ADVERTISEMENT - CONTINUE READING BELOW
 
Dulcinea's Churros con Chocolate (P118)
For many of us, Dulcinea's Churros con Chocolate was our first taste of the Spanish fried pastry, and after all these years, munching on their churros still brings back those memories. But, it's not all nostalgia with this treat. Their churros, for one, are longer than average, with a distinct crispness. They also have a lightly fried flavor but it never crosses over to too greasy. Their chocolate dip is rich, thick, and bittersweet-complementing instead of masking the subtle sweetness of the churros. It's no wonder Dulcinea continues to be synonymous to churros for most people.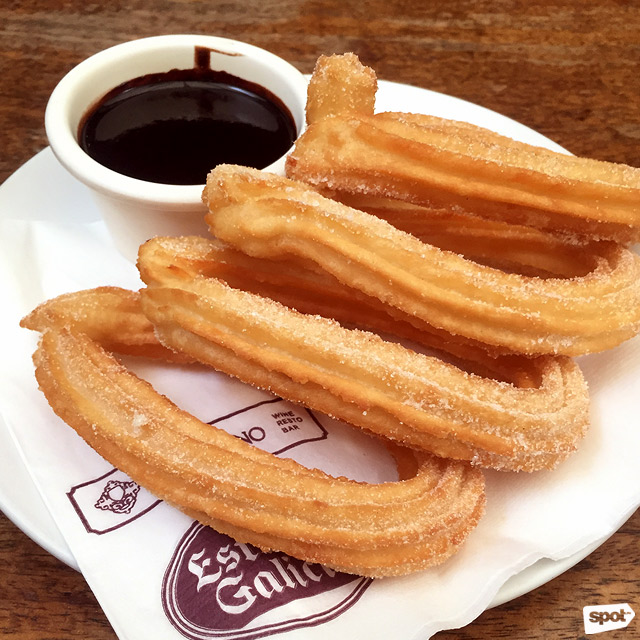 ADVERTISEMENT - CONTINUE READING BELOW
 
Barcino's Churros con Chocolate (P225)
Barcino may have made a name for themselves as a tapas place, but their churros are nothing to scoff at. What's incredible is how soft they are-airy is the word that comes to mind. But airy doesn't mean lacking in flavor. With a generous dusting of sugar, these churros are tasty enough to be had on their own. You wouldn't want to miss out on their milk chocolate dip though, especially if you have a sweet tooth.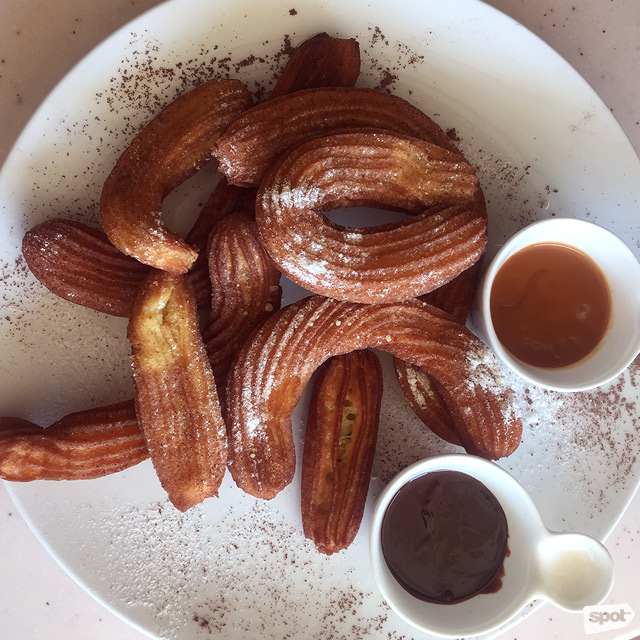 ADVERTISEMENT - CONTINUE READING BELOW
 
The Burger Pub's Churros (P270)
The Burger Pub's fatter-than-your-finger churros are the definition of indulgent. Their churros are thicker than average, incredibly pillow-soft but with a crisp exterior, and taste like fried sweet dough√Ękind of like sweet cinnamon-y funnel cakes. The chocolate dip is thick and sweet, but we found ourselves reaching for the butterscotch dip more, the hint of salt making it taste like salted caramel. It's not the most authentic of the bunch, but it won√Ęt matter once you're licking cinnamon and sugar off your fingers.
 
The Burger Pub is at Grove Retail Row, The Grove by Rockwell, E. Rodriguez Avenue, Pasig City.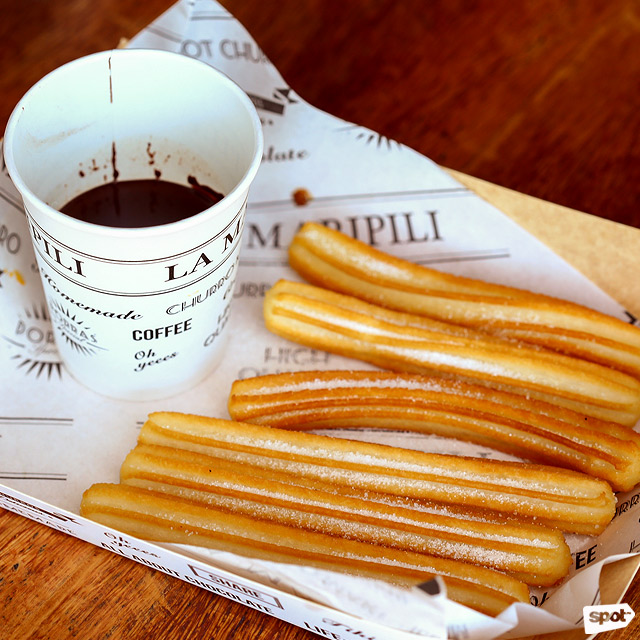 ADVERTISEMENT - CONTINUE READING BELOW
 
La Maripili's Classics (P60/six pieces, P120/12 pieces, P180/18 pieces)
We'll never stop thanking our lucky stars for La Maripili's decision to open another branch in the East. Still, even if they had stayed in their quaint spot in Alabang, it's no understatement to say that their churros are well-worth the drive. La Maripili has the balance between the crisp exterior and soft interior of a perfectly-fried churro down pat. Each piece starts with a resounding crunch, then you get to the soft, almost melt-in-your-mouth center. With a subtle vanilla flavor, they're tasty on their own, but you have to get them with the rich, dark Hot Chocolate (P110)-thick enough to serve as a dip, but also thin enough to be drinkable. And you'll want to drink this comfortingly rich and with the perfect balance between dark and sweet, it's the cherry on top of the proverbial cake.
 
La Maripili is at Alabang Town Center, 2294 Access Road, Ayala Alabang, Muntinlupa City; and G/F Ayala Malls The 30th, Pasig City.
ADVERTISEMENT - CONTINUE READING BELOW
 
 
 
This story originally appeared on Spot.ph.
* Minor edits have been made by the Yummy.ph editors.
Get
Recipes Right In Your Inbox
Trending in Summit Network