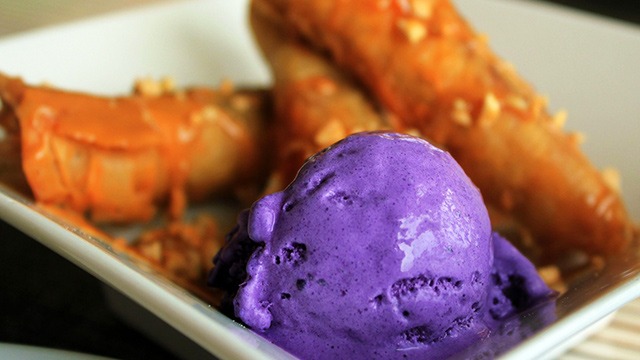 We've seen it in our meals, in our cakes, and in our kakanin. It was probably one of the first ingredients you tried as a kid, and have been eating it ever since. It will most likely be on your dinner table this Sunday, too! With Filipino food skyrocketing as a mainstream dining favorite, is it any surprise that the humble ube, or purple yam, has become an international rock star dessert ingredient?
New York has been completely blown away by the purple-tinged tuber. We've tracked their recent obsession back to Manila Social Club's Golden Cristal Ube doughnuts—which turned out to be so overwhelmingly in-demand in early 2016 that, according to GQ, one had to wait 3 weeks to get his or her hands on a $100 gold dust-covered, ube-mousse filled doughnut. Their other best-seller, the Ube Bae doughnuts, sell at $40 a pop and are just as popular.
[instagram url="https://www.instagram.com/p/BKq-XQxAYQP/"]
But where did this current social media and dessert trend begin? We asked Amy Besa, Filipino food pioneer, to explore the roots of the craze.
Besa, who founded flagship Pinoy restaurants in 1995 and 2009 in New York with her husband Chef Romy Dorotan, claims that ube was always a popular ingredient when they had it on their menu.
"People always loved ube, which is why we named our restaurant 'Purple Yam.' Customers clamored for our ube ice cream and wanted to buy it in pints of half gallons. But I never in my whole life imagined that it would get this much attention."
Since Manila Social Club's success with their ube doughnuts earlier this year, many other players in the international food scene have welcomed ube into their menus as well. We've spotted both traditional treats like ube ice cream sandwiched in between soft pandesal, and innovative desserts like cookie shots and cheesecakes.
[instagram url="https://www.instagram.com/p/BFGpomqv3m-/"]
Ube's standout purple color makes ube desserts easy on the eyes and it's earthy sweetness is effortlessly delicious, even for those who try it for the first time. Refinery29 has hailed ube as the "latest beautiful food that people can't stop Instagramming," and Zagat has included ube in their round-up of 2016's biggest Instagram food trends.
[instagram url="https://www.instagram.com/p/BJl2Am3AsdW/"]
ADVERTISEMENT - CONTINUE READING BELOW
Recommended Videos
[instagram url="https://www.instagram.com/p/BLJvkCNjOQg/"]
Besa also takes pride in bringing Philippine flavors to new grounds: both to people who are unfamiliar with them and to the sizeable Filipino communities abroad.
"Ube is special because there is no other culture that uses ube like we do. Ube has very distinct flavors, textures, and aromas. They can come from several regions, and wherever they come from, they will taste and look differently with whatever you are doing."
Ube's versatility in cooking and baking, plus it's accessibilty in the Philippines, make it a great ingredient choice for getting creative in the kitchen. If you're a home cook, make a quick trip to the grocery and get your hands on ube halaya (ube jam) or ube flour (ube powder) to get started.
Besa's favorites from her husband's experiments at home? Ube pandesal, ube pasta, ube pizza crust, and ube pancakes. All you have to do is substitute a few tablespoons of regular flour with ube flour!
Get in on one of 2016's biggest dessert trends by trying a few of our best ube recipes.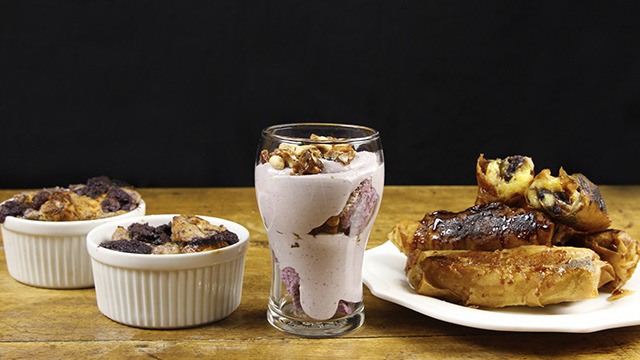 WATCH: 3 Ways to Use Ube
Posted in:
Cooking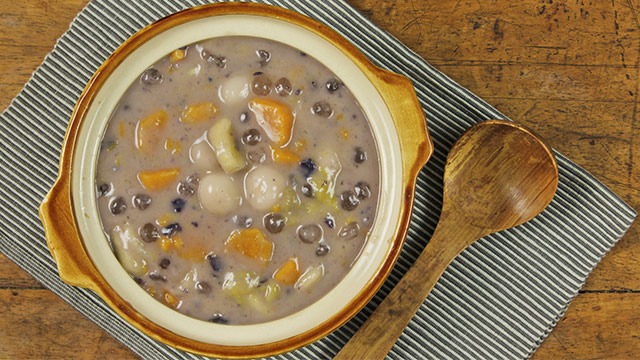 WATCH: How to Make Ginataang Bilo-Bilo
Posted in:
Cooking
Main image courtesy of Public Domain Pictures.