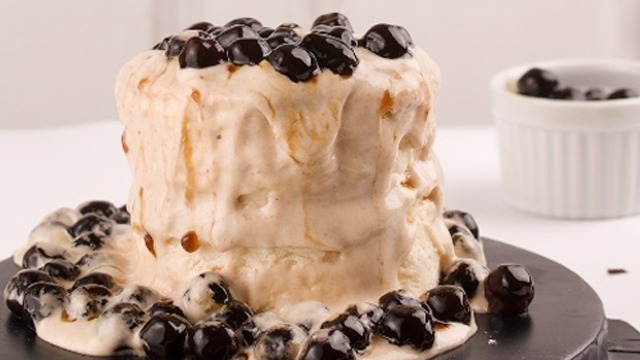 One of the best places to satisfy your pancake cravings is at Gram Café and Pancakes! This franchised brand from Japan whips up a mean soufflé pancake—on the menu, it's called Premium Pancakes. The café is serving a new version of their soufflé pancake called the Tsunami Boba Pancake as their Father's Day special.
The Tsunami Boba Pancake is made with Gram Café and Pancake's signature Premium Pancakes topped with an oozing cream and special boba—just like milk tea! This dessert is served with a collar that you'll need to remove for the boba and cream to ooze like a waterfall.
Gram Cafe and Pancakes' Tsuname Boba Pancake is limited to 30 servings daily from June 11 to June 30, 2021. You can pre-order or directly order by contacting (0926) 701-7774.