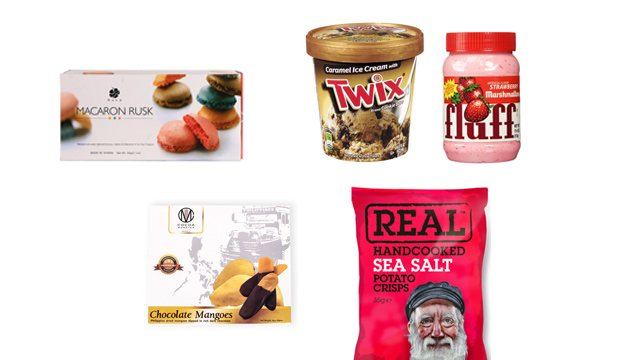 Valentine's Day isn't always about chocolates and grand gestures. It can be about simple gifts that you can enjoy together. But how do you show someone you care if you can't even decide what to give, or even find extra time to shop for a gift? There are some gems in the grocery!
1 Twix Ice Cream
Pick out his (or her) favorite ice cream flavor and get a tub. It's the perfect gift for a Valentine's Day date idea movie binge. Have some pizza and popcorn on stand-by, and a tub of ice cream to share for dessert.
P264 at Landmark Supermarket
2 Chocolate Mangoes
Who doesn't like dried mangoes? Imagine all that tropical fruit goodness dipped in
rich chocolate—it's like having a party in your mouth.
P28-P550 at Robinsons Supermarket
3 Strawberry Marshmallow Fluff
Indulge on this extra cheesy holiday and spring for something your SO wouldn't normally put inside the grocery cart. This is also great for making s'mores!
P150 at Robinson's Supermarket
4 Handcooked Potato Crisps
Grab a few bags of chips and plan a movie night. There's nothing better than a night of snuggling, right?
P128 at Landmark Supermarket
5 Macaron biscuits
Even the most low-maintenance partner will appreciate sweets. Get a few boxes and don't forget a handwritten note, too!
P165 at Landmark Supermarket
ALSO READ:
Additional text by Trixie Zabal-Mendoza