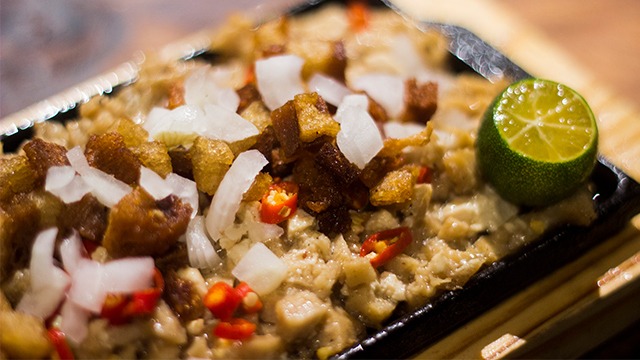 Veganism is a road that many are still unwilling to take, purely because of taste. Over Twitter, I saw a friend mock a tweet asking, "If you're not vegan yet, what's stopping you?" with one word: "bacon". 
Of course, more vegan food companies are realizing that if we truly want a vegan world, we'll have to adapt to a society that is used to eating meat. Businesses like Impossible Foods and Beyond Meat are on a race to mimic animal-based food using plants. We've definitely come a long way.
In 2005, the only vegan option one would likely get in a restaurant would be The Saddest Salad Ever™ (lettuce, tomato, onion, drizzled with some form of sludge which waiters had the audacity to call "vinaigrette".) 
But that's all in the past. We already have amazing vegan options in Manila and here are some recommendations: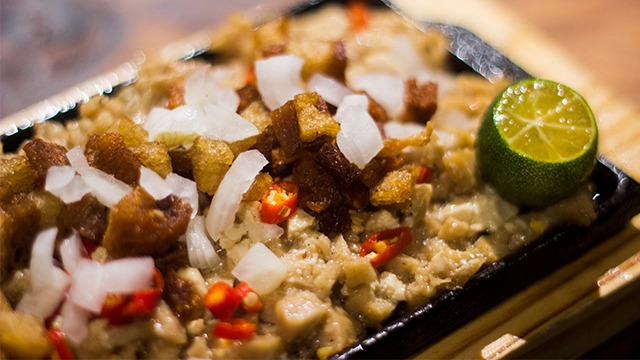 Cosmic: Tofu Sisig with Vegan Bagnet (Php 170)
You'd never suspect that this sizzling, savory dish swimming in fat is vegan. Cosmic's sisig with vegan bagnet is plant-based sorcery that will make even the staunchest carnivore reconsider their arguments that veganism is condemning your tastebuds to a lifetime of suffering. 
How to order: Fill up this order form.
Location: 2/F 5057 P. Burgos St. Corner Gen. Luna Brgy. Poblacion, Makati
Follow Cosmic on Facebook for more information.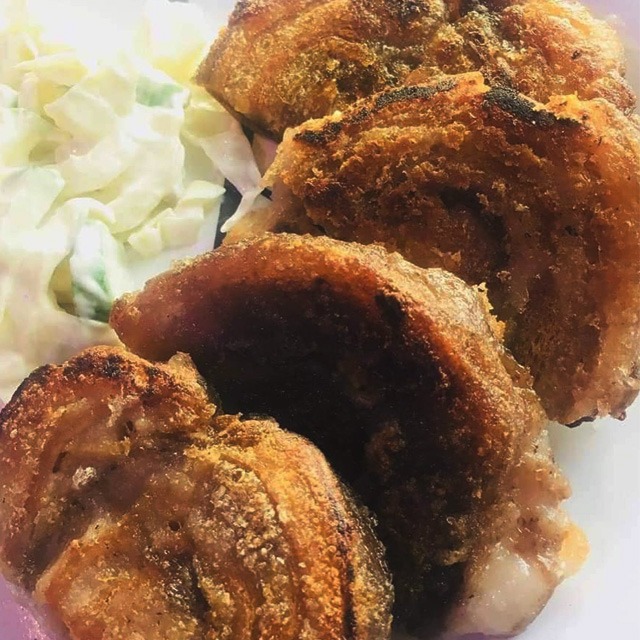 Veggie Guys: Crispy Vegan Pata (Php 369)
Yes, it's crispy pata—and yes, it's vegan: how? Don't ask. This alchemy of starch and vegetable protein is rich in flavor and crunch, without the cholesterol. While I won't claim this to be the healthiest vegan fare, the thought that pigs lived makes this crispy pata worth every bite.
How to order: Message Veggie Guys on Facebook
Location: Malingap Central Food Hall, 40 Malingap Street, Teachers Village, Quezon City 
Follow Veggie Guys on Facebook for more information.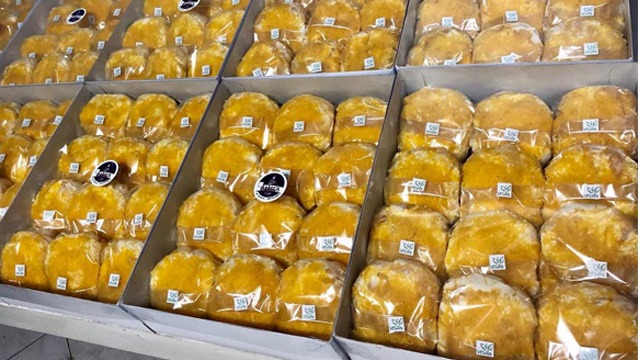 Baker's Gallery Ensaymadas (Php 70) 
A treat vegans would never imagine they'd get to eat again may be ensaymada, until Baker's Gallery hacked it and brought us this sweet, exquisite beauty. Order a dozen of these desserts and toast them in the oven, preferably with hot chocolate (vegan, of course.)
How to order: Message Baker's Gallery on Facebook.
Location: Gloria Diaz St., Las Piñas
Follow Baker's Gallery on Facebook for more information.
[instagram url="https://www.instagram.com/p/B3cHRTrnPOK/"]
Wabi-Sabi's Tantanmen 
The taste of umami is hard to mimic, but Wabi-Sabi succeeds perfectly where many vegan restaurants have not: you wouldn't suspect that their tantanmen is plant-based at all. This is what makes this restaurant a well-loved place among vegans, who missed it dearly when it closed its branch at The Collective in Malugay St., Makati. Luckily, they opened their doors once again at their new store inside Makati Central Square along Chino Roces, Makati. 
ADVERTISEMENT - CONTINUE READING BELOW
Recommended Videos
How to order: Text your orders to (0949) 993-4241. 
Location: UG-4 MCS Fernando, Makati Central Square, Makati 
Follow Wabi-Sabi on Facebook for more information.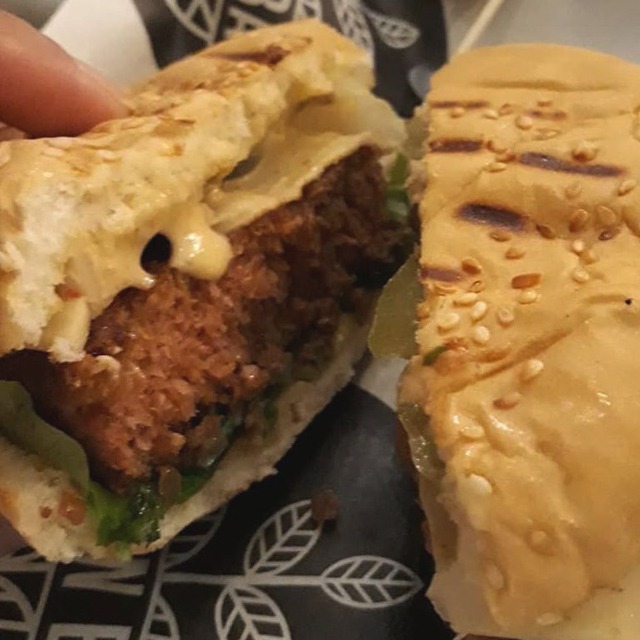 Green Bar's Beyond Burger (Php 645) 
Green Bar's take on the widely-popular Beyond Meat is impressive: that slice of vegan cheese from local vegan cheese brand In A Nutshell makes it stand out from the other restaurants that offer this fare.
How to order: Call, text, or WhatsApp (0917) 808-2506
Location: 106 Aguirre Street, Legaspi Village, Makati 
Follow Green Bar Cafe on Facebook for more information.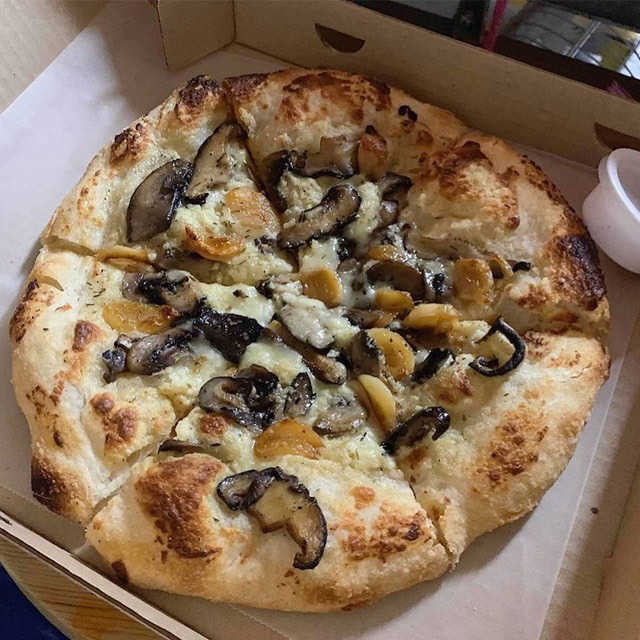 Crosta Pizzeria's Shroomed Out (Php 400)
Crosta Pizzeria has delicious vegan pizzas, the best of the lot is Shroomed Out. No faux meat here: just mushrooms on vegan cheese topping on their well-baked pizza crust. The flavors and texture blend well together: crunchy, salty, chewy, oily.
How to order: Place your pre-orders through this form.
Location: Ebro St., Poblacion, Makati 
Follow Crosta Pizzeria on Facebook for more information.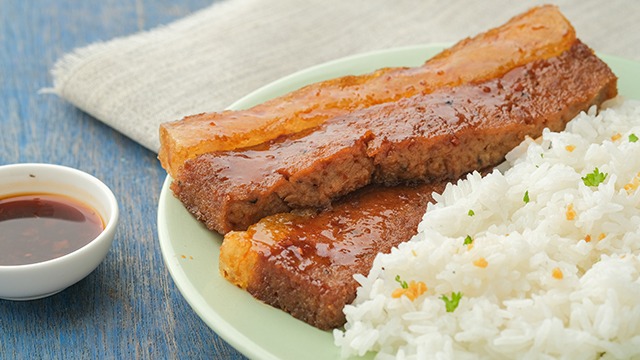 Yes, Vegan Liempo Does Exist
Posted in:
News + Trends