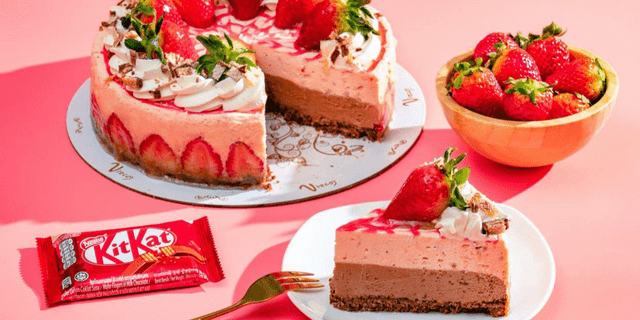 Valentine's Day is right around the corner, and before you know it, you'll see all the heart-shaped decorations everywhere and flower shops are starting to stock the store with all sorts of flowers. This is a sign that you should secure all your Valentine's Day needs as early as now—even when it comes to the cake.
If you're looking for a special cake to celebrate the sweet occasion, Vizco's just launched a new cake for Valentine's Day, made in collaboration with KitKat. Say hello to the limited edition Strawberry Choco Mousse Cake.
The Strawberry Choco Mousse Cake starts off with a crunchy KitKat base, chocolate mousse using a KitKat spread, and followed by a layer of Vizco's strawberry mousse. This is crowned with whipped cream, fresh strawberries, and more KitKat bits.
This limited edition Strawberry Choco Mousse Cake is available for the whole month of February 2023. This is available in all Vizco's branches: SM Megamall, SM North EDSA, SM Grand Central, SM Clark, and all their Baguio branches: Session Road, SM Baguio, Fog Photo Camp John Hay Ayala Technohub.
There is a slight difference in price, depending on where you buy it. If you're buying it outside Baguio, the Strawberry Choco Mousse Cake costs P870/6-inch, P1,450/8-inch, and P210/slice. But if you're buying it from Baguio, it costs P725/6-inch, P1,245/8-inch, and P175/slice.
*****