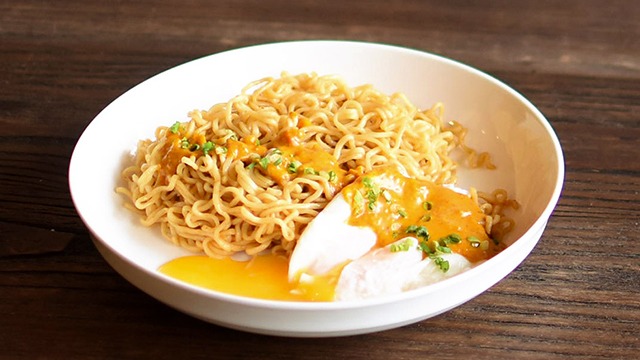 As much as we'd love to cook or enjoy the services of gourmet restaurants every day, we can't. There are days we'll always go back to the easy ways of "just add water" meals.
We won't blame you for this instant gratification, but now that you're an adult, understand that you can totally go beyond the oil-and-soy-sauce packet.
With Indomie Mee Goreng having a moment, we used this popular Indonesian brand to show you the many ways you can improve your instant noodle meal.
Bring on a breakfast theme
Everyone loves breakfast, which is probably why we have so many breakfast-inspired things. Putting a breakfast angle on instant noodles is simple enough. You just need to get some early-morning comfort food off the cupboard.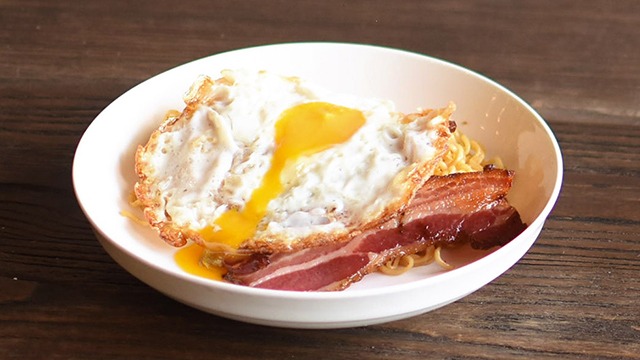 Your basic breakfast ramen could be made with your choice of egg and a few other choice toppings.  Frying or, if you have time and skills, poaching the egg leaves a golden yolk that will lend a rich, silken coating on the noodles.
Ingredients
– Eggs (cooked any way you want; we suggest frying or poaching)
– Bacon
– Cheese
Directions
1 You can keep this as simple as putting an egg, bacon, and even sausage on top of your straightforward instant noodles, but you can put a nice little spin, too.
2 After frying your bacon, turn down the heat just a notch and toss your noodles in the bacon and bacon fat.
3 Beat a couple of eggs then add as much Parmesan cheese as you want. Once everything's been thoroughly incorporated, toss this mixture in with the pan and stir.
4 You can add pepper and other herbs to taste.
Take your cue from ramen
You can't go wrong with Japanese flavors, especially when you're layering umami on top of umami.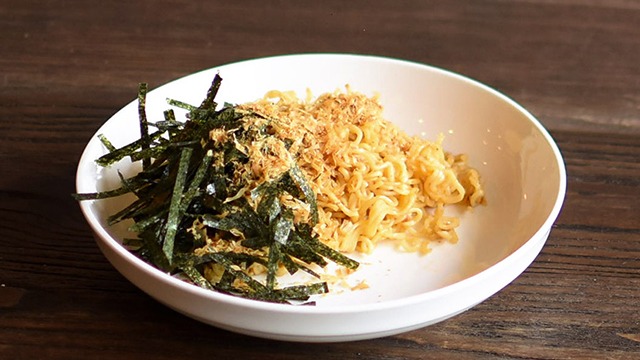 Pro tip: If you're not careful, though the nori-bonito combo can get a tad dry, so to keep your noodles wonderfully succulent till the last forkful, skip the oil packet and add a pat of butter when the noodles are still hot.
ADVERTISEMENT - CONTINUE READING BELOW
Recommended Videos
Ingredients
– Nori
– Bonito flakes
– Butter
– Canned corn, drained
Directions
1 Cook noodles according to package instructions, then toss everything together with the corn. Nori and bonito flakes go on top just before serving.
Fake your peanut noodles
If you're a fan of nutty-tasting noodles like tantanmen or satay noodles, you can easily make your own with peanut sauce made with peanut butter and sesame oil. With this base, you just need to add a few ingredients to really bring this dish together.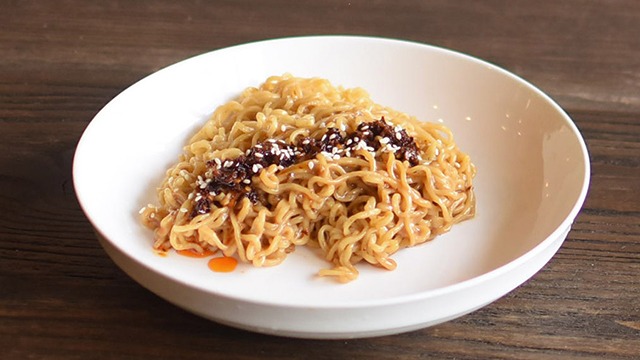 Peanut noodles are a beloved dish in Asia. It's actually incredibly easy to make.
Ingredients
– Peanut butter (go for crunchy)
– Sesame oil
– Chiu Chow chili oil
– Last night's leftover roast chicken
Directions
1 If you don't have peanut butter and sesame oil, you can easily get the same effect (maybe even better) with storebought satay sauce, which you can actually purchase in any major grocery store.
2 Put together the satay sauce or peanut butter and sesame oil. Make sure to whisk them together to create an even mixture. Add the chicken. You can add water if you need to make the sauce thinner.
3 Pour your sauce over your noodles. Add your chili sauce, maybe some scallions and other garnishes, and you're good to go.
Just put sauce 
A good sauce can take any noodle or pasta dish a long way. We were lucky to come across a bottle of Spicebird's piri–piri sauce, a sauce so incredible, you can put it on everything. If you don't have it, your favorite sauce will probably do. We've been known to whip together some Sriracha and mayo and call it a day.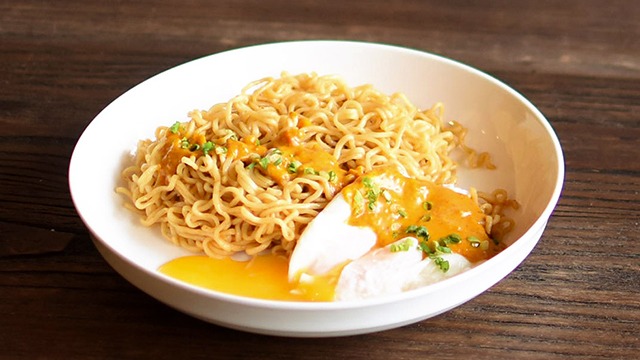 You can actually just top your noodles with some runny eggs and be just as happy.
Here are a few suggestions:
– Hoisin
– Crab fat (you can get a whole jar from the supermarket. Use sparingly if you want to live.)
– Pesto (you can buy a ready-made one from any deli or you can make your own with basil and olive oil)
– Mushroom sauce
– Any hot sauce (anything from sriracha to gochujang will do)
– Curry (you can use coconut, you can use tomato, depending on what region in India you're inspired by)
Tonight is leftover night
Instant noodles are instant for a reason. Don't make it complicated. Go all chow mein on your noodles by tossing in whatever you have in your fridge…unless, of course, that's more instant noodles!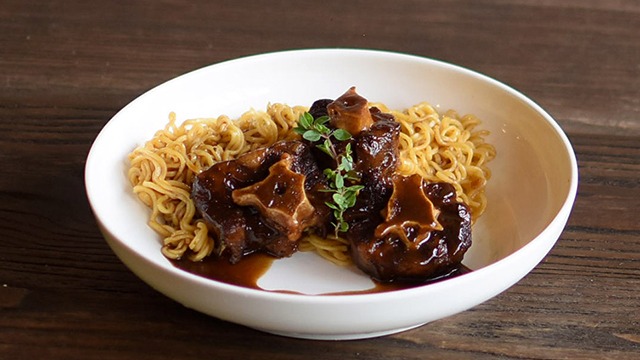 Depending on what you have in your refrigerator, whether it's last night's sous-vide oxtail from that fancy restaurant or a simple vegetable stir-fry, it can go a long way when it comes to noodles.
This story originally appeared on Esquiremag.ph.
*Minor edits have been made by the Yummy.ph editors.
ALSO READ: