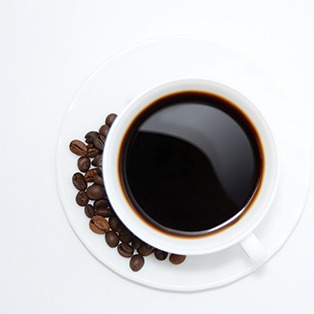 .
Cold brew coffee is not new. In fact, it has been around for decades. But cold brew coffee is getting its  own spot in this year's list of food trends.
We caught up with Sasha Chua of Instagram-based coffee business Sashy Brew to give you the lowdown on why we all should be enjoying a cup or two of cold brew today.
1. Technically speaking, cold brew coffee is not synonymous to cold or iced coffee.
Sure, it can be served chilled, but there's more science behind its name.
"It's all in the process," explains Sasha. "The preparation of coffee typically requires heat, but for cold brew, cold water is used. That's why it's less bitter than your usual coffee – it doesn't come in contact with heat. When brewed in colder temperatures, coffee doesn't release oils that give off a really bitter taste."
Since cold water also prevents coffee from wielding certain acidic compounds, cold brew is naturally sweet and a lot less acidic.
"It has up to 67% less acid, which means we can enjoy it without worrying about having an upset stomach later," assures Sasha. "Also, it doesn't leave a foul or bitter after-taste."
2. You can make it at home sans the fancy equipment.
To make cold brew, Sasha uses a coffee press, a water dripper, a cold brew coffee pot, and a cold brew coffee filter-in-bottle–all of which she acquired from Japan, where the technique of cold-brewing is believed to have originated.
"But if you don't have fancy tools or equipment, you can still make cold brew using items that could be found at home–it will be worth your time," she guarantees.
How to do it?
1. Combine coarsely ground coffee with cold water following a 1:4 coffee-to-water ratio in a mason jar and stir well. For a stronger taste, reduce the amount of water and add more coffee.
ADVERTISEMENT - CONTINUE READING BELOW
Recommended Videos
2. Cover the jar tightly with a lid and leave it in your fridge or in a cool dark place to steep for 20-24 hours. "This process is very slow and selective," notes Sasha. "But it produces a lighter extract and doesn't alter natural flavor substances."
3. Strain your brew through a sieve before filtering it through coffee filters or a piece of cloth like muslin. Doing so will make it easier for you to get rid of large grounds and unwanted residue in your coffee.
3. Feel free to enjoy it your way.
Hot, iced, sweet, strong, with milk—the sky's the limit when it comes to enjoying your cold brew coffee. You can also drizzle it over vanilla ice cream! You can even make Vietnamese-style coffee using your cold brew:
The key is keeping your cold brew fresh by storing them in the refrigerator. Storing it properly will keep its aroma and flavor intact for up to two weeks.
ALSO READ: 5 Cold Brew Concoctions To Try
How to Brew the Perfect Cup of Coffee at Home
Images from Pixabay.com and by Majoy Siason