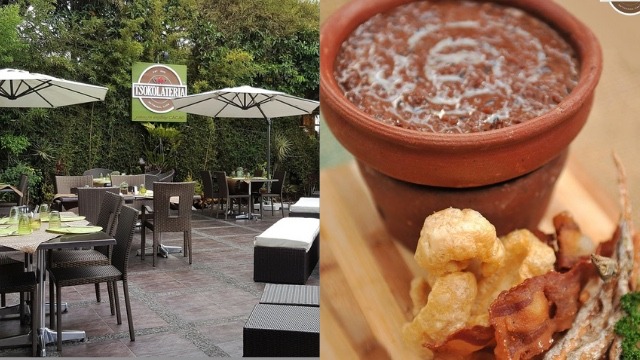 Tsokolateria is one of the places in Tagaytay that are often jam-packed. The limited parking right in front of The Boutique Bed & Breakfast in Tagaytay always seems to be occupied by patrons wanting to enjoy the restaurant's relaxing ambiance, view of Taal, and delicious food—everything on the Tsokolateria menu is either made with cacao as the main ingredient or has bits of cacao.
If it's your first time dining at The Happy Concept Group's Tsokolateria, we have a list of the best items you can order from the menu.
Here are the food and drinks you should try at Tsokolateria:
[facebook url="https://www.facebook.com/tsokolateria/photos/1729902043978939″]
Tablea House Blend
Price starts at P160
Let's start with the obvious. A visit to Tsokolateria is never complete without a cup of their handmade old-fashioned tsokolate de batirol. If it's your first time there, you can try their Tsokolate Ah or Tsokolate Eh—the former is a milkier hot chocolate while the latter is a richer hot chocolate.
They also have unique flavors like Tsokolate Ah at Lechon Chicharon Disc, Tsoko Mallow, Sili Labuyo Tsoko Blend, Frozen – Hot Tsoko, Tsoko – Barako, Tostadong Yema, and Dulce De Leche.
[facebook url="https://www.facebook.com/tsokolateria/photos/1719192425049901″]
Tablea Champorado
Price: P220/solo and P395/double
Because Tsokolateria is known for its delicious tablea, you can expect all the other items on the menu to have tablea in it too, including everyone's favorite rainy day craving: champorado. It's also the perfect sweeter alternative for warm comfort food in Tagaytay that isn't bulalo. 
Tsokolateria's Tablea Champorado uses mountain rice that they cooked together with their rich tablea. This is served with milk and salty adobo flakes, chicharon, and fish chips to bring out the sweetness of the champorado.
[facebook url="https://www.facebook.com/tsokolateria/photos/2029913787311095″]
Bacon Lechon Kawai Cebu-Style
Price: P320
A rice meal with cacao? If you're feeling adventurous, Tsokolateria's all-time favorites include the Bacon Lechon Kawali Cebu-Style. What makes this dish unique is that the crispy liempo is marinated in tanglad (lemongrass) and then cook it with peppercorns, bay leaf, and cacao nibs.
This viand is served with native garlic mountain rice, Pinoy salsa, organic native orange yolk omelet, and sinamak (vinegar) with cacao nibs.
[facebook url="https://www.facebook.com/tsokolateria/photos/a.1691615171140960/1699485240353953″]
Churros Waffle: House Bacon Belly, Arugula, and Eggs
Price: P280
If you're in Tagaytay for merienda, you can't go wrong with Tsokolateria's Churros Waffles that have a crisp outer layer and soft inside. Tsokolateria has different flavors of waffles but one that deserves your attention is the House Bacon Belly, Arugula, and Eggs.
Tsokolateria tops this waffle with bacon belly, arugula, poached egg, and tomatoes. This is served with tablea chocolate syrup!
[facebook url="https://www.facebook.com/tsokolateria/photos/2194056234230182″]
ADVERTISEMENT - CONTINUE READING BELOW
Recommended Videos
Black Risotto
Price: P380
Tsokolateria's Black Risotto is not your regular risotto. This one is made with squid, black ink, and of course, a dash of Davao's tablea powder, and fresh gata. They serve this with their special Tokolate Crostini.
Tsokolateria is located at The Boutique Bed & Breakfast, 45 Emilio Aguinaldo Highway, Silang Junction South, Tagaytay.
Can't go to Tagaytay? Tsokolateria also has branches in Quezon City and Baguio. The one in Quezon City is located at 43 Mother Ignacia Street, Diliman, Quezon City, and the one in Baguio is located at Igorot Stairs, Upper Session Road, Baguio.
Follow Tsokolateria on Facebook for more information.