We take you with us on a food trip
around Lucban, Quezon during Pahiyas
Festival.
The Pahiyas Festival paints the quaint municipality of Lucban, Quezon in all the vibrant colors you can think of. Celebrated on May 15, the Pahiyas Festival is that time of the year Lucbanins (the locals of Lucban) give thanks to San Isidro de Labrador, the Patron Saint of Farmers, for a year of a bountiful harvest.
Pahiyas comes from the word "payas", which means to decorate. This is why Lucbanins have this tradition of celebrating this colorful festival by adorning their houses and streets with brightly-colored kiping: a delicate, leaf-shaped paper decoration. The kiping, which has a similar texture to that of wafers and tacos, is made by covering leaves in a colorful rice paste until it dries up.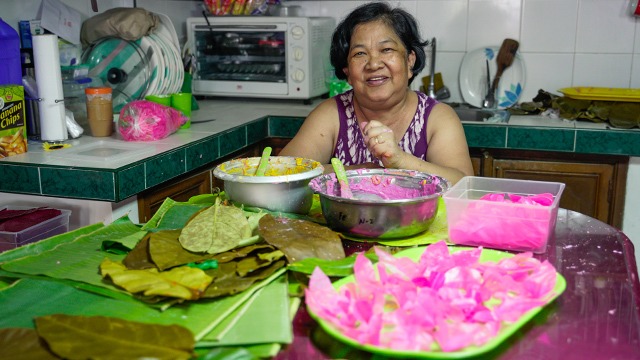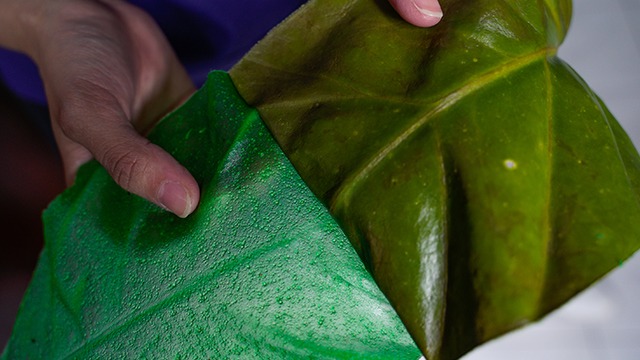 During the festival, Lucbanins whose homes are part of the parade's route, participate in a friendly competition by decorating and decking out their homes in the grandest and most creative way possible. The kiping are turned into gorgeous chandeliers and different lifesize sculptures that resemble flowers, fruits, and vegetables. After the festivities, the kiping is given away so people can eat it like crunchy chips. According to Ate Fe Villanera, a well-known Kiping-maker for over 40 years, they sometimes roast it to add a smokiness to it before munching on these rice chips.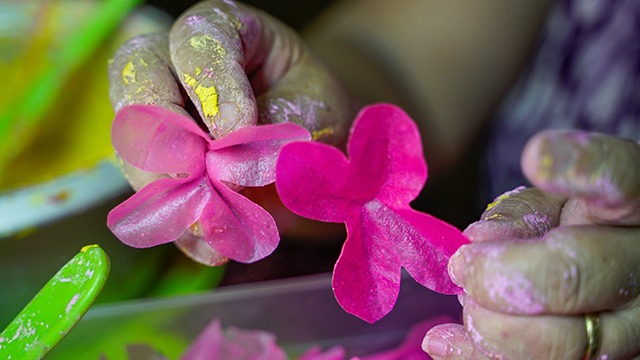 As with any Filipino festivity, food is always involved. When it comes to the Pahiyas Festival, Lucbanins are not one to shy away from going all out on their spread. Yes, there might be the usual lechon, but what sets this festival apart, and what locals and tourists love about this festival, are the regional dishes that you can only find within the city.
Lucban Longganisa
One of the delicacies Lucban is known for is the Lucban longganisa (sausage). There are a lot of Lucban longganisa makers in the city and you can easily spot one when you take a 15-minute stroll around the city. Just look for the sausages dangling outside their stores!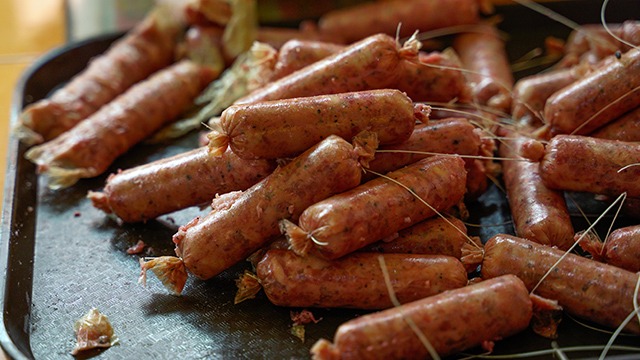 One way to tell Lucban Longganisa apart from the other kinds of longganisa is that it is more red in color compared to the other types of longganisa found in the Philippines. The red hue of these sausages come from the paminton or Spanish paprika that is added to the chunky sausage filling. When it comes to flavor, Lucban Longganisa has a saltier taste, with light herby notes coming from the garlic and oregano.
When you ask Lucbanins where you can try it, the classic Abcede's Lucban Longganisa will often, if not always, come up. Abcede's Lucban Longganisa is made by a popular family of Lucban longganisa makers and they've been making it since 1999. Although you can get it anywhere, Abcede's take of the Lucban longganisa is that they use dried oregano and that they add a lot more garlic than usual.
ADVERTISEMENT - CONTINUE READING BELOW
Recommended Videos
In 2004, five years after putting up their longganisa business, Abcede's Lucban Longganisa opened their restaurant, the Abcede's Resto. In their humble restaurant, you can take a bite of their flavor-packed longganisa that they fry to a crunch. Because Lucban's longganisa is salty, it is best dipped in spiced vinegar and paired with rice.
Pancit Habhab
You can see how much Lucbanins love street food just by going around the city! It's mostly dotted with small food stalls and carinderias. If there's one dish these places mostly have in common is that they have Pancit Habhab.
Pancit Habhab is a noodle dish Lucban is known for. This noodle dish uses a medley of carrots, cabbage, and onions sauteed in a mixed seasoning and kaldo, a broth made by boiling pig bones. Dried Miki Lucban noodles are used.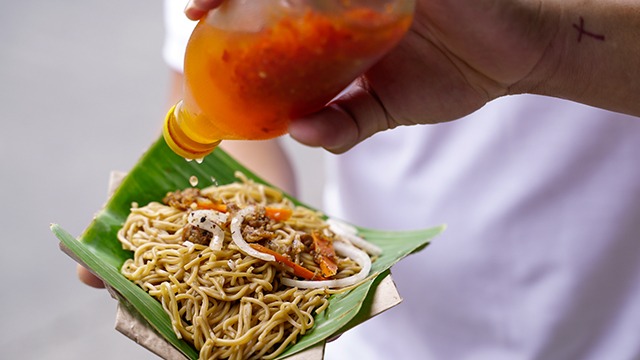 The word "habhab" means to eat using your mouth, that is why Pancit Habhab is usually served without any utensils—unless you request for it, of course. This noodle dish is typically served on a piece of banana leaf and Manila paper. Lucbanins eat this as you would a burger, where the banana leaf serves as both your plate and utensils, while the Manila paper serves as your napkin you can wipe your mouth with after eating the saucy noodles.
Jrose Pancitan, a carinderia in Lucban, is run by a family of pancit lovers: parents Joel and Rosaline, and their children, Jefferson, Jefferlyn, and Jamaica. For eight years, they have sold Pancit Habhab to locals and tourists for an affordable price of P10 each serving. What makes Jrose Pancitan's Pancit Habhab extra special is the addition of crunchy chicharong bulaklak on top.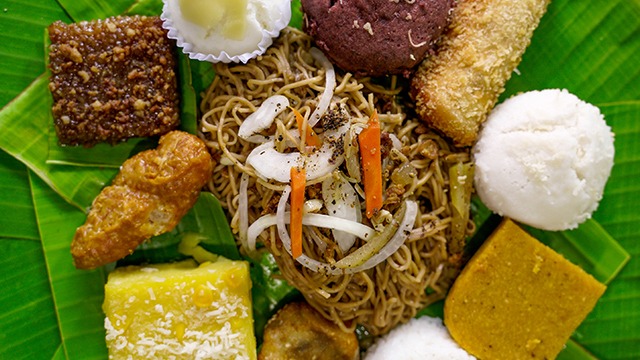 Pancit Habhab is saucy and slightly salty, that is why Jrose Pancitan offers this with their sukang Lucban which you can drizzle on top of the Pancit Habhab. This adds a bit of tang, similar to adding a squeeze of calamansi to a plate of pancit canton. In Jrose Pancitan, you can pair the pancit with the different kakanin such as sinukmani (biko), maja blanca, pilipit, buchi, pizza roll, puto cheese, leche puto, and putong bigas. For a cheap carb-overload, a freshly cooked Pancit Habhab from the pot is best coupled with cold rice.
Hardinera
A delicious surprise you can expect during the Pahiyas Festival and other big Lucbanin celebrations is their Hardinera, their take on the meatloaf. This special meatloaf is in no way an easy dish to make, what with all the ingredients you have to prepare, but it is definitely a delicious dish you wouldn't want to miss out on while you're there.
The Hardinera meatloaf, also known as grocery meatloaf, is made with ingredients you can easily source in the supermarket. This meatloaf is made with chunks of pork, pineapple, tomato sauce, tomato paste, red and green bell pepper, sausage, raisin, pickles, cheese, breadcrumbs, and a hardboiled egg. The best way to describe the taste of the Hardinera meatloaf is that it is a combination of a savory embutido and a sweet, saucy menudo in one llanera.
If you won't make it to Lucban during the Pahiyas Festival, a family-friendly resort called Batis Aramin Resort and Hotel serves this daily—plus, you can take a frozen version of the meatloaf home, too. According to Gerts Valde-Capistrano and JM Valde, the managers of the resort, the Hardinera meatloaf tastes better as time passes—much like adobo.
Sinugno
Besides the abundance of fruits and vegetables, Lucban also has an abundance of fish, specifically bangus and tilapia, because of the various palaisdaans or fish ponds surrounding the municipality. A seafood dish you should definitely try while you're in Lucban is the sinugno.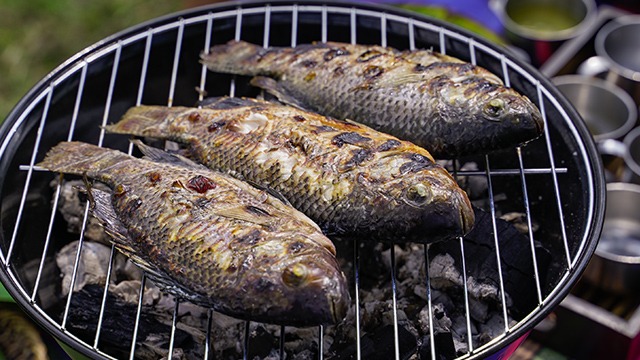 The Sinugno, which comes from the word "sunog", is made with smoked fresh tilapia in a creamy, coconut milk sauce. The strong flavor coming from the slightly-charred skin of the tilapia is mellowed down with the coconut milk that's been simmered in ginger, onions, and fish sauce. The Sinugno is garnished with mustasa leaves and green chilies.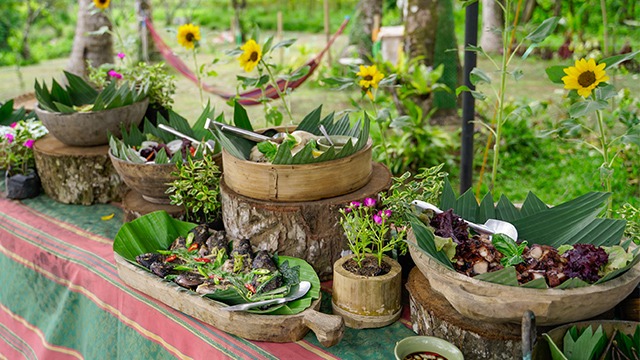 Chef Janjie Ocoma offers the Sinugno in his farm-to-fork restaurant, Linang ni LK. He sources all of the Sinugno ingredients on his farm. He serves the Sinugno together with other dishes, like mushroom sisig, liempo, vegetable salad, chicken steamed with lemon, and rice cooked in blue ternatea.
To Lucbanins, the Pahiyas festival is more than just a Thanksgiving celebration and more than a way to ward off a year of misfortune. As Chef Janjie Ocoma, born and raised in Lucban, puts it, "Sa aming mga Lucbanin, at lalo na sa aming mga farmers tulad ko, ang Pahiyas ay nagsisimbulo ng kasaganahan at pagbibigayan. Naniniwala kami na kapag kami ay nagbigay, mas madami kaming matatanggap." (To us Lucbanins, especially to farmers like me, Pahiyas symbolizes abundance and generosity. We believe that the more we give, the more that we also receive."
Abcede's Lucban Longganisa and Batis Aramin Resort and Hotel are located along the stretch of Lucban-Tayabas Road, Lucban, Quezon.
Linang ni LK is located along Lucban-Luisiana Road, Lucban, Quezon (in front of Hermano Pule Shrine).
ALSO READ: