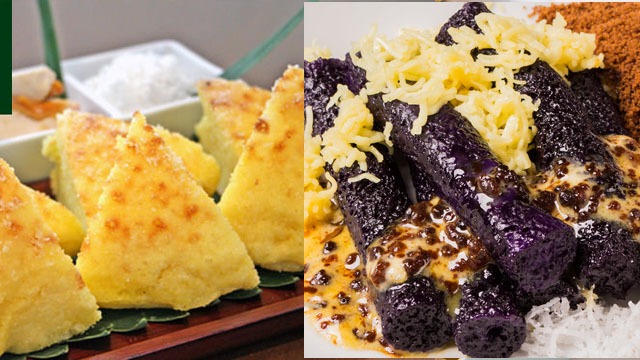 It's our second Christmas in a pandemic and this doesn't mean we skip all our usual holiday traditions. If you can't get through the holidays without Christmas food staples like bibingka and puto bumbong, you can have your cravings fixed by ordering from the following stores: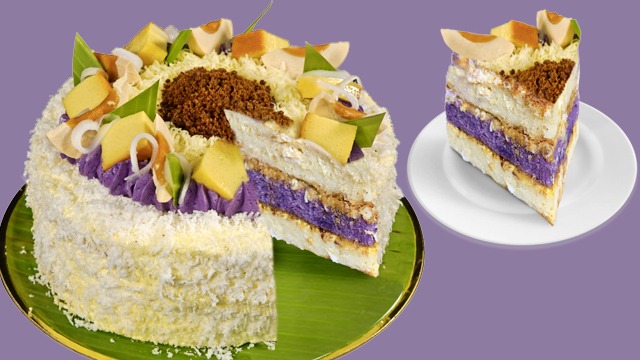 Astoria Plaza
PRICE: Bibingka prices start at P230, Puto Bumbong costs P170/5 pieces.
One of the places you can enjoy bibingka all year round is at Astoria Plaza in Ortigas. The hotel has three bibingka flavors: Traditional (P230), Ube (P230), and Dulce De Leche (P230). If you want a bit of everything, the best option (and one that we highly recommend) is the Triple Bibingcake (P1,100). The cake has all three bibingka flavors stacked on top of each other, then it's topped with salted egg, ube halaya, and leche flan.
They also have Puto Bumbong on the menu! This is your classic puto bumbong made with glutinous rice, topped with shredded coconut, and muscovado sugar.
HOW TO ORDER: You can order Astoria Plaza's bibingka and puto bumbong via their website.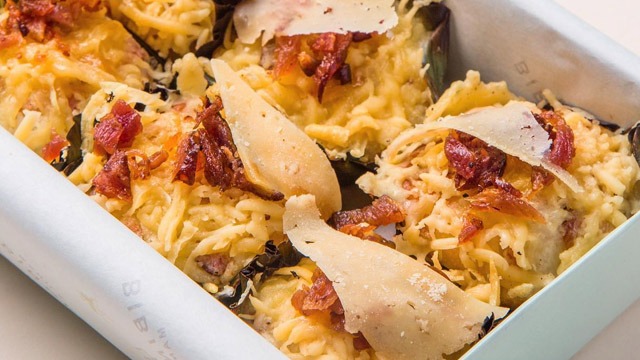 Bibingka Manila
PRICE: Starts at P250.
Want to support smaller local businesses? Bibingka Manila has different flavors you can choose from. You can go classic with the Original Salted Egg and Cheese (P250/half dozen, P370/9 pieces, P800/15 pieces) or try the flavored ones: there's Ube Halaya and Cheese Bibingka (P350/half dozen, P520/9 pieces, P1,050/15 pieces), Four Cheese Bibingka (P450/half dozen, P675/9 pieces, P1,300/15 pieces), and Suman Latik Bibingka (P450/half dozen, P675/9 pieces, P1,300/15 pieces).
If you want to try a bibingka-ensaymada hybrid, Bibingka Manila also has what they call SOLENN's Glazed Ham & Queso de Bola Bibingka Bites (P800) they made in colaboration with Solenn Manila. This box of bite-sized bibingka is topped with premium glazed ham and a slice of queso de bola.
HOW TO ORDER: You can place your order via Bibingka Manila's e-commerce shop.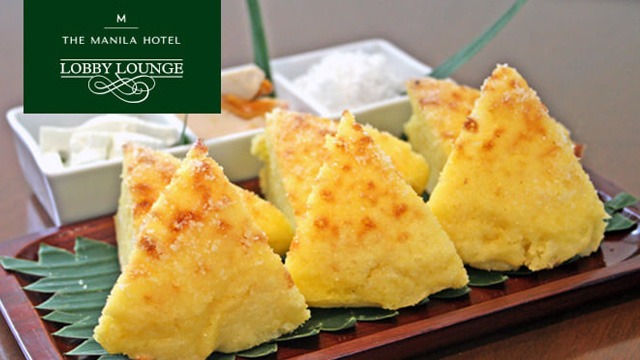 Café Ilang-Ilang and Café Lounge, Manila Hotel
PRICE: Starts at P250.
A favorite among Manila Hotel's regulars is the hotel's Classic Bibingka found at Café Ilang-Ilang or Café Lounge. Not sure which Manila Hotel café to go to? Weigh your options:
Go for Café Ilang-Ilang if you'd prefer it buffet-style and if you're willing to splurge and dine in. Don't worry, it's not just unlimited bibingka, you also get to try their home-baked bread, fresh pasta, hand-rolled sushi, charcuterie, dim sum, ice cream, salads, Halal food options, and of course, Filipino dishes.
Go for Café Lounge if you solely want to try the Classic Bibingka. If you have a few hundred bucks to spare, this bibingka is best paired with the café's coffee or hot chocolate. It's the ultimate bibingka pairing!
HOW TO ORDER: Café Ilang-Ilang is for dine-in customers only, you can check their website for rates, schedules, and reservations. As for Café Lounge, you can also opt to dine in or have it delivered via Pick.A.Roo (look for The Manila Hotel).
ADVERTISEMENT - CONTINUE READING BELOW
Recommended Videos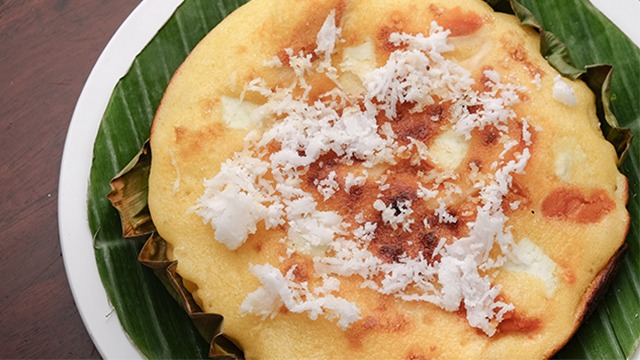 Ferino's Bibingka
PRICE: Bibingka prices start at P120, Puto Bumbong price starts at P85
One thing's for sure, you can never go wrong with Ferino's traditional bibingka and puto bumbong. 
They have different kinds of bibingka on the menu, all differing in size and toppings. The Bibingka Super (P130) is topped with salted egg, the Extra Super (P140) tops the kakanin in salted egg and kesong puti, while the Bibingcute (P120/four pieces, P170/six pieces) are smaller "cute-sized" versions of their Bibingka Super.
They also have a Toasted Bibingka (P150) which are long slices of bibingka toasted into crispy strips. It's perfect for snacking while watching your favorite Christmas films.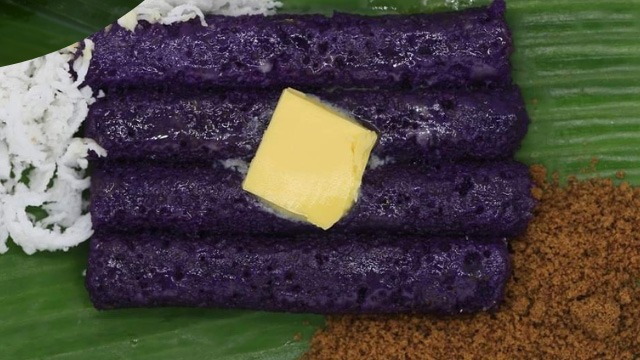 Do you also want puto bumbong? Ferino's Puto-bumbong Classic (P85) is served with niyog, butter, and muscovado sugar. If you prefer it with more sweetness, go for Ferino's Puto Bumbong with Caramel and Cheese (P135).
Bonus! Ferino's also has freshly-roasted castañas.
HOW TO ORDER: It's better to order Ferino's Bibingka by messaging them on Facebook, especially if you also want to order the castañas.
You can also order Ferino's Bibingka via GrabFood and Foodpanda but do take note that they don't offer all the bibingka and puto bumbong flavors and sizes mentioned above.
Manam
PRICE: Bibingka Galapong of Salted Egg costs P95, Puto Bumbong with Muscovado Butter costs P95, Bibingka de Leche costs 145, and the Bibingka Ube costs P140.
Did you know Manam also has bibingka and puto bumbong on the menu? If you like it classic, go for Manam's Bibingkang Galapong of Salted Egg and the Puto Bumbong with Muscovado Butter.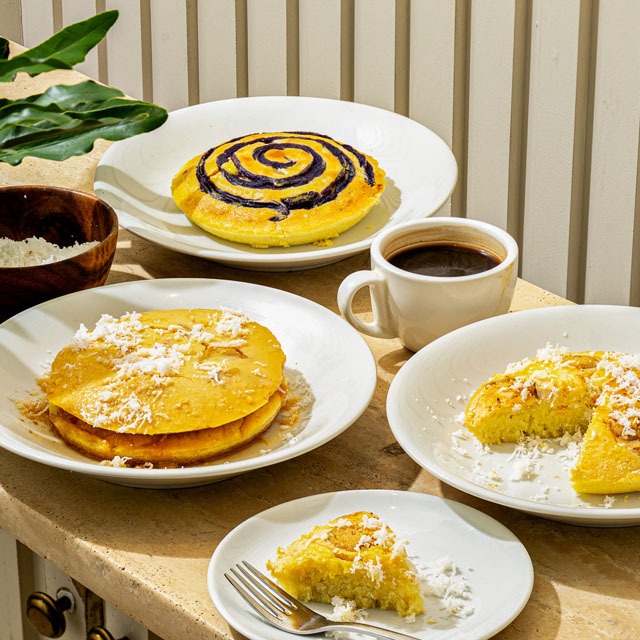 If you want to go a little extra this holiday season, we're not one to stop you! Enjoy Manam's upgraded bibingka that comes in Bibingka de Leche for leche flan fans and Bibingkang Ube for ube lovers.
HOW TO ORDER: Manam is available via GrabFood, Foodpanda, Pick-A-Roo, and the Manam website.
[facebook url="https://www.facebook.com/ProvencianoRestaurant/photos/a.552376611568066/1619350834870633/"]
Provenciano
PRICE: The Bibingka costs P150 and the Puto Bumbong costs P125.
Provenciano is one of Quezon City's famous restaurants that serve hearty Filipino food that will make you want to endure the Metro Manila traffic just to get a seat at the restaurant. Just in case you need a refresher about Provenciano's bestsellers, the restaurant is famous for its traditional puto bumbong and bibingka—they even have a bibingka kubo outside the restaurant's entrance.
Provenciano's bibingka is bigger than the palm-sized bibingka that you can usually buy beside the churches after attending Simbang Gabi. This kakanin is buttery, soft, and has a generous amount of salted egg—three things you definitely want in any bibingka. It also comes with shaved coconut and coco sugar.
HOW TO ORDER: Provenciano is available on GrabFood.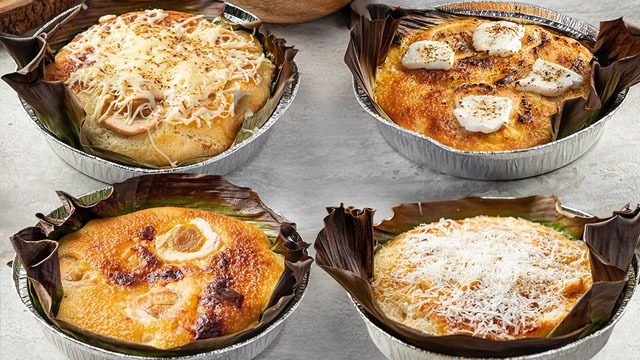 Workshop
PRICE: Starts at P200.
Workshop (by Le Petit Souffle) released four kinds of bibingka this Christmas season. All four bibingka flavors have the same traditional rice cake as their base and are then topped with slices of salted egg. The only difference is the cheese used in each flavor which could either make it very easy or very difficult for you to choose which cheesy bibingka you'd want to order.
There's the Salted Egg Bibingka (P200), the most classic bibingka out of the four flavors, that's topped with slices of salted egg and fresh coconut; the Cheddar Bibingka (P240) has a melted cheddar cheese topping; the Kesong Puti Bibingka (P270) is topped with torched kesong puti; the Manchego Bibingka (P290) has melted Manchego cheese. 
HOW TO ORDER: You can order Workshop's bibingka via The Grid Food Market, GrabFood, Foodpanda, and Pick.A.Roo.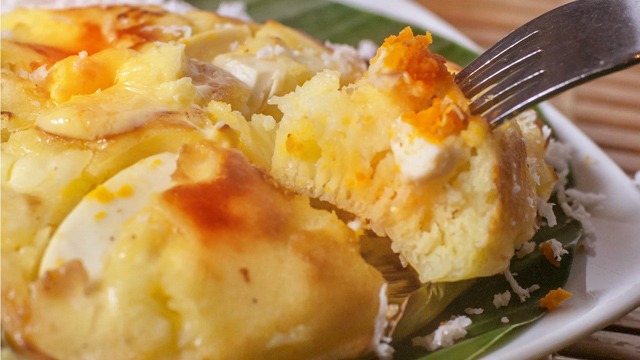 Via Mare
PRICE: The Bibingka costs P210 and the Puto Bumbong costs P140.
Most Pinoy's top-of-mind choice when it comes to bibingka and puto bumbong is Via Mare's. It's a classic and is your no-fuss Christmas kakanin.
They make the bibingka by soaking native rice overnight then grinding it in coconut milk and sugar afterward. It's then baked in banana leaves until it turns into a fluffy, dense bibingka that they top with salted egg, carabao milk cheese, butter, and grated coconut.
As for their puto bumbong, they make this the traditional way which is steaming the rice mixture using bamboo, then serving it with butter, grated coconut, palm sugar, and your choice of either cheddar cheese or queso de bola.
HOW TO ORDER: You can place your order via Via Mare's website. You can opt to have it delivered or picked up.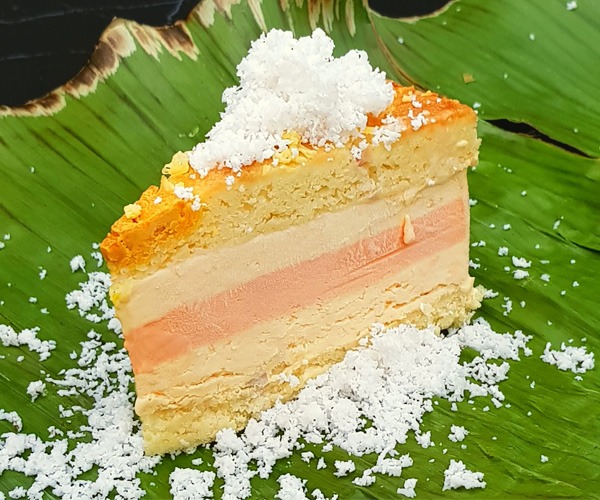 Sebastian's Ice Cream
PRICE: Puto Bumbong Ice Cream costs P405/tub, Bibingka Supreme costs P165/slice and P1,750/whole
Here's a wildcard for you! Sebastian's Ice Cream is known to churn festive ice cream flavors as the holidays draw near. This year, they have Puto Bumbong ice cream and a Bibingka Supreme ice cream cake.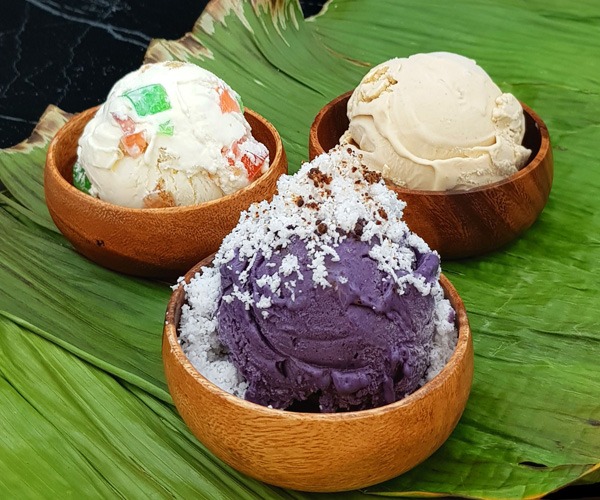 The Puto Bumbong ice cream is the purple kakanin transformed into ice cream that's infused with muscovado and margarine. For your toppings, this is served with grated niyog (coconut). 
The Bibingka Supreme has layers of queso de bola ice cream, salted egg yolk ice cream, and freshly-baked bibingka on top. Of course, it's slathered with butter and topped with more salted egg and more grated cheese.
HOW TO ORDER: You can order Sebastian's Ice Cream's Christmas specials via their official website.
*****