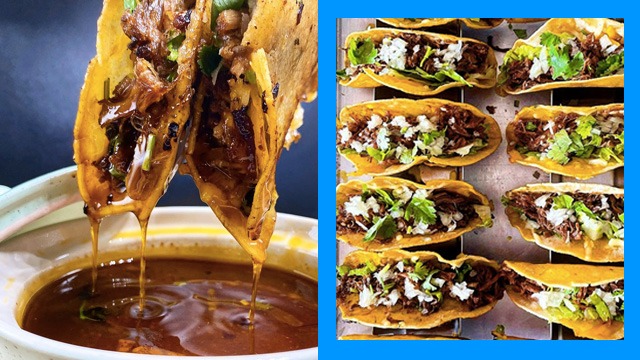 Are you getting tired of all the same food items and want something different? We introduce you to birria, another trendy food item that has gained popularity worldwide, especially since the pandemic started.
Taking into consideration how delicious birrias look like, there's really no point questioning how it became such a huge trend on TikTok. As of writing, the #birria hashtag has 448.6 million—yes, millions! 
If you're curious about this food trend and where you can try it, we're here to help you out!
What is birria?
Birria is a Mexican sweet and spicy stew whose origins can be traced back to Jalisco. It is traditionally made with goat's meat, but there are also versions that only use beef because it's more affordable and easier to source. The meat is slow-cooked with different chilies and spices until the meat easily falls off the bone or turns into shredded feathery pieces. This is served with minced onions and cilantro, and for a bit of tang, they also add in salsa and lime juice.
There is a second way of serving the birria which is more like a taco than it is a stew! What most recipes do is that they dip a piece of tortilla into the soup of the birria, pan-fry it until it gets a toasted color, then stuff it with the shredded meat, onion, cilantro, salsa, and a squeeze of lime. Some serve this with a side of the flavorful birria broth for dipping the tacos into or for sipping in between bites.
Where to buy birria in Metro Manila?
House of Birria
Location: Quezon City
House of Birria uses real Mexican chilis and USDA beef for their birrias. They serve it with lime, salsa, and the consommé (a.k.a. the birria broth), which is best used for dipping or sipping (more like slurping, if we're completely being honest).
ADVERTISEMENT - CONTINUE READING BELOW
Recommended Videos
They only serve one type of birria which is the Premium Beef Birria. They offer these in different sizes, the Small (P520) has four pieces, the Large (P1,000) has eight pieces, and the Party size (P1,920) has 16 pieces.
How to order: You can place your order by messaging (0936) 965-1203.
Follow House of Birria on Instagram for more information.
https://www.instagram.com/p/CGlmdm4gfe9/
Chulitas Pollo
Location: Taft Avenue, Manila
Chullitas has two kinds of birria tacos on its menu that they serve with salsa and the consommé (a.k.a. the birria broth). The Beef Birria Tacos, which is made with slow-cooked beef, onions, and cilantro, costs P70/solo, P135/double, P195/box of three, and P399/box of six.
The other birria they have is the Queso Birria Tacos which is made with the same ingredients as the Beef Birria, but with mozzarella cheese. This cheesy, beefy birria costs P85/solo, P165/double, P250/box of three, and P499/box of six.
How to order: Chulitas Pollo is available on Foodpanda, but for those that are not within its delivery location, you can contact them through this number: (0926) 646-2876.
Follow Chulitas Pollo on Instagram for more information.
Peñafiel's
Location: Lirio Pembo, Makati City
Peñafiels puts a Filipino twist on the Mexican birria by using the oh-so-delicious pares broth and homemade chili. Their Birria Queso Pares costs P175 and you can even make it more malinamnam by adding cheese for an added cost of P20.
How to order: Send a message to Peñafiels on Instagram or you can contact them through this number: (0917) 303-3766.
Follow Peñafiel's on Instagram for more information.
***
Thinking about what to cook next? Join our Facebook group, Yummy Pinoy Cooking Club, to get more recipe ideas, share your own dishes, and find out what the rest of the community are making and eating!
Got your own version of the classic dishes? Pa-share naman! Get your recipe published on Yummy.ph by submitting your recipe here.