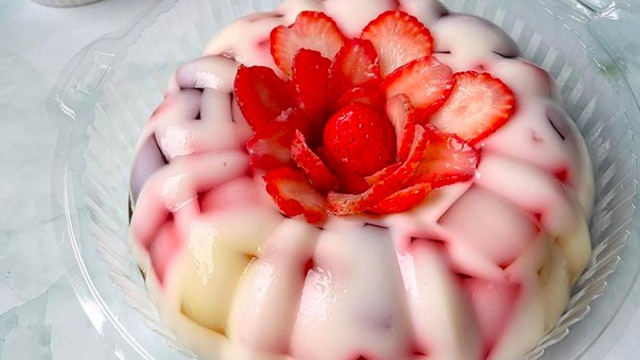 You might be too busy cooking up a storm for the holidays—baking lasagna or baked macaroni, grilling barbecue or liempo, making chicken macaroni salad, and other delicious dishes, that you might be forgetting about dessert! If you want the ever-colorful, beautiful, classic cathedral windows included in your holiday spread, here's where you can order it:
Goldilocks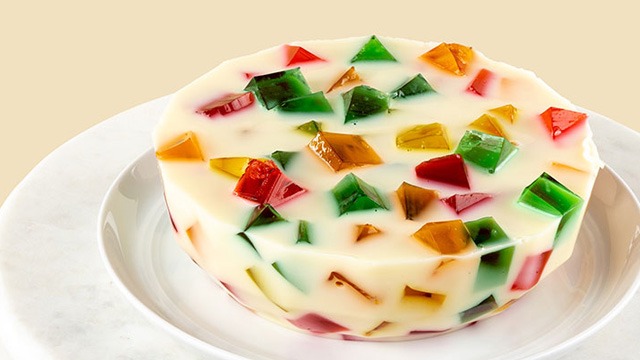 Price: P264
Goldilocks' cathedral windows is one that's hard to beat in the popularity and accessibility categories, especially considering the numerous Goldilocks branches in the Philippines. If you haven't tried one of the bakeshop's original desserts, they use a milky, sweet base with cubes of fruity gelatin in strawberry, orange, green, and lemon flavors.
Fun fact: Did you know that the Cathedral Window of Goldilocks was originally called Rainbow Gelatin?
How to order: You can order this via Goldilocks' delivery website.
Daily Confections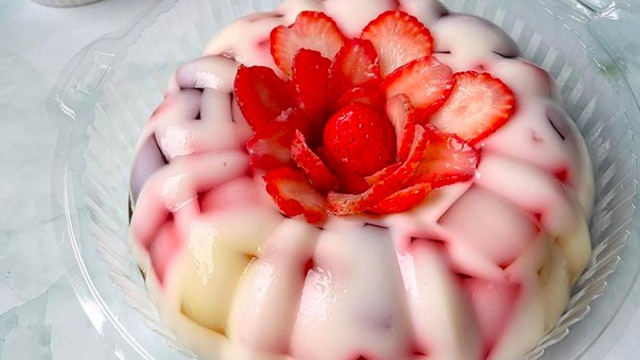 Price: The Cathedral Gelatin costs P300/5.5-inch, P600/8-inch; Cathedral Gelatin with Korean Strawberries costs P950/8-inch; and the Cathedral Gelatin with Mangoes (P750/8-inch).
If you want an extravagant, centerpiece-worthy cathedral windows dessert on your table, then Daily Confections' version is what you need. Theirs has beautifully arranged fruits in the center, you can choose from tart Korean strawberries or sweet yelllow mangoes!
What's great about their Cathedral Gelatin is that you can customize it depending on the colors and flavors your want. There's raspberry and strawberry (red), peach (orange), lemon (yellow), grapes (violet), lime (green), and blueberry (blue).
How to order: You can fill up the order form via Daily Confections' Instagram.
Indulgence by Irene
[facebook url="https://www.facebook.com/IndulgencebyIrene/photos/a.510811629015995/3657707537659706/"]
Price: P300/tub
Indulgence by Irene is one of the best and raved-about cathedral windows in town—fruity, sweet, and milky. There's nothing unusual about their take on the classic dessert, it's just that they've done it extremely well that it often gets sold out.
How to order: You can message or call (0917) 622-5800.
one day
[instagram url="https://www.instagram.com/p/CPkgLrhHs2B/"]
ADVERTISEMENT - CONTINUE READING BELOW
Recommended Videos
Price: The Cathedral Window costs P450 and the Coffee Cathedral costs P380.
What happens when you combine cathedral windows and coffee jelly, two popular gelatin desserts? You get one love's newer take on their classic cathedral windows, the Coffee Cathedral. This doesn't have the usual rainbow gelatin cubes, instead this has coffee-colored gelatin cubes you will find in each bite.
How to order: Send a message to one day on Instagram.
Pasteleria Costa Brava
Price: P1,400/7×11-inch
You probably know of Costa Brava's caramel cakes and pies, but this Makati City-based gem does have the colorful cathedral windows on the menu, too. Just take note that they don't actually call it cathedral windows but it's simply named Jello.
If you plan to order their caramel cake for Noche Buena, you can just add this to your order so you won't need to order from a separate store (with a separate delivery fee).
How to order: You can call Pasteleria Costa Brava through these numbers: 8896-1267, 8896-6872, 8984-3949, or 8403-6627.
Sebastian's Ice Cream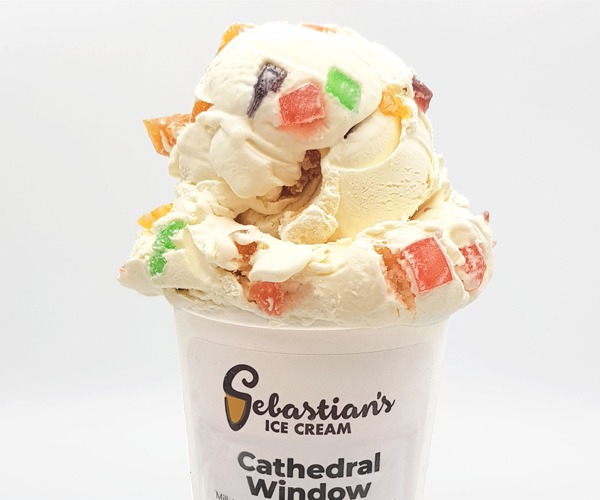 Price: P405
A different take on the gelatin dessert comes in the form of ice cream. The local ice creamery released the Cathedral Windows Ice Cream as part of their limited-edition Christmas flavors. For this gelatin-turned-ice cream dessert, they used milk ice cream and fruity gelatin flavored with cherry, red grape, green grape, pineapple, and orange.
How to order:You can place your order via the Sebastian's Ice Cream website.
*****