Charcuterie or grazing boards (also called cheese platters) are one of the best things about parties, Noche Buena, and Media Noche—or honestly, any occasion. Who doesn't love seeing a bountiful platter of different kinds of cheeses, cold cuts, fruits, and crackers while sipping a glass of wine, laughing with friends and family you haven't seen in ages because of the pandemic? 
If you think that charcuterie or grazing boards are always expensive, you should know that there are affordable options you can purchase without leaving a dent in your Noche Buena or Media Noche budget. There are also grazing board options that are great for small groups and big crowds so the serving proportions are just right—nothing's wasted nor you don't feel like there's not enough. 
Here we list down different stores that can deliver grazing boards to your Christmas gatherings and New Year's festivities:
Aperitif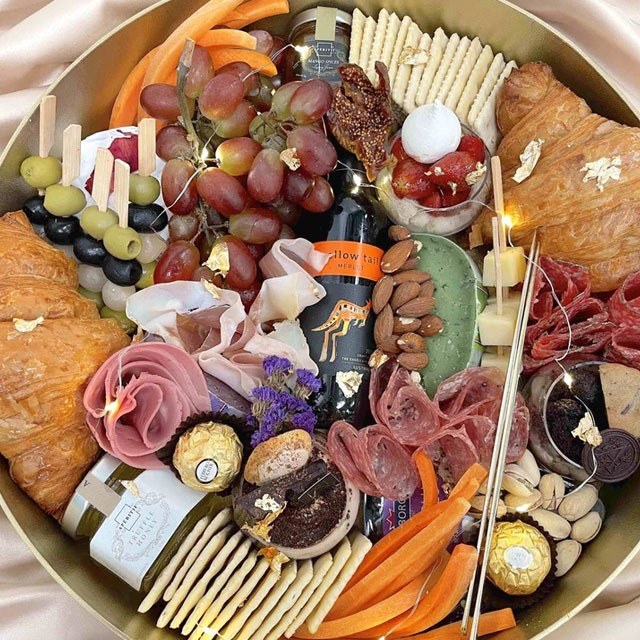 Aperitif has different grazing boxes perfect for any occasion—from Father's Day, Mother's Day, Valentine's Day, and of course, for the holidays. This year they launched their Illuminate 2021 Holiday Collection which includes five different graze boxes.
There's the Caviar Graze Box (P5,500) that has an assortment of cold cuts and cheese but what makes this extra special is the addition of Aperitif's bestselling Truffle Salmon Caviar Pie, and there's the Grand Rose Graze Box (P5,550) that includes a 750ml bottle of Rose.
Want your charcuterie platter to be the talk of the party? We think that out of the five graze boxes, the Illuminate Graze Box (P6,500) is the best option of them all, budget-wise and inclusions-wise. This box is filled with Aperitif Tiramisu, Chocolate Cake, Strawberry Shortcake, five kinds of cheese, five kinds of cold cuts, French bread (including a croissant!), fruits, nuts, and Aperitif's jams.
The more expensive grazing boxes are the Brie Charcuterie Wheel (P9,500) which stars a 3-kilogram Grandor Brie Wheel that's surrounded by cold cuts, fruits, jam, and comes with a cheese slicer, and the Golden Graze Stage (P13,500) which highlights the caviar pie on top of the grazing box arrangement.  
How to order: You can place your order via Aperitif's website.
Charcuteriebox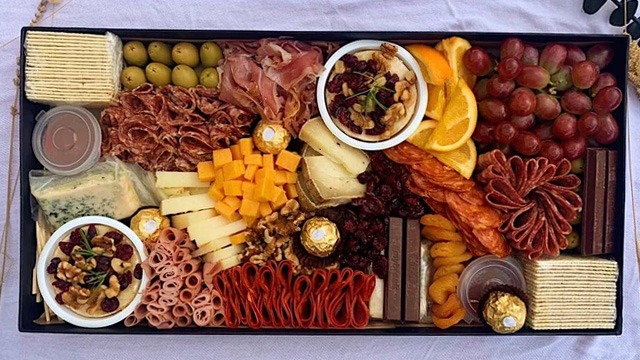 Price: Price starts at P295
The most affordable charcuterie board they offer is the Mini Boite (P295). This comes in a 3.75 x 3.75-inch acrylic box filled with edam, cheddar, brie/camembert, salami milano, chorizo, mortadella, olives, crackers, pretzels, walnuts, and dried fruits. 
If you're feeding a larger crowd, the biggest charcuterie box they have is the Noir Boite (P5,000) that's good for 8-12 people. This comes in a very huge box (approximately 20x10x2-inch) that's filled with five kinds of cold cuts, five kinds of cheese, fruits, nuts, Ferrero Rocher, truffle honey, and crackers.
Charcuteriebox also has different bottles of wine you can pair with the charcuterie box of your choice, plus caviar pies that will surely make your Christmas spread extra special and memorable for your guests.
How to order: Visit charcuterieboxmnl.com to place an order.
Cheese Box MNL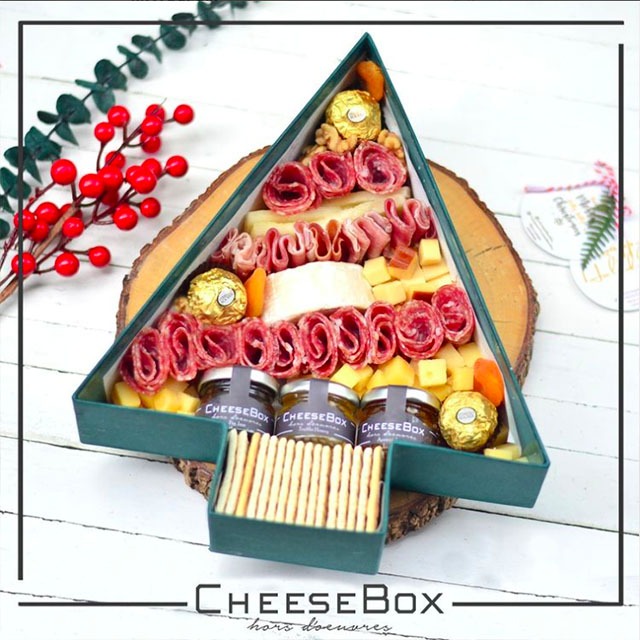 Price: P2,850
If you want the charcuterie board to be the centerpiece for your Noche Buena or Media Noche, Cheese Box MNL has a limited-edition graze box that comes in a Christmas tree-shaped box. So festive and Christmas-appropriate, right? Not to mention, quite affordable at only P2,850 (good for 4-6 people).
ADVERTISEMENT - CONTINUE READING BELOW
Recommended Videos
This Christmas graze box comes in an 11 x 11 x 10-inch box (excluding the trunk of the Christmas tree) and is filled with four kinds of cheese, salami Milano, prosciutto, a 30-gram bottle of fig jam, apricot jam, and truffle honey. This grazing box is completed with dried fruits, nuts, chocolates, and crackers.
How to order: You can fill up Cheese Box MNL's order form.
Cheesemesa by Dindin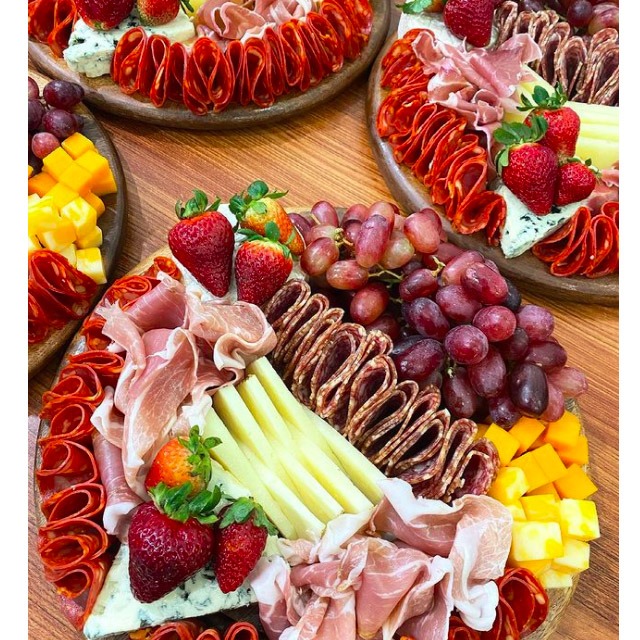 Price: Price starts at P1,600
For those in and near the Mandaluyong City area, Cheesemesa by Dindin is in the area to deliver charcuterie boards to your doorstep. They have these in different sizes: The 8-inch board (P1,600) that's good for 2-3 people, a 12-inch board (P2,700) that's good for 6-10 people, and a 14-inch board (P3,800) that serves 12-16 people.
These boards include a gorgeous Acacia wooden board that's decorated beautifully with five kinds of cheese, three kinds of premium meat, crackers, imported grapes, strawberries, almonds, honey (with dipper), eco bag, and a celebratory topper.
They also offer budget-friendly wine to go with your charcuterie board. The 250-ml bottle only costs P300 and the P750-ml bottle costs P800.
How to order: Send Cheesemesa a message on Instagram with your name or recipient's name (for gifting), contact number, pick up date and time, and order size.
Grazed PH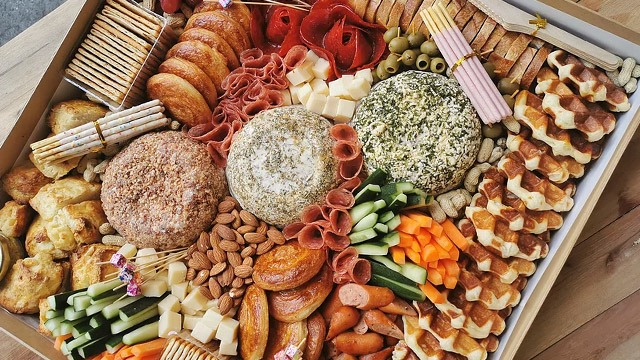 Price: Price starts at P675
The grandest charcuterie platter out of Grazed PH's offerings is the La Fiesta (P5,600). Before you disregard it for its expensive price tag, you should know it's already the complete package and it's already affordable because it can feed a group of more than 12 people!
You get to choose three cheeseballs of your choice: Quezon Con Carne, Korean Beef Sesame, Bacon Jalapeño, Chicken Sriracha Aioli, Salted Caramel and Toasted Almonds, Cranberry Nut Cream, Garlic Parmesan, 3-Cheese Truffle Mushroom, and Sausage Parsley.
This also includes three types of cold cuts, assorted bread and crackers, semi-soft cheese, fruits, vegetable sticks, olives, sweets, nuts, and your choice of Grazed PH's Sweet Dip: Salted Caramel, Red Velvet Hot Fudge, Coffee Caramel.
If the La Fiesta is too much for you, they also have smaller grazing boxes that can accommodate the number of guests you have and the budget you've allocated for the charcuterie board. 
You should also check out their very own line of bottled sangria (you can see the real fruits swimming inside the bottle!) to serve with your grazing board. They have interesting flavors like Cucumber Basil Smash, Peach Pomegranate, Tropical Sangria, Cucumber Honeydew, and the classic Red and White sangria.
How to order: You can place your order by visiting Graze PH's website.
La Fromagerie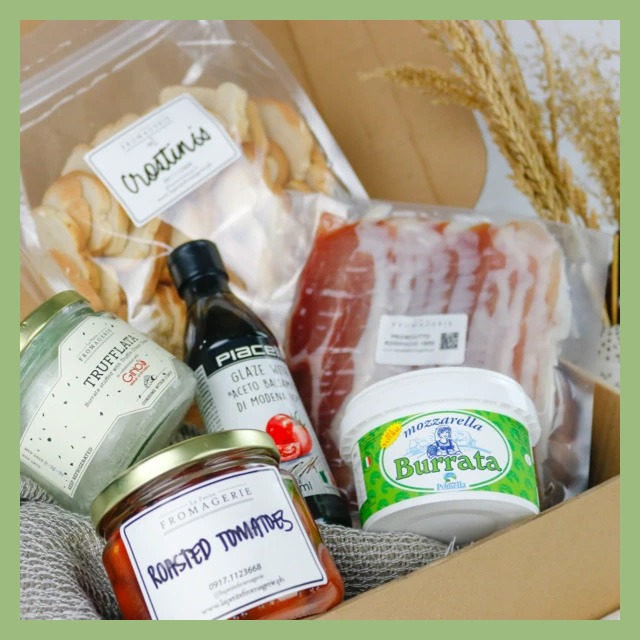 Price: P2,000
La Petite Fromagerie is one of the best shops for all your cheese needs in Metro Manila! If you have always wanted to try their signatures, you should order their Burrata Sampler Kit with Prosciutto for your Christmas spread.
This kit includes La Fromagerie's famous Trufflata (a burrata stuffed with their Truffle Cream Cheese Spread), one burrata, a pack of prosciutto romancio, balsamic glaze, roasted cherry tomatoes, and large crostinis.
How to order: Visit La Fromagerie's website to place an order.
L'Epicerie Gourmande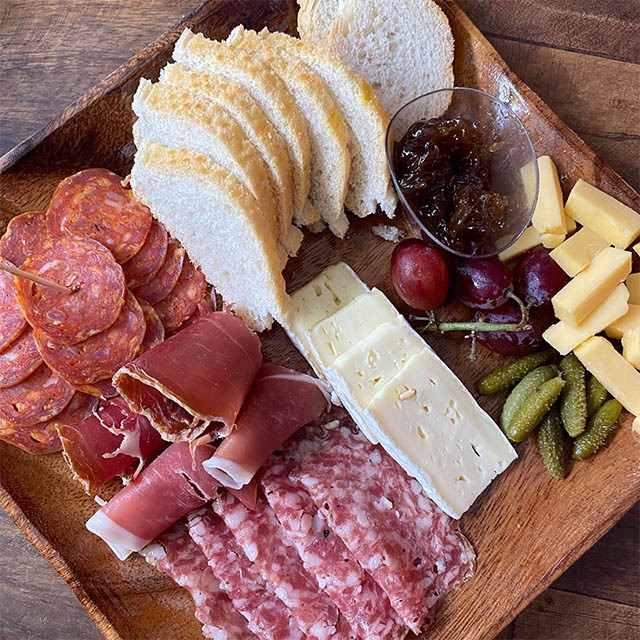 Price: P690/good for two and P1,090/good for four
For those inside Ayala Alabang Village and the nearby areas, the L'Epicerie Gourmande branch at Molito Lifestyle Center is a deli shop-restaurant that serves two sizes of charcuterie boards at very affordable price points.
The good-for-two charcuterie platter only costs P690 and the good-for-four platter costs P1,090. Both of these include an assortment of delicious cheese you can pair with their equally-delicious cold cuts.
We highly recommend picking it up from the Molito branch because you'll be able to pick the cheese and cold cuts you want to include in your platter. If you're not there to physically order, the kitchen will decide which cheese and cold cuts end up on your grazing board.
How to order: L'Epicerie Gourmande (Molito branch) can deliver their charcuterie boards to Ayala Alabang Village residents. If you're nearby, you will have to book Grab service to have it delivered to your area. You can call them using this number: 8256-4181.
Santis Delicatessen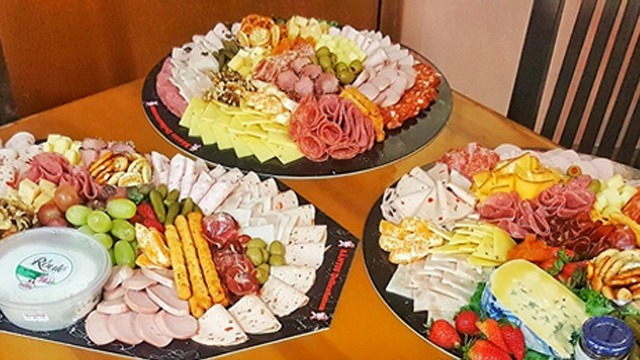 Price: Price starts at P1,500
Santis Delicatessen is one of the most popular deli shops for all your charcuterie needs which explains why their branches have long queues of people wanting to buy from their wide selection of deli items as December 25 draws closer and closer. 
If you don't know how to assemble your own charcuterie board, Santis Delicatessen can do it for you! They can customize your charcuterie board depending on your budget so you don't have to stress yourself out during the most wonderful time of the year. There is a minimum of P1,500 which is already good for 8-10 people.
How to order: You can place an order by calling up the Santis Delicatessen branch that's closest to you.
Snack In A Tub PH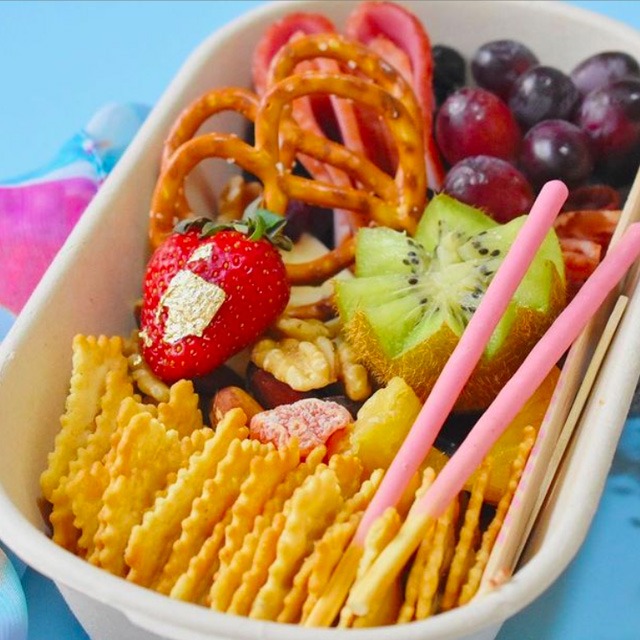 Price: Price starts at P350
If you want some me-time during the holidays, Snack In A Tub has a Basic (P350) charcuterie platter that's perfect for a party of one. This Basic platter includes an assortment of imported cold cuts and cheese.
For date nights or really intimate catching up sessions among friends, they have a Group (P550) charcuterie platter that's good for 2-3 people, but if you're Christmas party has more than 8 people, you should opt for the Party (P1,750) platter that's good for a maximum of 10 people.
Both of Snack In A Tub's Group and Party charcuterie platters have more premium deli items compared to the Basic charcuterie platter. 
How to order: Send a message to Snack In A Tub PH on Instagram.
*****