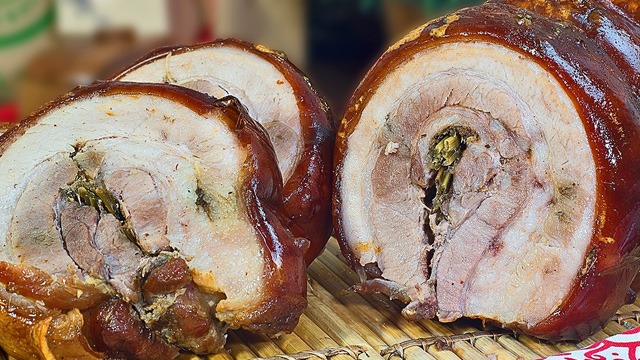 Celebrations that happen in the month of December are the type to require a smorgasbord of delicious food. For Noche Buena and Media Noche, no one can forget the star of every Pinoy handaan: lechon.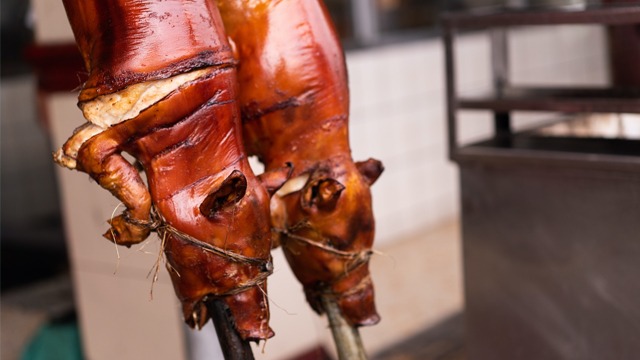 Whether it's a lechon from the north or from the south, or a full-sized lechon for big gatherings or a cochinillo (smaller lechon) for intimate setups, you can never go wrong with serving this delicious roasted pig on the table.
If you haven't ordered for the upcoming festivities, here are places where you can buy lechon or cochinillo:
Bai's Boneless Lechon Cebu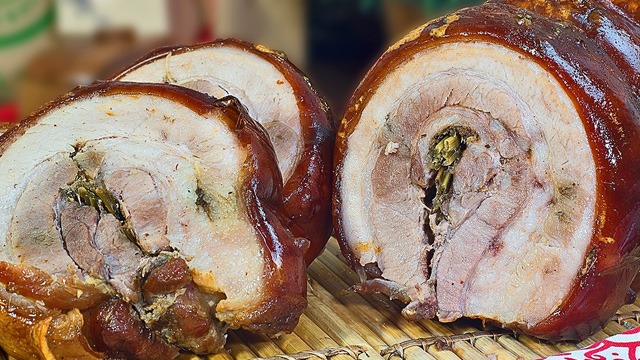 Price: Prices start at P349.
Bai's Lechon has boneless Cebu lechon (the flavors are specifically Carcar, Cebu-style) so you don't have to be bothered about carving around and through the bones of a full-sized lechon when you should be busy having fun, catching up with friends and family.
They offer their bestselling Boneless Lechon Cebu in different sizes depending on the number of people you're feeding. The Family (P899) is good for 4-5 people, the Barkada (P2,099) is good for 10-15 people, and Party (P3,499) is good for 20-25 people.
If you don't want an overwhelming amount of lechon—one that guarantees no leftovers—Bai's also has a Lechon Box (P349/300 grams) that's good for 2-3 people.
How to order: You can place an order via Bai's Boneless Cebu Lechon website.
Cochi
Price: P8,999/Medium and P9,999/Large
Did you know that celebrity and chef Marvin Agustin has a cochinillo business? In fact, Cochi is one of the more famous cochinillo businesses in Metro Manila, with a 36,000+ following on Instagram!
ADVERTISEMENT - CONTINUE READING BELOW
Recommended Videos
It's easy to understand why everyone is willing to cash out quite a huge amount of money for Marvin Agustin's cochinillo. You can easily crack the skin using the traditional plate and the meat is so juicy. It's achieved by marinating the entire pig for two straight days.
How to order: You can place your order via Cochi's website.
Lydia's Lechon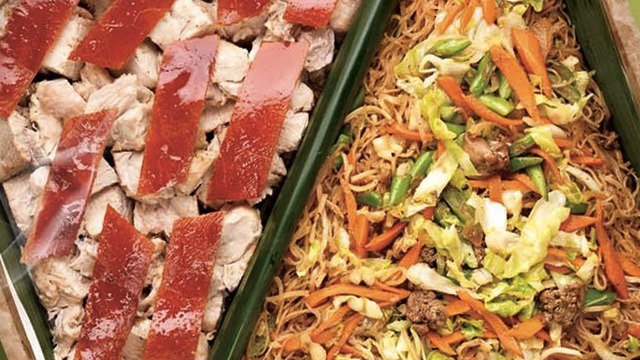 Price: Price starts at P1,750
Lydia's Lechon can pretty much cover your most specific lechon needs. They have whole lechon in different sizes ranging from De Leche (P9,800/5 kilograms) to X-Large (P17,800/23-25 kilograms). They even have a cochinillo (P8,800/3-4 kilograms) that comes with a side of Seafood Paella.
If you want it boneless and paired with carbs (a lot cheaper too!), Lydia's Lechon also has a Lechon-In-A-Box series. They have Lechon-In-A-Box with Pancit (P1,950), Lechon-In-A-Box with Mexican Rice (P1,750), and Lechon-In-A-Box with Seafood Paella (P2,250)
How to order: You can place your order through the Lydia's Lechon website.
Niño's Lechon Belly Atbp.
Price: Price starts at P1,200
Niño Marlon O'Santos is the one-man team behind Niño's Lechon Belly Atbp, a small lechon business that continues to survive despite the pandemic through the help of their delicious lechon belly slabs. These juicy lechon slabs are flavored Cebu-style—stuffed with leeks, minced garlic, bits of star anise, fresh sili labuyo (for the spicy lechon belly), and their own secret seasoning.
You can opt for the Classic Lechon Belly Slabs (P1,200/kilogram, P1,700/2 kilograms, P2,400/3 kilograms) or for those who like it with heat, the Spicy Lechon Belly Slabs (P1,250/kilogram, P1,800/2 kilograms, and P2,550/3 kilograms).
Follow Niño's Lechon Belly Atbp. on Facebook for updates because they are soon going to offer cochinillo too!
How to order: You can place your order through this delivery service.
Rico's Lechon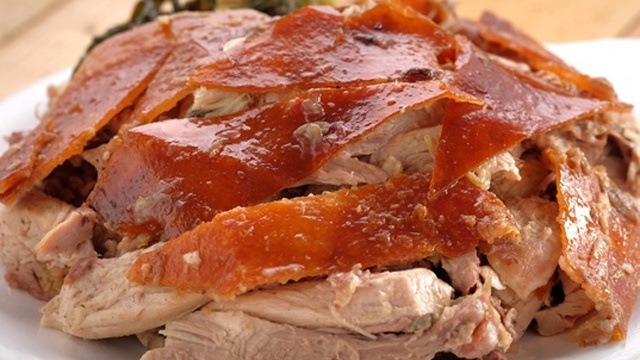 Price: Price starts at P7,200 
If Cebu lechon is what you want for Noche Buena or Media Noche, you can never go wrong with Rico's Lechon's garlic- and leeks-stuffed roasted pig. They offer their bestselling lechon in Original and Spicy flavors, and it comes in different sizes: De Leche, Family, Small, Medium, Large, and Extra Large.
Rico's Lechon's Cebu lechon is best dipped in their SukaLami so make sure it's included in your order. This sawsawan has an acidity to it that breaks through the juiciness, fattiness of the lechon—it makes it less nakakaumay so you can enjoy it without feeling guilty. 
How to order: You can order Rico's Lechon via Rico's Lechon website.
Sabroso Lechon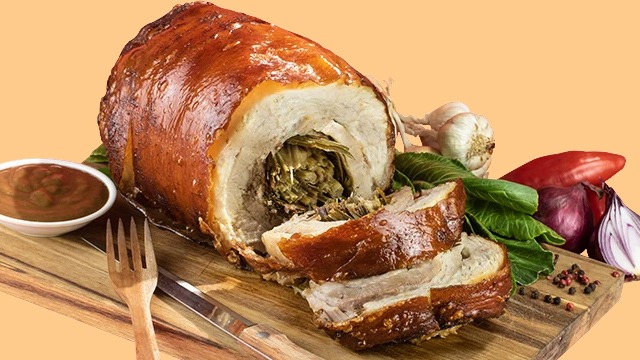 Price: Price starts at P475
Another lechon from the south is Sabroso Lechon and this time it's not from Cebu. This lechon hails from the province of Bacolod. If you're curious to try what makes Bacolod lechon delicious and different, you can choose between their cochinillo, full-size lechon, chopped lechon, and lechon belly (a.k.a. the best part of lechon).
They also have a Lumpiang Shanghai Party Bilao (starts at P399) and Sabroso Lechon Manok (P350), two other Pinoy handaan staples that you can add to your order of lechon.
How to order: You can place an order by calling their hotline at (0920) 123-9999 or you can also order via Babots Mart.
Zubuchon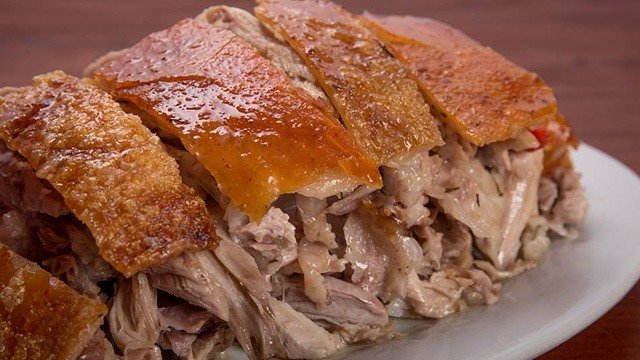 Price: Price starts at P1,240
Zubuchon is a popular lechon restaurant in Cebu that had humble beginnings. It started out as a small stall back in 2009, but now it has numerous branches in Cebu and Metro Manila. It has even caught the attention of the late chef, author, and television host Anthony Bourdain as the "best pig ever."
Zubuchon offers Lechon Boneless (P4,900/4 kilos), Whole Lechon Medium (P11,500/10-12 kilos), and Whole Lechon Large (P12,500/14-16 kilos). The boneless is good for 10-20 people, the medium lechon is good for 30-35 people, and the large lechon can feed 40-45 people.
If you want to secure lechon in advance, you can also buy Frozen Zubuchon (P1,240/kilogram) and Frozen Boneless Lechon (P1,240/1 kilogram) and store these in the refrigerator until a few hours before Noche Buena or Media Noche.
How to order: Zubuchon items can be ordered via the Zubuchon website.
*****