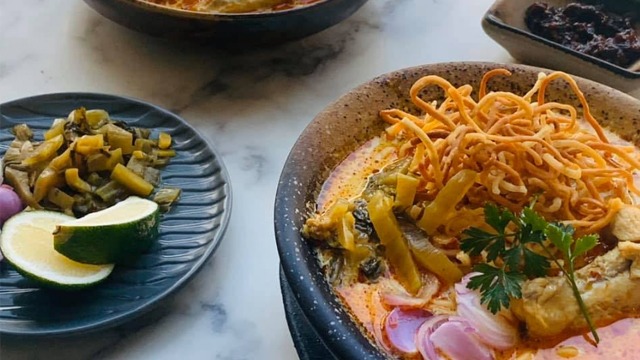 When you're feeling exhausted and in no mood to prep and cook your meals (which is understandable after three months of home quarantine), stocking your refrigerator with do-it-yourself meal kits is what you need! These kits have all the necessary ingredients to prepare a complete meal (you can replicate your fast food and restaurant favorites!) that requires little to no food preparation or cooking. 
Here we list down the different restaurants and shops that offer DIY meal kits:
Shake Shack: Burger
Meal kit: The DIY Shack Burger Kit (P1,600) includes eight pieces of 100% Angus beef, Martin's Potato Rolls, American cheese, and the secret Shack Sauce. 
How to order: Fill up this order form and pick up at Shake Shack's stores.
Sarsa Kitchen+Bar: Batchoy
Meal kit: The Batchoy kit includes the miki noodles, liempo, liver, lechon kawali, fried garlic, spring onion, egg, and the batchoy soup. This is good for three to four people.
ADVERTISEMENT - CONTINUE READING BELOW
Recommended Videos
How to order: Contact 0906-208-2759 via text or Viber. 
Barcino: Paella
Meal kit: There are three paella kits available at Barcino. There's the Paella Chorizo y Pollo kit which includes paella stock, chorizo Bilbao, and rice; the Paella Negra kit has paella sauce, rice, aioli, and squid rings, while the Paella Mixta includes paella stock, rice, squid rings, Jamon serrano, and prawns.
How to order: You can order through GrabMart or through Barcino's website.
Eatsogood.ph: Hot Pot and Korean Stew
Meal kit: The Shabu Kit (P500) has egg noodles, vermicelli, soup base, sate paste, lobster claw, crab finger, squid balls, fish tofu, button mushroom, green veggie, carrots, onion, corn, tofu, egg, but if you're in the mood for Korean, they have the Korean Tofu Stew (P250), too. You can even add silken tofu (P60) and earthenware pot (P480) to complete the experience.
How to order: Send a Viber message to Eatsogood.ph using this number (0917) 891-6133.
Ramen Nagi: Ramen
Meal kit: The Butao King kit (P790/good for two) contains tonkotsu soup, pork chashu, vegetables, kikurage, minced garlic, fire sauce, ramen noodles; Red King kit (P900/good for two) has the same ingredients as the Butao but with the addition of red minced pork and minced garlic. The Black King (P900) highlights the black minced pork, coarse black pepper, and garlic chips, while the Green King (P900) uses green oil, bacon bits, Parmesan cheese, and cheese powder.
How to order: You can order through Ramen Nagi's website.
https://www.instagram.com/p/CBMhzqWnZZd/
Alegria Cozinha Moderna & Sangria Bar: Tacos
Meal kit: The Ultimate Taco Survival Kit (P1,250) contains vacuum-sealed packs of 10 pieces of corn tortillas, pulled pork carnitas, shredded cabbage, al pastor sauce, salsa Fresca, house-made Mexican adobo seasoning, and fresh lime.
How to order: Call (0945) 264-7828 or 8277-9518.
Raging Bull Burgers: Burgers
Meal kit: The Kickass Burger kit (P580) includes two 150 grams Angus beef double grind (mix of chuck and brisket) patties, two cornmeal buns, gherkin, tomato, lettuce leaves, and a bottle of Raging Bull's barbecue sauce.
How to order: Send Raging Bull Burgers a message on Instagram or Facebook. You can also call them at (0917) 536-3287.
Yushoken and Mendokoro: Ramen
Meal kit: Yushoken and Mendokoro have four different take-home ramen kits, like the tonkotsu-based Shio (P400) and the soy sauce-based Shoyu (P430). They also offer the Super Chashu (P560) that uses double marinated and slow-cooked chashu, plus the spicy TanTanMen (P45) ramen that has ground pork and a drizzle of chili oil.
How to order: Yushoken and Mendokoro's take-home ramen kits are available for delivery and pick-up from these following branches.
Go Ginataan: Ginataan
Meal kit: The Gata Cook kit (P350) includes mini sago, diced orange kamote, langka strips, diced saging na saba, gata base mix, and bilo-bilo. Each kit is worth 1 kilogram of ginataan and is good for six to eight people.
How to order: Send a message to (0917) 821-2111
Yumini Mart: Ramen
Meal kit: The Fresh Ramen DIY kit (P320) includes 400 grams of ramen noodles, two packs of tonkontsu pack, and two packets of miso soup. You can add green onions, roasted seaweed, and soft-boiled eggs to make it more filling.
How to order: Send a message to Yumini Mart's Instagram.
Stock at Home: Khao Soi Gai
Meal kit: The Khao Soi Gai kit is Stock at Home's take on the popular curry-based noodle soup from Chian Mai. Each kit serves up to two people.
How to order: Send Stock at Home a message on Instagram or send a Viber message to (0917) 831-2238.
***
Thinking about what to cook next? Join our Facebook group, Yummy Pinoy Cooking Club, to get more recipe ideas, share your own dishes, and find out what the rest of the community are making and eating!
Got your own version of the classic dishes? Pa-share naman! Get your recipe published on Yummy.ph by submitting your recipe here!